'Jesus always wins': Pastors celebrate baptism of 77-year-old woman with Parkinson's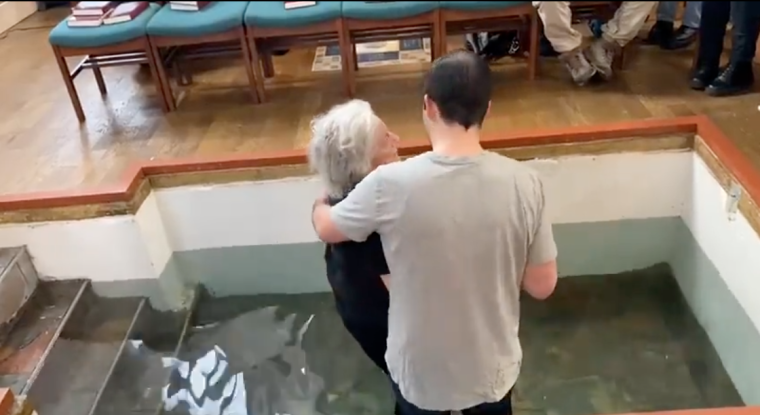 A video of a 77-year-old woman with Parkinson's disease being baptized at a church in London is going viral on social media. "As surely as the devil is a liar, he is also a loser," says the pastor of the church.
The footage of the baptism of the woman, identified as Susan, at The Angel Church in London, was shared on Facebook by the church and on Twitter by Pastor Ryan Burton King of Grace Baptist Church located nearby.
The video had garnered more than 56,000 views on Twitter alone and numerous comments, as of early Saturday.
King said in his tweet that his brother, Regan Burton King, the lead pastor at The Angel Church, baptized the woman.
"It has been an excellent day, but this video of my brother @ReganBlntonKing baptizing a frail and elderly woman who is newly trusting in Christ, then picking her up and carrying her out of the baptismal pool, has made it. Blessed be the Lord!" he wrote on Twitter.
Resharing his brother's tweet, Regan shared that Susan, who was once Jewish, Roman Catholic and agnostic, is "now trusting Jesus as Messiah and Lord of her life."
"As surely as the devil is a liar, he is also a loser. Jesus always wins," he wrote.
Several comments poured in on Twitter. "It's never too late to accept Jesus into your life and your heart!" wrote a follower.
"Praise the Lord, there is rejoicing in [H]eaven… 'Just so, I tell you, there is joy before the angels of God over one sinner who repents.' Luke 15:10,'" reads another comment.
"If salvation were by works, this would be impossible," said another follower.
"I'm in tears. What a beautiful reflection of the love of Jesus, that we can come to faith in Him at any age!" added another person. 
On its Facebook page, the church wrote about the baptism. It is to "celebrate the profession of faith in baptism of an elderly sister who has spent her life as cultural Jewish and practically agnostic. She is now trusting as her Messiah!"
Evangelicals believe that baptism symbolizes the believer's death to their old life, the burial of their old self, and the resurrection to new life in Christ. It is considered an outward expression of an inner decision to follow Jesus and is often seen as a public declaration of faith. Only individuals who make a personal commitment to faith in Jesus are baptized.