Tensions flare at open mic event over First Baptist's document on gender, sexuality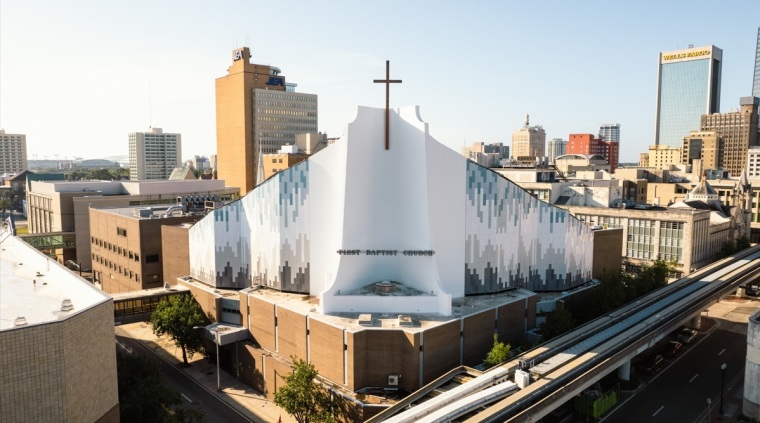 Tensions erupted at the First Baptist Church of Jacksonville in Florida on Sunday evening as Senior Pastor Heath Lambert defended the church's statement on "biblical sexuality" even as an LGBT advocate slammed it as "disgusting" and urged members of the church to leave because of it.
"Yesterday, an acquaintance messaged me and told me about this forum. Their family has made the decision to stop attending this church considering recent events, which is something I encourage all existing congregants to follow," a woman who identified herself as Katie and queer said during a 90-minute open mic discussion about the statement on Facebook Live.
"The decision to have your members sign any form of contract to attend turns your church into an organization, a club. This church is no longer a religious place of worship welcome to all. These sexuality oaths are drawing a clear line in the sand, showing us who you truly welcome, which is by no means all."
The church's statement, which made waves in the media last week, declares: "As a member of First Baptist Church, I believe that God creates people in his image as either male or female, and that this creation is a fixed matter of human biology, not individual choice. I believe marriage is instituted by God, not government, is between one man and one woman, and is the only context for sexual desire and expression."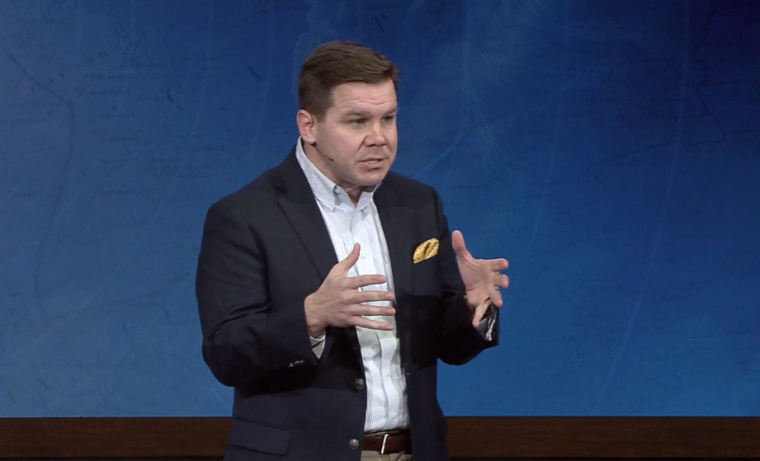 According to The Florida Times-Union, the statement was adopted by the church last fall but only became a source of public conflict recently after local media reported that members were asked to sign an agreement affirming the statement by March 19 to "ensure your membership at First Baptist Church continues without any interruption." 
Members who do not meet the signature deadline "will be considered to have resigned your membership from First Baptist," according to information from the church's website. 
Pastor Lambert made it clear at the start of the meeting that the statement is meant to be something positive for the church.
"I just want to say at the beginning that this is intended to be a positive statement. If you only hear about the statement and don't read the statement, you won't recognize that in the statement, there is not a single sin listed. It doesn't pick on any one sin over and above any other sin," he said.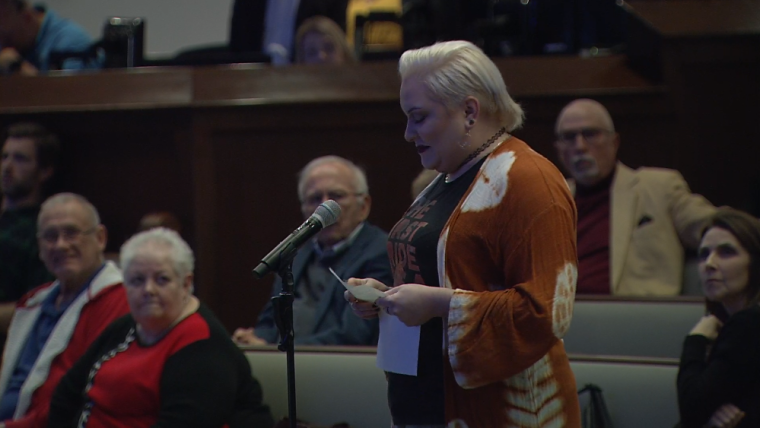 "There are sins that by extension are ruled out of the statement, but the statement is a positive expression about what the Bible teaches about human sexuality, about marriage, about manhood, about womanhood, and it means to rule out any sin that would contradict it."
Lambert further explained that the statement is not something he decided to institute on his own, but it was done in collaboration with the congregation and leadership. The pastor insisted that everyone is still welcome to attend the church, but anyone who wants to be a member must be prepared to live biblically.
"The statement rules out homosexuality to be true, but it also rules out polygamy. It also rules out pornography. It also rules out adultery and fornication; it rules out lust. There is a lot of ways to get crosswise with a biblical sexual ethic," Lambert said.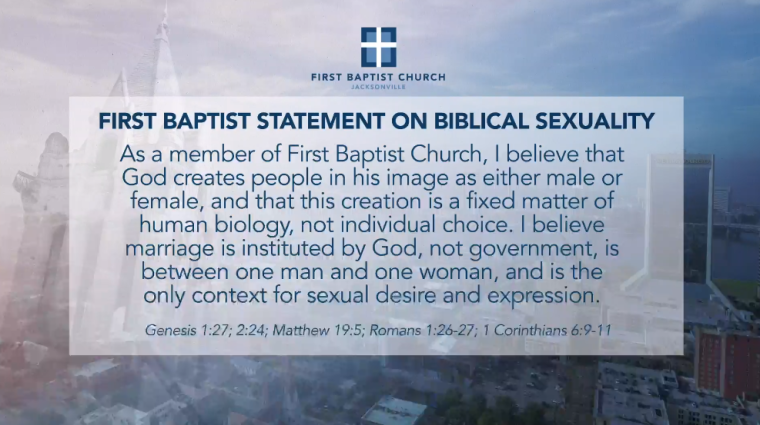 "A good friend of mine, talking about this, said, 'because of the nature of the brokenness of the human heart, none of us are sexually straight.' We all need Jesus to forgive us where we are wrong. And so one of the great truths of the Christian faith, one of the great truths that our church has built on, is the thing that makes us as members of First Baptist Church different," he said.
"It is not that we are any less sinful than anybody out there in Jacksonville. It's not that we are any better than anybody who thinks our statement is a joke. It's that we have come to confess our sin instead of looking at the Bible and railing against what the Bible has to say about sexual sin. We've said, 'God, you're right, and I'm wrong, will you please forgive me and [then] you wash me in the blood of Jesus,'" he added. "By faith, we are not better, but by faith, we are saved.
"And so that's one of the reasons why we have to be welcoming to everybody because if we start crossing people out, then sooner or later, none of us are going to be welcome."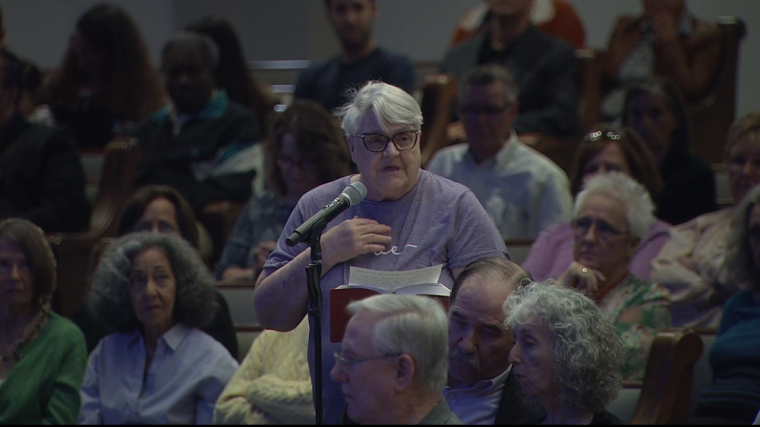 Bishop William Hackworth of the Alliance Partners Network International, described as "a "Reformation of Churches and Leaders of the Lord's Church from around the world" in Jacksonville, was one of several voices in the church that encouraged Lambert for his stand.
"The Holy Spirit asked me to come up to encourage you. I want to thank you for standing on the word of God," Hackworth said to heavy applause, which quickly turned into a standing ovation.
"I go through some things that you go through. When you have to speak truth, whether it be at your job, whether it be at the airport, whether it be in front of the cameras ... or pulpit, you're going to be the one that they're going to come after. And they don't realize when they come for you, and you're speaking God's words, they are coming after God," he said.
"And then, they will say, 'I'm saved. I'm a Christian.' And the truth is that that Word says you're not," he added. "And it's hard for those of us in the Church to speak it to those that we love and care for because we don't want to see no one lost. But the reality is, if we don't stand up and say the truth, our own children are going to go to Hell."