CP Daily
Our most popular newsletter, delivering daily news to your inbox.
Good afternoon! It's Thursday, June 16, and today's headlines include a study from Baylor University on the benefits of faith-based child welfare programs, Congresswoman Lauren Boebert's sermon at a church in Colorado, and a series of updates from the Southern Baptist Convention's annual meeting.
A new study from Baylor University suggests that children in the care of
faith-based child welfare programs
could be safer from sexual abuse and other ills than those in secular ones. The study, which was conducted by analyzing insurance data, found that faith-based organizations had a lower insurance loss ratio as it pertains to their liability for professional and sexual abuse. The average pure insurance loss ratio of faith-based agencies was 48%, with 50% being viewed as the target threshold for a "profitable" client from an insurer's perspective, "meaning that the revenues paid to them for the insurance exceeded the payouts they needed to make for a given year," the researchers explained. In contrast, data provided on secular child welfare organizations by an insurance company that wished to remain anonymous was 222%, indicating that the company is losing money for policies for similar types of clients.
Read more.
P.S. 
Volume 2 of 
CP Magazine
 is here! If you'd like to help support Christian journalism, this digital-only offering runs just $19.99 annually—or get your free copy when you sign-up for a free 
Christian Post
 account. Sign-up to download your 
flipbook or PDF
 copy today.

TOP STORIES
During a sermon at Charis Christian Center in Colorado Spring, Colo., Born-again Christian Congresswoman Lauren Boebert said that if women chase after God, their husbands will chase after them, too. "Ladies, it was years before I had my husband sitting in the pew next to me ... For years I interceded, wanting my husband [Jayson Bobert] by my side, praising God, living out this God kind of life that I knew was far better than anything else that was going on. But ladies, if you chase God with everything that you have, your husband will chase after you chasing God," she said. The congresswoman also discussed the importance of being an influence in her home and demonstrating grace and forgiveness.
Read more.
The Evangelical humanitarian charity World Vision is standing by one of its former employees, Mohammad El Halabi, whom it contends has been wrongfully convicted of embezzling millions from the organization and supporting the Palestinian terror organization Hamas. The charity announced they believe there were "irregularities in the trial process and a lack of substantive, publicly available evidence" and stated, "We support Mohammad's intent to appeal the decision, and call for a fair and transparent appeal process based on the facts of the case." Halabi was
arrested
 on June 15, 2016, and later 
accused
of diverting $50 million in funds intended for World Vision to support Hamas. Then-CEO Kevin Jenkins condemned the accusations against Halabi in an August 2016 statement, contending that the total operating budget in Gaza was less than half of the alleged $50 million.
Read more.
The Marietta-based Mt. Bethel Church in Georgia, a megachurch with around 10,000 members, has announced that it has reached a settlement with the United Methodist Church North Georgia Conference. As part of the settlement, Mt. Bethel will pay $13.1 million to the UMC to keep its property and assets as it leaves the denomination.
Read more.

CP VOICES
Michael Brown discusses Kellie ("Scott") Newgent, a "transman" who was recently featured on Matt Walsh's "What is a Woman" documentary. Newgent, who has suffered health problems due to botched surgeries, now speaks out against transitioning children. Brown writes about their unlikely alliance and how, despite some fundamental differences, both still advocate for the protection of children from transgender treatments.
Read more.
Pastor and podcast host Tony Miltenberger writes about the importance of mentoring tween and teen boys to combat figures that suggest this demographic is correlated with mass shooters. "These are all young men who could live in my neighborhood. Who could be on my football team, or in my youth group. My own sons will one day fit that demographic. They don't live somewhere else, they live in our communities, and they are here now," Miltenberger writes.
Read more.

CHURCH & MINISTRIES
The Southern Baptist Convention has delayed a decision on whether to remove Rick Warren's Saddleback Church from the denomination in light of the California megachurch's ordination of three female pastors last year. While Saddleback called its May 2021 ordination of Liz Puffer, Cynthia Petty and Katie Edwards a "historic night," the move was criticized by many in the SBC due to its 2000 Baptist Faith & Message statement's ban on female ordination. During the SBC's Annual Meeting on Tuesday, the SBC Credentials Committee announced the delay, with Committee Chair Linda Cooper telling attendees, "Based on the information available to us currently, including direct communication with Pastor Rick Warren ... we have concluded that we are not yet prepared to make a recommendation regarding Saddleback Church, recognizing there are differing opinions regarding the intent of the office of pastor as stated in the Baptist Faith & Message 2000." 
Read more.
Southern Baptists adopted a resolution Tuesday rejecting the prosperity gospel, calling it false teaching and distortion of Scripture, particularly regarding Jesus Christ's atoning work on the cross. The resolution asserts that this theology represents a distortion of "biblical generosity," exploits vulnerable people, and blames people who are sick for lack of faith while corrupting a biblical understanding of suffering. It also states that Christians are to "guard against false teaching, to beware of false prophets who come to us in sheep's clothing but inwardly are ravenous wolves, and to guard the integrity of Scripture."
Read more.
In related news ...
Barber: Complementarianism, decentralized polity not to blame for sex abuse crisis
Voddie Baucham warns 'judgment' falling upon the Church, secular culture
Pastor warns SBC against using 'politics,' 'social justice' or 'music' to grow churches

MEDIA & ENTERTAINMENT
"Jerry and Marge Go Large," a feature-length comedy based on the true story of Gerald Selbee, a resident of the small town of Evart, Mich., who figured out a way to legally hack the lottery, is set for release on Paramount+ on Friday. The film, which stars Bryan Cranston and Annette Bening as Gerald and his wife, Marge, assures audiences that there's still good in the world—and generosity has far-reaching effects. In an interview with The Christian Post, Bening described the real-life Selbees as "fabulous" and "honest" people. To get into character, she and Cranston got to know the couple, who are now in their 80s. "It was enjoyable to play a happily married couple," she said. "And the fact that Jerry figured out the flaw in the lottery, it's important to remember that; that they didn't cheat. It wasn't like they had a scam going, they figured out a flaw."
Read more.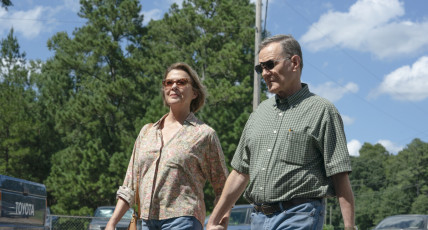 Thank you for spending part of your day with us. We look forward to seeing you again tomorrow! -- CP Editors