Dante Bowe on his split from Maverick City Music, experiencing both love and rejection from the Church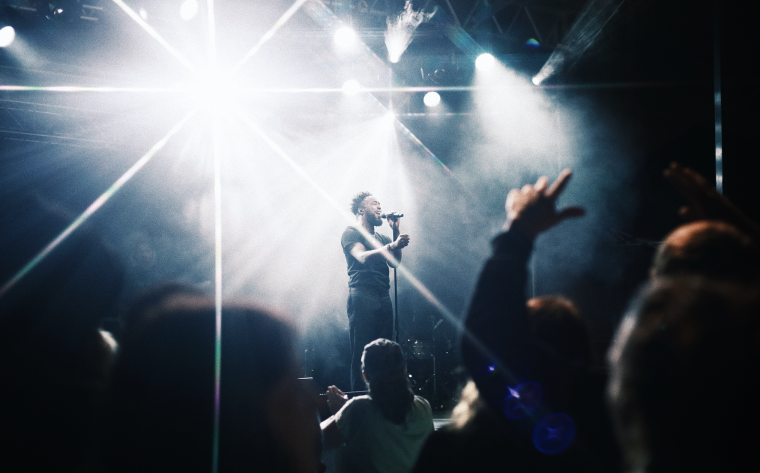 Worship artist Dante Bowe has reflected on his time away from the public eye after his public split from Maverick City Music, revealing he experienced both love and rejection from the Church — and an immense amount of God's faithfulness. 
In an interview with The Christian Post, the 29-year-old Grammy-nominated worship artist said that after Maverick City Music announced he would be removed from the group as part of a "pause" on their relationship, he received mixed reactions. 
"Churches reached out, a few pastors — it's been cool," he said. "I've also been rejected a lot too. And that's OK. That's just how life works. I don't get upset about it. God has to reveal to all of us His nature, how He loves us and what He thinks about us. And I ask Him every day to give me His eyes, His heart for His people."
"We read about Jesus and what He did for the woman caught in adultery, the woman at the well, the leper, the blind man of the day. He was just very, very generous and very, very loving and caring and His kindness draws us to Him. I've been loved on a lot; I've been rejected a lot, but it's all a part of the purpose, it's all part of the plan."
In September 2022, Maverick City Music released the following statement: "Due to behavior that is inconsistent with our core values and beliefs, we have decided to put a pause on our professional relationship with Dante Bowe. Decisions like these are not easy because of the level of nuance, both professionally and personally, but we felt it necessary to address."
And after a brief hiatus from the world of Christian music, social media and touring, during which he took time to "revamp and rebuild," the multi-platinum songwriter said he feels "rejuvenated and strong."
"I just think sometimes God … does for us and we cannot do for ourselves," he said of his exit from the music collective. "And I think [He uses] trial and tribulations or people and things to bring them to a new season, a new journey, and you couldn't have done it yourself."
"I feel like it had to happen," he added. "It's only been a blessing. God's revealed Himself in ways that I couldn't imagine. Also, it brought about people that kind of helped me rebuild faster, and also just structured everything out."
Now, in what he describes as a "happy, happy season," Bowe is back with a new album titled  Press Play through his new Music Management company True Music. According to the singer, the album is a "labor of love" that was birthed out of some low moments. 
"My producer, John Webb … once this whole thing happened a few months ago with me … was just like calling and calling, and I wouldn't answer the phone calls. I was with my friends and my family and … watching movies and having a good time, keeping the morale high. … He came to the house … and he sat with me and talked for hours and was like, 'let's go to the studio.' And that's the day we started working on my album."
Bowe released his new single from the album, "Hide Me," in the middle of New York's Time Square on ABC's Good Morning America in January. The song is a tribute to God's sovereignty over painful situations. 
"After being in the music industry, after a while, you get to be overexposed; your whole life is given to the public, and it's every day," Bowe shared. "I felt as though what I went through in the last season, that God revealed to me that He is literally my great defender, my protector, He's always fighting for me. Those are some of the lyrics in the song."
"I just feel like that's part of God's plan is to bring you to a place where you can recognize that He is your defender. There's nothing you can say, there's nothing you can do. God is going to ultimately be the deciding factor, and He's going to ultimately be the best fighter. He's going to be the one that wins the battle for you, not us in and of ourselves."
Bowe is no stranger to obstacles. He's faced abuse, homelessness and countless challenges throughout his life, but he told CP he sees every difficulty as God's way of preparing him to thrive in both the mountain and the valley. 
"I think now I can look back in gratitude, because of how prepared I am for the future," he said. "I think that sometimes our struggles prepare us for the future ... I think sometimes the valley prepares you for the mountaintop experience."
And through his new record label, Bowe is branching out. He said he's excited to not only promote worship music but to cross over into R&B and mainstream. 
"Worship is my way to communicate with God; I made a promise to God a long time ago that I'd never stop leading worship, no matter how famous He makes me. It's just something I'm never going to stop doing," he said.
"However, I just add to it and make music for the Christian audience that doesn't feel like they're getting sonically what they can get from whoever is on the other side of music. I think I wanted to bring about very pure and just good music, clean music, with great sonics where people can dance and not have to worry about it being derogatory or talking about something they don't want to hear."
And Maverick City Music, he said, has been supportive of his new venture. 
"We're all good. There's no hate, there's no malice. God is so big; God is so good. There's no reason to hold on to things that don't matter. I feel like we're all just in really, really good places. We are friends, we do talk," he said. 
Bowe added that when Jesus was betrayed by Judas, who had kissed Him a short time earlier, He didn't even "call him out." He said that, like Jesus, he strives to take the high road and extend love even in the face of hurt. 
"Everyone knows the part they play in your life. Everyone knows if they're loyal to you, everyone knows if they're following the heart of God. It's not our place to judge and treat people bad," he said. 
"I feel like Jesus always took the high road, and that is what I've been trying to do on this journey … do the right thing, and always will pay you back in full."
Being open and honest about his story, Bowe said, hopefully, both bring glory to God and will encourage others that they can overcome obstacles too. 
"I think the more I tell my testimony, whether it be through music, whether it be through speaking or interviews, whatever the case may be, once I tell my testimony, it brings about the possibility to others that maybe they can overcome as well," he said. 
And after a painful season, Bowe said he's excited about the future and hopes to leave a legacy of being a "kind-hearted person" who reflects the love of Jesus to everyone he meets. 
"I want to learn to love everyone," he said. "It's like all the success, the money, that happens when you walk in love, that happens when you walk in obedience and excellence to God. … I want people to say that and that I loved them really, really well."