'A Million Miles Away' review: A migrant worker's faith-fueled journey to space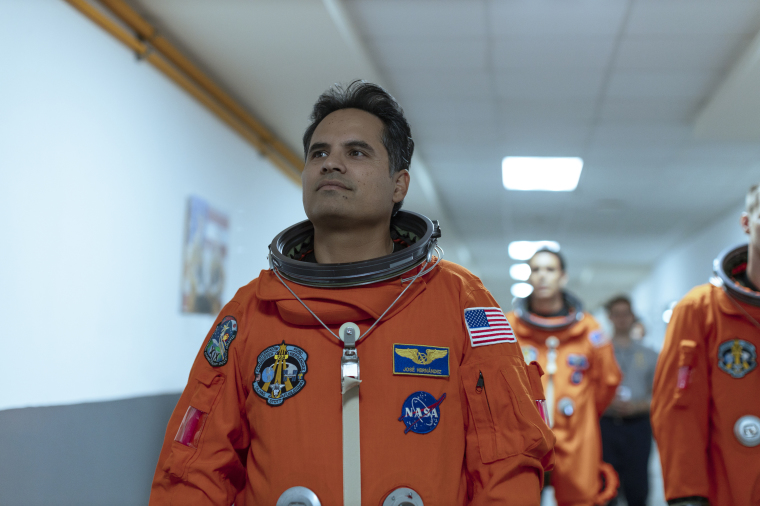 "A Million Miles Away," which tells the remarkable story of how a migrant worker made his way to space as a NASA astronaut, is the kind of family-friendly film needed at a time when the values of family, perseverance and hard work seem all but antiquated. 
Released earlier this month, "A Million Miles Away" tells the true story of José Moreno Hernández, a Mexican-American engineer and former NASA astronaut, based on his book Reaching for the Stars: The Inspiring Story of a Migrant Farmworker Turned Astronaut. Directed by Alejandra Marquez, the film stars Michael Peña, Rosa Salazar, Bobby Soto and Julio César Cedillo.
The film opens with José's formative years as a Mexican migrant laborer, picking corn alongside his parents and three siblings in 1970s America. Despite his circumstances, José is gifted, and seeing his potential, his second-grade teacher, Miss Young, urges his parents to stay in California and focus on his education instead of following the harvest back and forth from Mexico. 
"Nothing will stop you, remember that," she tells a young José.
At 10 years old, José realizes he wants to become an astronaut after watching Gene Cernan walk on the surface of the moon, and he works tirelessly to realize that dream.
He graduates college, earning bachelor's and master's degrees in engineering. He lands a prestigious job at Lawrence Livermore National Laboratory, but still, his dream of becoming an astronaut eludes him. He's rejected from NASA 11 times, and each time, he keeps the rejection letter in a folder. 
But everyone around him continues to make sacrifices to help José make it to NASA: His parents lose their home after opting to stay in one location to help further his education, and his wife, Adela, forgoes opening a restaurant to support her husband, all while caring for their five young children.
"What do they have that you don't?" she asks her husband of the others accepted into the program, pushing him to continue applying to NASA.
In 2004, on his 12th try, José was finally selected as an astronaut candidate. 
"Over the course of the last 10 years, every academic, professional and personal decision I've made [has been] with the space program in mind," he tells the NASA instructor in one profound scene. "I've gotten my master's in electrical engineering. I'm a pilot now with over 800 miles under my belt. I have my scuba-diving certificate. I just ran the San Francisco Marathon, and I can speak Russian.
"I've been on the verge of giving up after each and every rejection. But you know what, sir? Here I am. So you can turn me down again if you want, but rest assured, I'll be standing here again in a year."

In 2009, his dream was realized when he flew aboard the Space Shuttle Discovery as a mission specialist, marking his incredible journey from the fields to the stars. His parents, wife and Miss Young watch as he blasts off into space.
"A Million Miles Away" is an uplifting film, but Marquez doesn't shy away from depicting the gritty reality of a migrant worker's life. The long hours, the relentless sun and the sting of societal prejudice (on his first day at Lawrence Livermore National Laboratory, he's mistaken for a janitor) are all depicted in the film. But the hardships José faced — or even his successes — aren't the focus of the film.
Rather, the focus is primarily on those around José who helped him realize his dream and challenged him to keep going despite setbacks. It's a story of faith, sacrifice, family values and the indomitable spirit of perseverance. "Tenacity is a superpower," he's told. 
Though not a faith-based film, José is a devout Catholic who has said he felt God calling him to space. And faith is subtly depicted in the film as a consistent, gentle presence; it is, for example, what gives José strength to handle the many rejection letters from NASA.
Rated PG, the film is also devoid of sexual content, foul language (despite a few mild profanities) or violence, making it safe for families.
"A Million Miles Away" is more than just a recounting of a remarkable life. It's a reminder that dreams take sacrifice, hard work and perseverance and, without being overly sentimental, that faith and family are the most important things in life. Overall, the film is a clean, uplifting cinematic experience that gives conscientious viewers a tale and characters they can wholeheartedly champion.

"A Million Miles Away," now streaming on Amazon Prime Video, is rated PG for "thematic elements and language."