Pro-life activist Mark Houck wants to press charges for prosecutorial abuse after FBI raid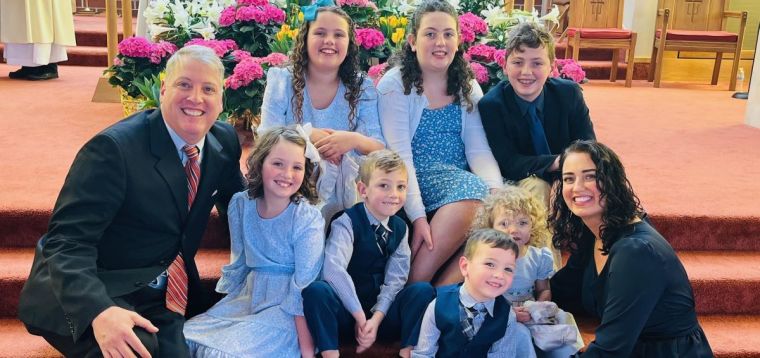 Catholic pro-life activist Mark Houck, who was arrested in a highly publicized FBI raid and recently acquitted on charges that could have sent him to prison for 11 years, said he will look into "pressing charges" related to prosecutorial abuse. 
Houck appeared on Steve Bannon's Real America's Voice program "The War Room" Tuesday, one day after a jury in Philadelphia, Pennsylvania, acquitted him on Freedom of Access to Clinic Entrances (FACE) Act charges. 
Houck first gained national attention after the FBI arrested him at his home in Bucks County, Pennsylvania, on Sept. 23 for violating the FACE Act.
Houck detailed the 6:45 a.m. raid, where FBI agents and approximately 15 Pennsylvania state troopers descended on the home.
"I was awake; my children and my wife were asleep," he said. "The manner with which the FBI banged on my door is particularly worth noting because they rang the doorbell, it was dark outside, repeatedly they rang the doorbell, and they banged on the door saying 'Open up.' They didn't even declare who they were. They didn't even state their names."
The pro-life activist lamented "the degree of the recklessness that this was performed and the act of terror which it was." The agents informed Houck that they were with the FBI when he asked who they were before he opened the door.
After learning that it was FBI agents seeking entry into his home, Houck informed them of his intention to "open the door," urging them to "stay calm" because he had seven children in the house. Houck told Bannon, "I opened the door and slowly showed them my hands."
"As I opened the door, I could not believe the circus scene that I saw: at least 10-15 marked and unmarked units right in front of me surrounding the side of my house. I have 100 yards to the street, cars lined all the way up to the street, long guns pointed at me, heavily armored vests, ballistic helmets, ballistic shields, [and a] battering ram."
"I had at least five federal agents on my porch with M-16s pointed at me," he continued.
When he asked the agents why they had come to his house, they insisted, "You know why we're here." After Houck's wife came to the door, she asked if they had a warrant, to which they replied, "We're taking him with or without a warrant."
"I was arrested in front of my children, in front of my home, while they were screaming," he added. The agents declined Houck's requests to put on underwear, apply deodorant and brush his teeth while granting his plea to take his rosary.
Bannon asked Houck if he intended to "press charges for prosecutorial abuse" against the FBI agents and state troopers who conducted the raid. Houck answered in the affirmative.
"We most definitely will, and we will be seeking counsel on that."
Houck said his legal counsel wants to get him and his family the opportunity to tell Congress the details of what happened. 
Houck's charges stemmed from an incident that took place as he conducted sidewalk counseling alongside his then 12-year-old son at a Planned Parenthood clinic in Philadelphia on Oct. 13, 2021.
"We were praying our rosary without incident for the first 45 minutes before there was an opportunity to minister and counsel to a woman who came out of Planned Parenthood," he said.
"We were walking across the street, talking to her, sharing some literature with her, actually walking to the pregnancy resource center that was only about 50 feet away when an abortion escort volunteer interfered with that encounter, engagement and basically violated my First Amendment rights and got between me and the young lady I was talking to," he recalled. "There was a bit of a bump and so forth there and from there, it ensued to go back to the sidewalk where my son was."
While Houck and his son attempted to continue their "prayer vigil," the abortion clinic escort positioned himself "a foot away" from Houck's young son. He engaged in a profanity-laced conversation with the boy, prompting Houck to tell him, "you don't have permission to talk to my son."
The escort continued to talk to Houck's son, causing Houck to ask him to "go back to where you normally stand" and "leave us alone." He acknowledged that he spoke to the escort "very forcefully."
"He started to move as I kind of escorted him back. I turned back to be with my son, he wheeled and started to talk to my son again and then I turned and pushed him," he explained.
This encounter led the U.S. Department of Justice to indict Houck with violating the FACE Act, alleging that he "twice assaulted a man because he was a volunteer reproductive health care clinic escort." If convicted, the father of seven could have faced up to 11 years in prison and a fine of up to $350,000.