'All I ever wanted was a dad': Kirk Franklin's dream to meet his father comes true at 53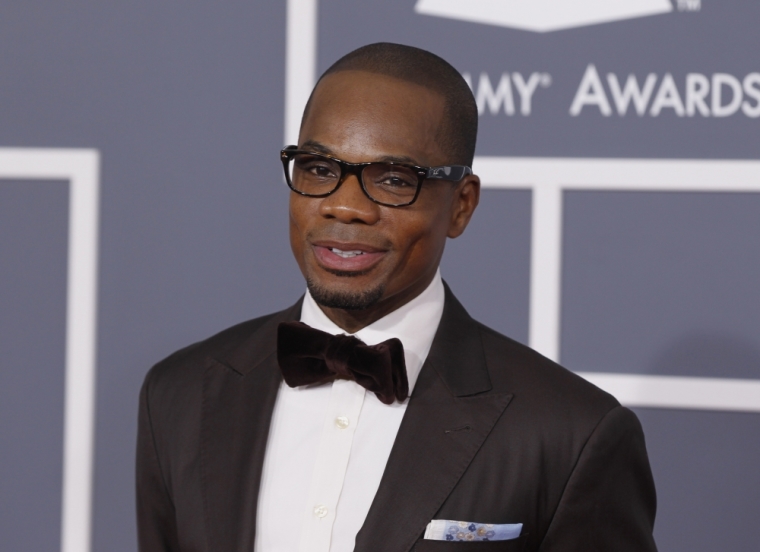 Gospel pioneer Kirk Franklin released an intimate documentary this month titled "Father's Day: A Kirk Franklin Story," where he takes viewers with him on a personal journey of discovering who his biological father is and reconciling with his estranged son.
The documentary begins with Franklin telling his childhood story of being adopted at age 4 by a distant relative named Gertrude, who was 64. His adoptive mother had no other children, and Franklin revealed that his early years were extraordinarily isolating and lonely with no siblings or cousins around. 
"There was never a time I didn't know I was adopted. It was always a framework of who I was," the 19-time Grammy Award-winning gospel singer shared in his new documentary. "I was raised alone; it was horrible." 
Franklin candidly shared intimate details about his upbringing and challenging relationship with his mother and estranged son.
The musician was in the process of filming a documentary about the making of his upcoming album, Father's Day, which will be released on Oct. 6 and includes the songs "Try Love" and "All Things."
While filming, speculation about the real identity of Franklin's birth father began circulating at his aunt's funeral. Franklin didn't attend the funeral because he knew his mother, whom he hadn't seen in 23 years, would be there. At the funeral, a man there told a mutual friend that he had once dated Franklin's mother, sparking speculation among those in attendance as to whether he could be Franklin's dad.
After the funeral, Franklin's mother had also heard the rumors and called him in response, seemingly to quash any notion that they were true. The man in question also heard the rumors and took it upon himself to offer his DNA for Franklin to use, if he so desired, to put an end to the chatter. 
The 35-minute docu-clip reveals that a man named Richard Hubbard, who lives near Franklin's recording studio was confirmed by DNA test results to be his biological father.
Franklin expressed how heart-wrenching it was to find out this news after his mother led him to believe that his father was Dwight Allen, who died in 2020.
"I buried the man I thought was my father. I flew to Houston and made peace with him," the composer explained. "In 2017, I got an anonymous phone call that he was dying of cancer."
After the DNA results were 99.9% positive that Hubbard is Franklin's father, the distraught music minister is heard shouting in tears, "This man is my father? My momma lied to me again?" 
Franklin said he has been hurting so badly because he "suffered so much as a young man without guidance. I struggled with love, intimacy, faith, identity. And to know that the answer was less than 10 minutes away."
"All I ever wanted was a dad," he declared. 
Following the discovery, Franklin decided to reunite with his birth mother after 20 years for the documentary to ask her for the truth. However, she maintained that the DNA test was wrong and demanded a second paternity test, which returned with the same positive results. 
Hubbard and Franklin's first emotional encounter was captured on film and the "Stomp" performer said he doesn't fault Hubbard in any way. His father was equally shocked to discover that Franklin was his son.
"He didn't know he had a son, and I didn't even know I had a father that close. I was that close, that close to having a daddy," Franklin declared. "I wanted a daddy so bad. Who am I? Because I have only known me broken."
He found it a mystery that "this little baby got dropped" in a small neighborhood where everybody knew everybody yet didn't disclose to him who his real father was. 
Throughout his career, Franklin has linked his struggles with identity to his tumultuous upbringing. 
The emotional discovery also led the God's Property artist to reconcile with his 35-year-old son, Kerrion. Their estranged relationship made headlines in 2021 after his son leaked a heated argument between the pair to the public.
The documentary shows that Franklin and Kerrion's relationship might also begin to heal after the former shares with his son that he has a grandfather he's never met, and both can begin to heal. 
"My son is a beautiful soul. There are parts of his life that are his to share. I am just very proud that I'm seeing him in his own way," Franklin shared with People magazine following the YouTube movie release. 
"He is beginning to reveal and testify to his struggles, his own battles with certain things that have at times cost him. I know many young black men struggle with these same things, and as he continues to get help and healing, he's going to help so many. He has me and now his grandfather who will be there to help in any way we can."
Toward the end of the documentary, Franklin shared a message for anyone else who might have suffered similar experiences in their childhood. 
"I would say to anyone who's lived in a history of trauma like I have, I just want to remind you that you deserve so much more. If I didn't have music to work on in the middle of this, I don't think I would make it through this. People that I work with, they've become my family," he said.
Father's Day is Franklin's first new solo album since 2019. The documentary serves as the visual accompaniment for the LP. He broke down the title as having a "triple meaning." The logline is, "It's what I missed, where I am, and what has always been."