Andy Stanley: Churches Should Be 'Safest Place on the Planet' for Gay Youth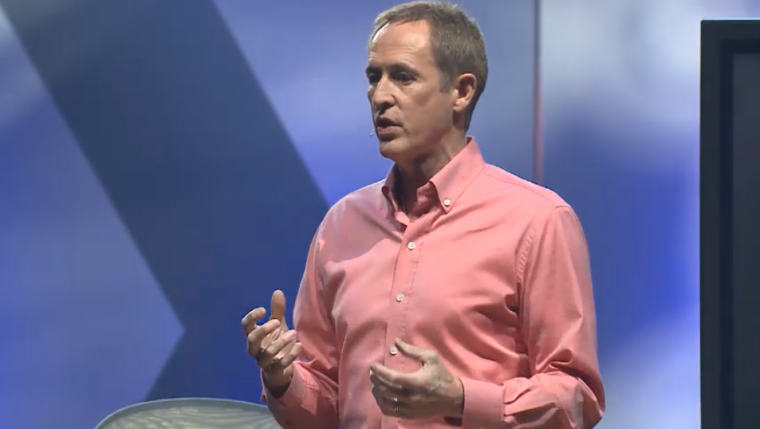 Pastor Andy Stanley has declared that local congregations should be the "safest place on the planet for students to talk about anything, including same-sex attraction."
At a two-day event centered on cultivating good church leadership held in Southern California, the founder of North Point Community Church in Alpharetta, Georgia, spoke Friday about the things he hoped will change about the modern church.
"We just need to decide from now on in our churches when a Middle School kid comes out to his small group leader or a high school young lady comes out to her parents," said Stanley. "We just need to decide, regardless of what you think about this topic — no more students are going to feel like they have to leave the local church because they're same-sex attracted or because they're gay. That ends with us."
Stanley acknowledged that there was a diversity of views on homosexuality and gay marriage among his audience, but felt that regardless of these differences churches, as a collective, can create safe space for gay youth.
"There is not consensus in this room when it comes to same-sex attraction. There is not consensus in this room when it comes to gay marriage," said Stanley.
"We just can't continue to look into the filter of our politics at our spirituality. Its got to be the other way around … and specifically when it comes to this issue."
During his remarks, Stanley also introduced a plan for churches to "take a break" from the culture wars for a year and change the nation through internal example.
"If all the Christians for just one year ... would quit looking at porn ... would quit smoking weed, would quit having premarital sex, would quit committing adultery, would pay their taxes and every church just foster one kid; in one year our nation would feel different," said Stanley.
"Because there are so many Christians. So basically, if we would just be better Christians, everything we would like to see changed for the most part would change."
Stanley's remarks came as he was part of Catalyst West, a conference that seeks to empower and prepare the rising generation of church leaders.
Held at Mariners Church in Irvine in Orange County, Catalyst West focused on the theme of creating "change makers" among church leadership.
"Catalyst unifies change makers — equipping you with impactful content and experiences that transform thinking, provoke action and cultivate community," reads Catalyst West's website.
"We're challenging leaders who love the Church to break the bounds of an ordinary existence and find the courage to embrace and radiate bold change."
In addition to Stanley, other scheduled speakers included Judah Smith, lead pastor of The City Church in Seattle, Washington; Jacquelline Fuller, director of google.org; Aja Brown, mayor of the city of Compton; and Craig Groeschel, the founding and senior pastor of LifeChurch.tv.