Migrant worker-turned-astronaut behind 'A Million Miles Away' shares how God called him to space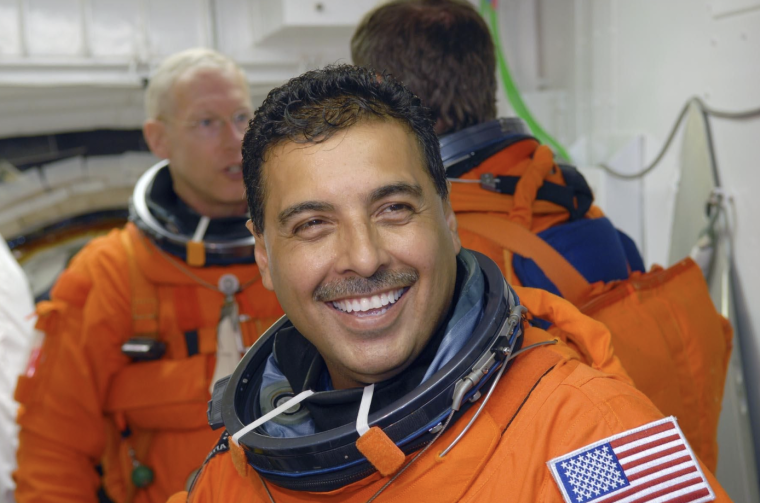 HENDERSONVILLE, Tenn. — José Hernández's story is said to be among the most remarkable in modern history: A migrant farmworker, he felt God calling him to become a NASA astronaut at just 10 years old. However, NASA rejected him from its program 11 times before selecting him for its astronaut class in 2004. Hernández would make history aboard the Space Shuttle Discovery in 2009, the first shuttle mission to send two Latino astronauts into space.
"I attribute my success to pure naivete," the 61-year-old told The Christian Post in a sit-down interview on Friday. "At 10 years old, in 1972, I remember watching our rabbit-ear TV, and I saw astronaut Gene Cernan walk on the surface of the moon while Walter Cronkite narrated the moonwalk. And I told myself, 'I want to be an astronaut.' I felt a clear calling from God."
Despite his incredible success, Hernández said his story isn't really about him; it's about the people who surrounded him, supporting his dream, including his migrant farmworker parents, his second-grade teacher, Miss Young, and his wife, Adela. 
"My journey isn't about one individual's quest to turn a dream into reality," he said. "It's about my teacher who went to my house to convince my parents to stay in one place; it's about my wife, who taught me perseverance and propped me up. It's about my father, who only had a third-grade education but had the wisdom to give me a powerful, five-ingredient recipe when I told him I wanted to be an astronaut. He said: Find your purpose in life; recognize how far you are; draw a roadmap; if you don't know how, learn, and when you think you've made it, you probably have to work harder."
Hernández's story is told in the new Amazon Prime movie "A Million Miles Away" (rated PG) starring Michael Peña, Rosa Salazar and Julio César Cedillo. Directed by Alejandra Marquez, the film is based on Hernández's 2012 memoir, Reaching for the Stars: The Inspiring Story of a Migrant Farmworker Turned Astronaut. The film premiered on Amazon Prime on Sept. 15 in honor of Hispanic Heritage Month and has remained at the No. 1 spot.
"It's so wonderful that that is being well received because my concern was that perhaps they would look at this as a plight of a Mexican immigrant family, but it's really more about family values," he said. 
"A Million Miles Away" opens with Hernández's humble younger years growing up in a family of migrant workers who followed the harvest back and forth from California and Mexico. 
"I learned the value of working and the ethics of responsibility early on," he said. 
Hernández didn't speak English until he was 12, and due to the constant travel, he attended a number of different schools until his teacher, Miss Young, recognized his potential and encouraged his parents to help him pursue an education. 
Intent on becoming an astronaut, Hernández worked tirelessly to pursue an education, earning bachelor's and master's degrees in engineering. He worked for over a decade at the Lawrence Livermore National Laboratory, where he co-developed the first digital mammography imaging system.
Despite his success, his path to becoming an astronaut wasn't easy. "A Million Miles Away" highlights how he faced rejection from NASA 11 times — but each rejection, he told CP, only made his desire to go to space stronger. 
"I didn't take it wrong that NASA didn't select me, because there were over 12,000 that applied for 10 to 15 slots. So it's very competitive. I understood that. So, every time, I said, 'I've just got to make myself more competitive so that NASA can't say no.' I found out that most astronauts not only met the minimum requirements, which I did, but also were pilots or scuba-dived, were elite athletes or knew a third language. So, I said, 'I've got to do this too.' I didn't get frustrated because I was enjoying the consolation prize of having a graduate degree and working as an engineer at a world-premiere research facility. That wasn't a bad consolation prize.
I was happy with who I was. It wasn't the end of the world if I never got selected. But aspiring to become an astronaut gave me so much joy. You've got to enjoy the journey. If you're not enjoying the journey, chances are you've picked the wrong goal for yourself."
Hernández was finally accepted to NASA's training program in 2004 at the age of 42. He recalled the awe-inspiring moment of leaving Earth's atmosphere, describing the exhilarating ride from zero to 17,500 miles per hour and the intense pressure experienced during liftoff. Notably, it was Miss Young who sat next to Hernández's parents as he blasted off into space.
"It was amazing," he said. "I am one of less than 600 people who had the privilege of seeing our Earth from the outside. That's an exclusive club. To see Earth from the distance, Canada, the U.S. and Mexico, Central America, you realize, 'Wow, we're just one race, the human race. And we're all God's children.' How sad it is that humans have created borders because all they're designed to do is divide us. I wish our world leaders knew that, because we wouldn't be having the problems we have with Ukraine and Russia, North and South Korea, China and Taiwan, if they did."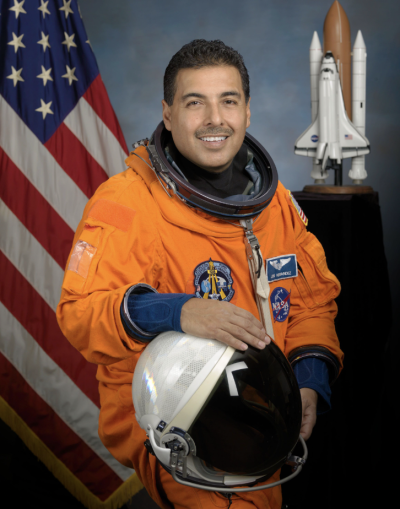 The film highlights the crucial role Hernández's wife played in supporting him. After every rejection, it was Adela who encouraged him to keep pursuing his dream: "I had perseverance, but thanks to my wife, that got converted to strategic perseverance," he said. 
Today, the couple has been married for over three decades and share five children: Julio, Karina, Vanessa, Marisol and Antonio. In a culture that often emphasizes instant gratification, Hernández said instilling a strong work ethic and the value of hard work in children is crucial. All five of his children are college-educated, and the oldest has a Ph.D. in aerospace engineering with the dream of becoming an astronaut. 
"Teaching them values is essential," he said, adding his own parents taught him the importance of making sacrifices to secure a better future for their children.
And it was ultimately his commitment to family that led him to prioritize his role as a parent over returning to space after 10 years with NASA and one shuttle flight. 
He recounted the moment when he returned from his space mission only to learn about the retirement of the Space Shuttle program. Reflecting on the lengthy gap between space shuttle programs, he considered the implications of returning to space.
"The kids were at the age when they really needed both parents making sure they stayed on the straight and narrow," he said. "I thought it would have been way too much for my wife. And I said, 'I don't want to risk my marriage. I don't want to risk my kids' future, them make a wrong decision because I wasn't there to guide them."
Today, Hernández lives in Stockton, California — and he still picks grapes with his father, who he said is "very proud of him." However, they're now picking grapes on their own vineyard, Tierra Luna Cellars, where they make and sell their own line of wines inspired by the constellations Hernández saw from space.
The former astronaut said he's hopeful for the future of space exploration, stressing that it keeps the U.S. at the forefront of technological advancements and competitive on the global stage. 
"What better way to push the envelope of innovation than through space exploration? Because innovation and technology is the heartbeat of any country's economy," he said. "You just have to look at India and China, and they're graduating a lot more engineers than we have. This means in the future, if we're not careful, they're going to be the technological innovators. … We should keep pushing space exploration because that pushes technology, that pushes innovation, and that keeps the U.S. at the forefront of that and we remain competitive from a global economy perspective."
Hernández said he hopes his story is a testament to the power of faith, family and values and serves as an inspiration not only for aspiring astronauts but for anyone striving to overcome obstacles and pursue their dreams.
"I love the analogy of the monarch butterfly," he said. "It starts in Canada and makes its way to a sanctuary for monarch butterflies in Mexico. It's several generations that it takes to make that trip to Mexico; it's not the same one. That's exactly what my father and I did. We made that effort so that the next generation can go farther and farther. In the movie, my father says, 'We're not grasshoppers. We're all Monarch butterflies because we're trying to have our kids go a little further than what we can.' And that's all we're doing."
"A Million Miles Away" is now streaming on Amazon Prime.