Bipartisan watchdog criticizes Biden State Dept.'s omissions in religious freedom designations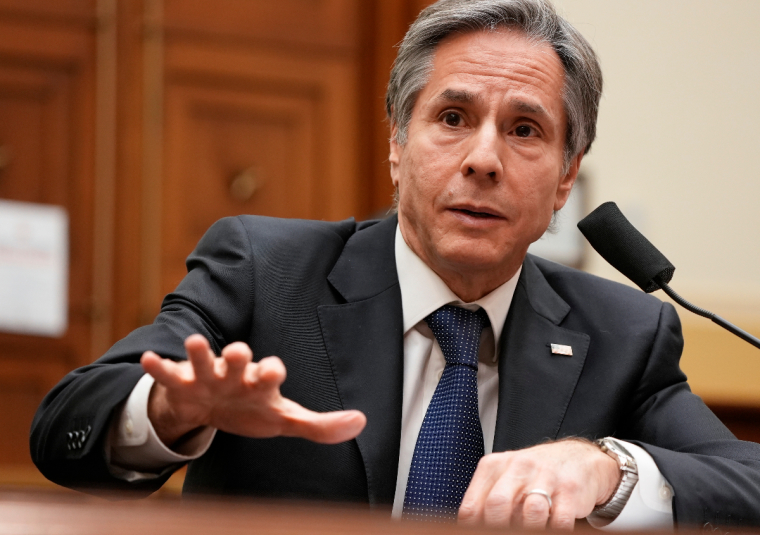 A congressionally mandated religious freedom watchdog panel is "disappointed" in the U.S. State Department's decision Friday to leave Nigeria and India off its annual list of countries where religious freedom violations are most concerning, despite pleas from advocacy groups.
Nury Turkel, chair of the U.S. Commission on International Religious Freedom, said in a statement, "there is no justification" for the State Department not to designate Nigeria and India as "countries of particular concern" (CPC). 
The International Religious Freedom Act of 1998 first required the CPC designations to prioritize "policy options designed to bring about a cessation of the particularly severe violations of religious freedom." Countries subject to the State Department's "CPC" designation may face negative consequences, including the possibility of crippling sanctions. 
On Friday, the State Department designated China, Cuba, Eritrea, Iran, Nicaragua, North Korea, Pakistan, Russia, Saudi Arabia, Tajikistan and Turkmenistan as CPCs while naming Algeria, the Central African Republic, Comoros and Vietnam to the lower-tier special watchlist designation. 
The State Department also designated nine groups, including the Nigerian terror group Boko Haram and Islamic State factions of ISIS-Greater Sahara and ISIS-West Africa, as "Entities of Particular Concern." The other EPCs are the Russian paramilitary organization Wagner Group, Somalia's al-Shabab, Afghanistan's Taliban, Syria's Hayat Tahrir al-Sham, Yemen's Houthis and Mali's Jama'at Nusrat al-Islam wal-Muslimin.
The International Religious Freedom Act also created USCIRF as a bipartisan, independent panel of experts advising the State Department and Congress about religious freedom conditions worldwide. 
Turkel, who became the panel chairman this year, said that Nigeria and India "clearly meet the legal standards for designation as CPCs."
"USCIRF is tremendously disappointed that the Secretary of State did not implement our recommendations and recognize the severity of the religious freedom violations that both USCIRF and the State Department have documented in those countries," Turkel said. "The State Department's own reporting includes numerous examples of particularly severe religious freedom violations in Nigeria and India."
The Biden administration received criticism from USCIRF and human rights activists last November when it removed Nigeria's CPC designation amid concerns about the violence inflicted on Christian communities amid the presence of Boko Haram and other Islamic terrorist groups in the country's northeast as well as communal violence in agricultural rich Middle Belt states.
Thousands have been killed and millions have been displaced across Nigeria in recent years. Nigeria was designated as a CPC in 2020 under the Trump administration. 
A petition signed by over 30,000 supporters was sent to the White House last month urging the State Department to redesignate Nigeria as a country of concern. The nonprofit legal group Alliance Defending Freedom helped circulate the petition. 
Kelsey Zorzi, the director of advocacy for global religious freedom for ADF International, a legal nonprofit dedicated to defending religious freedom, said in a statement that removing Nigeria from the CPC list "signaled an alarming disregard for the state of religious freedom in the country." Zorzi said the U.S. must "maintain pressure on Nigeria."
Last month, the Anambra-based watchdog organization International Society for Civil Liberties and Rule of Law reported that at least 4,000 Christians were killed in the first 10 months of 2022, while over 2,000 were abducted. 
Critics have raised concerns about what they perceive as the Nigerian government's inaction in holding perpetrators to account for the rising number of murders and kidnappings, which some groups warn have reached the level of "genocide."
In September, USCIRF warned that religious freedom was deteriorating in Nigeria because of rising violence by non-state actors, and "poor governance" was driving and aggravating that violence.
The Nigerian government has pushed back against claims that religion is a driving factor in the violence committed, as terrorist groups in the northeast have killed many Muslims. The Nigerian government contributes the violence targeting predominantly Christian farming communities in the Middle Belt states to decades-old "farmer-herder" clashes.
Secretary of State Antony Blinken visited Nigeria in November 2021. According to the State Department's latest annual report, Blinken "raised religious freedom issues with government officials in a visit in November, as did embassy and consulate general officials throughout the year."
"U.S. officials also addressed religious tensions and efforts to bring religious groups together with several state governors," the report states. 
Some experts have accused the Biden State Department of accepting a "political narrative" on Nigeria. 
"There's an incomprehensible gap between the State Department's reporting and what desperate Christians on the ground are reporting to religious freedom advocates here," Nina Shea, a human rights lawyer who serves as director of the Hudson Institute's Center for Religious Freedom, told CP. 
"This gap reflects State's overreliance on sources that it and [United States Agency for International Development] funds, which in turn push a political narrative favored by State. That narrative says that northern violence is driven by a conflict over a scarcity of resources as a result of climate change."
For the past three years, USCIRF has recommended that India be added to the CPC list as "religious freedom conditions ... continued their negative trajectory." 
"The government, led by the Bharatiya Janata Party, promoted Hindu nationalist policies resulting in systematic, ongoing, and egregious violations of religious freedom," USCIRF wrote in its 2021 annual report.
Last month, a report released by the Catholic charity Aid to the Church in Need examining human rights violations against Christians in 24 countries reported 710 incidents of anti-Christian violence in India between January 2021 and the start of June 2022 "driven in part by political extremism."
The report listed India as one of the 18 countries where persecution of Christians was on the rise and cited an example of a mass rally in Chhattisgarh state where members of the ruling Bharatiya Janata Party applauded as right-wing Hindu religious leader Swami Parmatmanand called for Christians to be killed.
Open Doors USA, which monitors persecution in over 60 countries, ranks India as the 10th worst country for Christian persecution. 
The Federation of Indian American Christian Organizations informed CP last year that attacks on churches and prayer meetings in India rose drastically from 2020 to 2021, and the "justice system has often failed to defend the rights of persecuted Christians and other minority religions."
Religious freedom advocate and Evangelical public relations executive Johnnie Moore, a former USCIRF commissioner, opposed USCIRF's recommendation to label India a CPC in 2021. 
"Of all the countries in the world, India should not be a 'country of particular concern,'" Moore wrote in dissent. "It is the world's largest democracy and it is governed by a pristine constitution. It is diversity personified and its religious life has been its greatest historic blessing. Yet, India does seem to be at a crossroads."