On first Sunday after Harry Reeder's death, church reflects on God's sovereignty: 'Our deep loss is his greatest gain'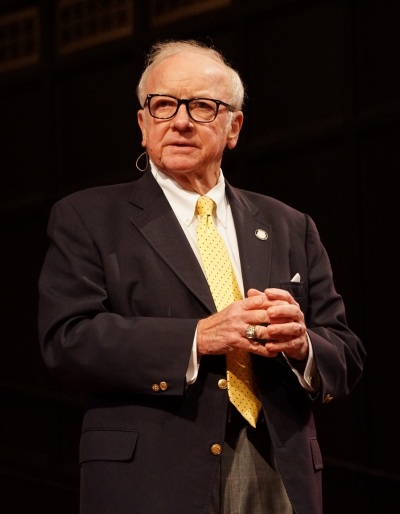 On the first Sunday following the death of their pastor, Harry Reeder, the congregation of Briarwood Presbyterian Church in Birmingham, Alabama, mourned together and reflected on God's sovereignty and goodness in the face of death.
"It would be appropriate for us to acknowledge to our Lord and to acknowledge to one another and very honestly, maybe even to acknowledge to ourselves, just how heavy that burden is upon our heart, what a difficult, heart-aching news it was to receive this past week and to begin to process together," Briarwood Presbyterian Executive Pastor Bruce Stallings said. 
"We know that our Lord is sovereign and in His perfect timing, [Reeder's] days were numbered by the Lord, and He called him home to be with Him. But we do already feel that just tremendous loss, almost incapable of being able to even comprehend or articulate that loss, but we know with confidence that our deep loss is his greatest gain, and we do this by the power of the Holy Spirit. 
"In the midst of this, we do rejoice; we rejoice because we have the confidence. We're not those who grieve without hope; we have the confidence, we have the assurance to know that God has called him home."
Stallings thanked God for sustaining the congregation amid their grief: "Grief is hard," he prayed. "We give it to You. We're so grateful that we don't do this isolated. We walk through this together. We're grateful that we can acknowledge that we're going to get through this together, Lord, because You will carry us through."
Reeder, 75, died in a car crash on the morning of May 18 when his vehicle struck a dump truck. The other driver was unharmed.
One of the most prominent voices in the PCA, Reeder led the 4,100-member church for 24 years, succeeding founding pastor the Rev. Frank Barker. 
He also pastored Independent Bible Church of the Chattanooga, Tennessee area, Pinelands Presbyterian Church of Miami, Florida, and was the founding pastor of Christ Covenant Presbyterian Church in North Carolina in 1983.
Reeder is survived by his wife, Cindy, three children and several grandchildren.
Reeder's death sent shockwaves through the tightly-knit church community. Church member Stan Blair, who served as a deacon under Reeder, remembered the late pastor as a great teacher and leader. 
"He's not having any problems. He's walking the streets of gold and right now and smiling," Blair said of Reeder. "We're the ones that have to deal with the grief."
At a celebration of life service for Reeder on Wednesday, the late pastor's son, Harry Lloyd Reeder IV, reflected on his father's passion for sharing the Gospel. 
"There is no place Dad would not go to preach the Gospel if he was asked," Reeder said, according to AL.com. "He was simply seeking to serve God humbly and with the master's heart."
"Dad's adversary was Satan and his schemes," Reeder said. "Why? Because he loved the truth of God so much, he hated when people were led astray."
Reeder wanted to "make the church a safe haven for sinners, but not for sin," said one of his daughters, Abigail Leib. "He was a driven man."
In an article for The Gospel Coalition, pastor and author Kevin DeYoung said Reeder embodied the motto of the PCA: "Faithful to the Scriptures, true to the Reformed Faith, obedient to the Great Commission."
"Many pastors looked up to him for his theological clarity, his moral courage, and his resolute commitment to the 'old paths' of preaching, sacraments, and prayer," DeYoung wrote. 
"For Harry, all is glory and gladness now and forever. For those he knew here on Earth, there'll be grief and sadness. But if Harry's word can be believed — no, if God's Word can be believed — then we don't mourn as those who have no hope. We have heard the joyful sound: Jesus saves! Jesus saves!"
Reeder's death came just one day before the passing of another prominent PCA pastor, Tim Keller, who founded Redeemer Presbyterian Church in New York City. Keller died at 72 after battling pancreatic cancer.
"But it's not all the time that two well-known friends in ministry die within the span of 24 hours," DeYoung wrote in another article for World magazine. "Those outside the Presbyterian Church in America may not realize that Briarwood in Birmingham and Redeemer in Manhattan may be the two most famous churches in our denomination. How sad, yet providentially fitting, that their pastors would enter into glory on nearly the same day."