Gavin Newsom signs bill requiring gender-neutral bathrooms in California schools by 2026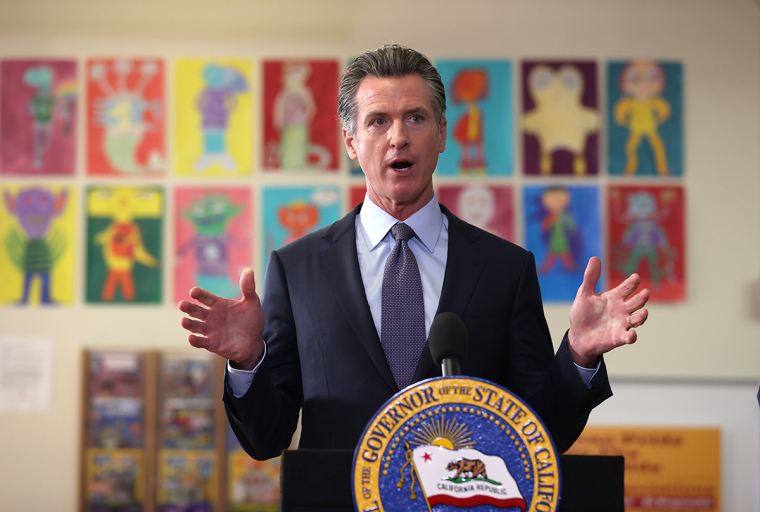 California Gov. Gavin Newsom recently signed a series of LGBT-related bills, one of which requires all public schools to implement gender-neutral bathrooms by 2026.
Newsom's office announced Saturday that the Democratic governor had signed the bills, including Senate Bill 760. The measure requires K-12 schools to have at least one gender-neutral bathroom by July 1, 2026, and the restroom must be available when students are present during school hours and school functions. 
Under the law, the restroom must have signage indicating that the space is open to all students. A school is only permitted to temporarily close the restroom if it's in need of repair or if there's a documented threat or immediate threat to student safety. 
Schools must also assign a staff member to ensure that the restroom complies with state law. 
"California is proud to have some of the most robust laws in the nation when it comes to protecting and supporting our LGBTQ+ community, and we're committed to the ongoing work to create safer, more inclusive spaces for all Californians," Newsom said in a Saturday statement. 
"These measures will help protect vulnerable youth, promote acceptance, and create more supportive environments in our schools and communities."
The new laws also include legislation that requires families to show that they can meet the needs of children in foster care regardless of their sexual orientation or struggles with their gender identity. Another measure would create an advisory task force focused on addressing the needs of LGBT students.
The signing of the bills comes as Newsom vetoed a law that would have required judges presiding over custody battles to consider whether a parent affirms their child's gender identity.
The bill, AB 957, introduced by Democrat Assemblywoman Lori Wilson and co-authored by Democrat state Sen. Scott Wiener, passed the state assembly earlier this month. 
In a statement explaining the veto, Newsom said he appreciates the "passion and values" that led to the bill's introduction but urged caution. 
"Other-minded elected officials, in California and other states, could very well use this strategy to diminish the civil rights of vulnerable communities," Newsom said. 
The governor also asserted that existing laws already require the courts to consider a child's well-being, including the parent's affirmation of the child's gender identity. Wilson and Wiener disagreed with the governor's decision, with the latter describing the veto as "a tragedy for trans kids." 
Republican state Sen. Scott Wilk criticized the bill, calling on parents to leave California, as he warned that legislation like AB 957 would not stop at divorce proceedings. 
Earlier this year, a judge halted a Southern California school district policy requiring schools to tell parents if their child requests to identify as the opposite sex after Attorney General Rob Bonta sued the district over the policy. 
The Chino Valley School District (CVUSD) passed Policy 5020 in July, which required schools to inform parents within three days of becoming aware of a student's request to use a different name or pronoun or use the bathroom that doesn't align with their sex. Following the policy's approval, school board members were subjected to threats of violence. 
Bonta filed a lawsuit last month in the Superior Court of the State of California, arguing that the "forced disclosure" policy violates the state constitution. Bonta also claimed that the policy "unlawfully discriminates" against students who identify as trans or non-binary, stating that it "shoves" trans students who are not "out" at home "in the closet" while at school. 
The Murrieta Valley Unified School District passed a similar policy a month later in a 3-2 vote. The policy also requires schools to notify parents within three days of a student requesting to identify as the opposite sex. 
"The stakes are really high when you have young kids who are flirting with these different ideations about what their gender is at a very young age because right now, the state of California, for whatever reason, is intent on allowing minors to alter who they are physically," Clerk Nicolas Pardue said during the meeting.