Chick-fil-A accused of going 'woke' over addition of diversity and inclusion agenda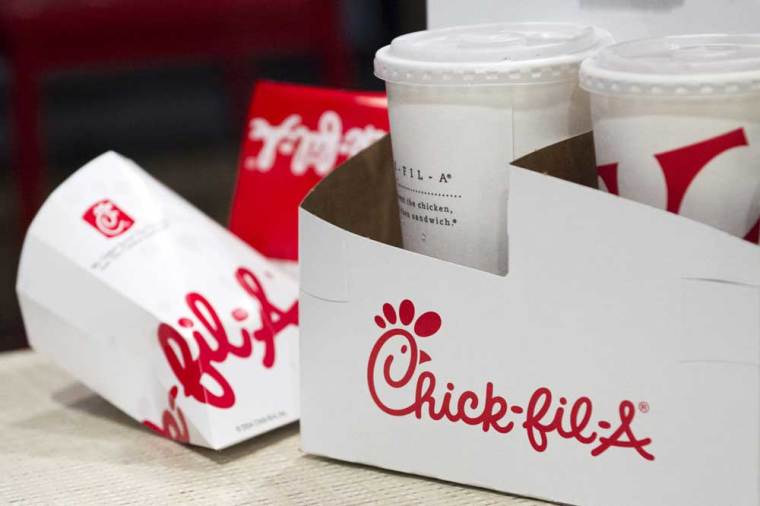 Chick-fil-A, the leading fast-food chain that has shuttered its stores each Sunday to allow employees "to rest and worship if they choose" since 1946 and became a household name because of it, is now coming under fire over the company's diversity, equity and inclusion agenda and Erick McReynolds, the black company executive driving it.
"Our founder, Truett Cathy, believed that 'a great company is a caring company,' and since the beginning, care has been at the center of everything we do. We understand that the path toward Better at Together looks different for every business," states Chick-fil-A on a page on its corporate website dedicated to the DEI campaign.
The page also states that "Chick-fil-A's Corporate Purpose is 'To glorify God by being a faithful steward of all that is entrusted to us. To have a positive influence on all who come into contact with Chick-fil-A.'"
The company further notes that "At Chick-fil-A, Inc., our commitment is to approach this work with intention and humility, always believing the best in one another and striving for common ground. We're early on in our journey, but we're honored by the opportunity to steward our organization's greatest asset — our people — and are energized by the road ahead."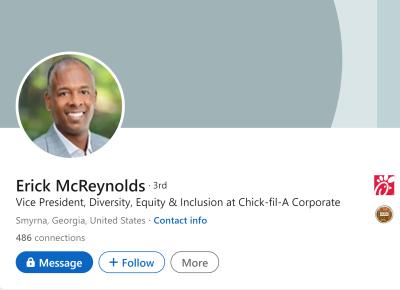 Conservatives like media personality Todd Starnes, however, were not amused by Chick-fil-A's DEI push.
"So Chick-fil-A has a diversity, equity and inclusion division. Well, that explains the fried cauliflower sandwiches and kale salad. #woke#chickfila," he quipped on Twitter.
"Chick-Fil-A just hired a VP of Diversity, Equity and Inclusion. Whatever happened to just hiring people based on their character and competence? DEI is a slippery slope to go woke, go broke," Justin Dean, marketing director of the Tithely app, added in a tweet to his more than 15,000 followers early Tuesday morning.
Less than a week ago, Missionary Spencer Smith, who describes himself as an "independent fundamental Baptist" questioned the Christian fast food chain's values after Chick-fil-A Thibodaux in Louisiana publicly praised an effeminately dressed male employee named Tavion for his "hard work."
"Say hello to Tavion! He has been with Chick-fil-A Thibodaux for over a year. His favorite position to work is on Drive-Thru bagger making sure your food is bagged fast and accurately!" the restaurant noted.

"His favorite meal to get on break is a Grilled Sandwich with American cheese and ranch! He mentioned he enjoys coming to work and making new friends every day. During his free time, he enjoys working out and sleeping. We are so appreciative of all your hard work and dedication, Tavion! We love you!"
The post attracted thousands of reactions. Of the 71,000 emoji reactions, 41,000 hit the love button and another 24,000 clicked on the like button as of Tuesday evening.
Many of Smith's 13,000 followers who reacted to his sharing of the post on his page raised concern about Chick-fil-A's commitment to conservative Christian values after he asked: "What is going on with Chick-fil-A?"
He further asked in another post on Tuesday, in reaction to the company's statement on diversity, equity and inclusion, if the leadership of the popular fast-food chain had gone gay as well.
McReynolds has held the position of vice president of diversity and inclusion since November 2021, according to his LinkedIn page. He has been working with Chick-fil-A for more than 16 years, starting as a business consultant in 2007.
"Chick-fil-A restaurants have long been recognized as a place where people know they will be treated well. Modeling care for others starts in the restaurant, and we are committed to ensuring mutual respect, understanding and dignity everywhere we do business," McReynolds said in a statement on the company's website. "These tenets are good business practice and crucial to fulfilling our Corporate Purpose."
The DEI Board, an organization that creates "confidential, vendor-free, peer-to-peer membership communities for people leading change at the world's biggest companies" praised his executive skills "working in the restaurant industry" in a recent statement. "With skills in consulting, operations, customer satisfaction, team building, public speaking, and management, we are thrilled to have Erick in our community," the DEI Board wrote.
Chick-fil-A's conservative CEO Dan Cathy, who infuriated LGBT activists in 2012 when he publicly voiced his support for traditional marriage, revealed two years later in 2014 that he had found a "wiser way" to engage on social issues as his Georgia-based company expanded into the more liberal Northeast market.
"All of us become more wise as time goes by," Cathy apologetically said in an earlier interview. "We sincerely care about all people."
Conservative head of the Family Research Council, Tony Perkins, derided business leaders like Cathy at the time for tempering their positions on same-sex marriage in the name of business.
"I think we're seeing those in the business community becoming cowards," Perkins said on Mike Huckabee's then Fox News program.
"Tolerance is a one-way street for [the same-sex marriage supporters who boycotted Chick-fil-A]. What they want to do is force the rest of America not to just tolerate but to celebrate what they're doing," he added. "They want to redefine America."