'Troubling': Christian groups condemn Biden's new policy for Venezuelan migrants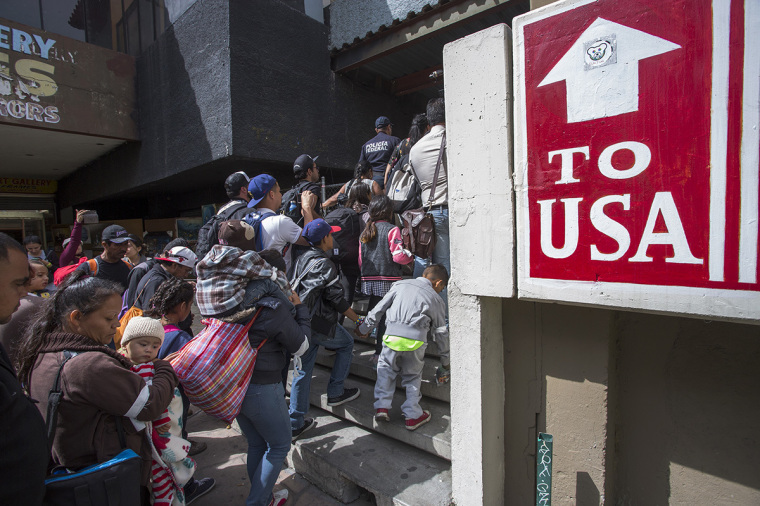 As concerns about illegal immigration loom large in American politics, religious organizations are criticizing the Biden administration for implementing a policy to swiftly remove most Venezuelan asylum seekers from the United States.
The U.S. Department of Homeland Security announced a new migration enforcement process for Venezuelans seeking to enter the country illegally in a statement Wednesday. While the new policy will give some Venezuelans a pathway to legal status in the U.S., others will be ordered to remain in Mexico.
"Effective immediately, Venezuelans who enter the United States between ports of entry, without authorization, will be returned to Mexico," the DHS statement reads. "Our comprehensive effort to reduce the irregular migration of Venezuelans also includes a new process to lawfully and safely bring up to 24,000 qualifying Venezuelans into the United States."
Venezuelans seeking to enter the U.S. legally must "have a supporter in the United States who will provide financial and other support; pass rigorous biometric and biographic national security and public safety screening and vetting; and complete vaccinations and other public health requirements." Those whose removal has been ordered in the previous five years as well as those who have failed to "complete vaccinations and other public health requirements" will not be able to participate in the program.
Migrants who are permanent residents or dual citizens of another country or hold refugee status in another do not qualify for entry into the U.S.
"These actions make clear that there is a lawful and orderly way for Venezuelans to enter the United States, and lawful entry is the only way," Secretary of Homeland Security Alejandro Mayorkas asserted.
"Those who attempt to cross the southern border illegally will be returned to Mexico and will be ineligible for this process in the future. Those who follow the lawful process will have the opportunity to travel safely to the United States and become eligible to work here."
Krish O'Mara Vignarajah, president of the Lutheran Immigration and Refugee Service, one of nine agencies authorized by the State Department to help resettle refugees into the U.S., released a statement in response to the latest changes to immigration policy.
"This new humanitarian avenue is a welcome step toward providing protection and recognizing the crisis in Venezuela requires our attention and creative solutions," she said. "The program should not be viewed as a replacement for asylum protections enshrined in both U.S. and international law."
NEW: The Department of Homeland Security announced a new parole program today that will allow certain Venezuelans to apply for temporary entry from abroad, while expanding Title 42 expulsions of other Venezuelans to Mexico.

My statement for @LIRSorg…

1/6 pic.twitter.com/tVRI4FDJJc

— Krish O'Mara Vignarajah (@KrishVignarajah) October 13, 2022
At the same time, Vignarajah expressed concern that the new policy "provides only temporary protection to a very limited subset of the millions of Venezuelans forced to leave their homeland."
She condemned the "expansion of Title 42 expulsions that will now apply to Venezuelans attempting to assert their legal right to seek asylum" as "troubling." During the coronavirus pandemic, immigration officials used Title 42 to turn away those seeking entry into the U.S., citing a public health emergency.
"This will undoubtedly and disproportionately impact Venezuelans who do not have close U.S. ties, but who are nonetheless deserving of due process and protection," Vignarajah said. "That their expulsions will be cloaked in public health concerns just weeks after President Biden declared the pandemic 'over' is deeply disturbing.
"Amid unprecedented global displacement, the Biden admin. must use every tool in its toolkit, including parole, asylum, and refugee programs. Regardless of their nationality or ties to the U.S., everyone should be able to access a fair, orderly, and humane immigration system."
Elket Rodríguez, the leader of the Cooperative Baptist Fellowship advocacy team for immigrants and refugees, also criticized the new policy. 
"A legitimate and moral system of protection for the persecuted cannot distinguish primarily between the nationality or the relatives of the asylum seeker. A non-arbitrary asylum system should distinguish the legitimacy of each request of protection from persecution," Rodriguez said in a statement. "That is why the Cooperative Baptist Fellowship cannot endorse the administration's proposal to parole or expel Venezuelans without considering the validity of their asylum claims."
"It is outrageous that the administration continues to rely on carve-outs and amendments to Title 42, which exposes the absence of a long-term strategy to address the needs of asylum seekers and border communities," Rodriguez added. "Until Title 42 is ended, thousands of potential asylum seekers will be kidnapped and harmed, border communities will be more vulnerable, and the number of repeat border-crossers will continue to increase."
Rev. Noel Andersen, the director of grassroots organizing at Church World Service, said that expanding Title 42 is a "tragic mistake."
"The legal right to seek asylum is a cornerstone of our nation; to deny or return individuals to the very danger they are fleeing runs contrary to our own asylum laws, and our moral obligation to humanitarian protection," Andreson said. 
The number of encounters between law enforcement officials and illegal immigrants at the U.S.-Mexico border exceeded 2 million for the fiscal year 2022.
Between last October and this August, law enforcement officials apprehended 2,150,639 illegal immigrants in the vicinity of the U.S.-Mexico border. Every month since March 2022, encounters between law enforcement and illegal immigrants have remained above 200,000. This figure doesn't include the hundreds of thousands of illegal immigrants who were not apprehended. 
The number of border crossings in the fiscal year 2022 will almost certainly exceed the number of crossings in fiscal years 2020 and 2021 combined, which amounts to nearly 2.2 million.
American voters have told pollsters that they view the surge in illegal immigration at the southern border as a major issue facing the country in polls taken ahead of the 2022 midterm elections.
Specifically, a poll of swing district voters residing in congressional districts that will determine which party controls the U.S. House of Representatives after next month's midterm election suggests that illegal immigration was tied as the fifth most frequently cited issue that will determine how respondents vote in the midterms.
When asked which party they trusted more to handle immigration, voters in swing districts gave Republicans a 2-point advantage over Democrats, while 66% blame President Joe Biden and congressional Democrats for the illegal immigration surge.
Critics of the Biden administration blame the president's abandonment of Trump-era policies, including the Remain in Mexico policy that required those seeking asylum in the U.S. to remain in Mexico while their claims were adjudicated.
President Joe Biden has attributed the border surge to a change in the demographic makeup of those seeking entry into the country.
"There are fewer immigrants coming from Central America and from Mexico," he claimed in response to a question about why the border was "overwhelmed." Biden suggested that it was much easier to turn those migrants out of the country as opposed to the illegal immigrants coming from Venezuela, Cuba and Nicaragua, where he insisted that "the ability to send them back to those states is not rational."
According to a RealClearPolitics average of polls taken since the beginning of September, the president's approval rating on the issue of illegal immigration is 24 points underwater, significantly lower than his overall net disapproval rating of 9.8 points. Only on the issue of inflation does the president have a higher net disapproval rating of 28 points.
The FiveThirtyEight Deluxe Model, which predicts the outcome of elections based on "polls, fundraising, past voting patterns" and the opinions of political observers, gives Republicans a 71% chance of retaking control of the U.S. House while giving Democrats a 66% chance of maintaining control of the U.S. Senate.
Meanwhile, the RealClearPolitics average of generic ballot polling over the past month, which asks voters which party they would like to see control Congress, gives Republicans a 1.8-point lead over Democrats as of Monday morning.