Christian NHL player refuses to join team's LGBT pride night celebration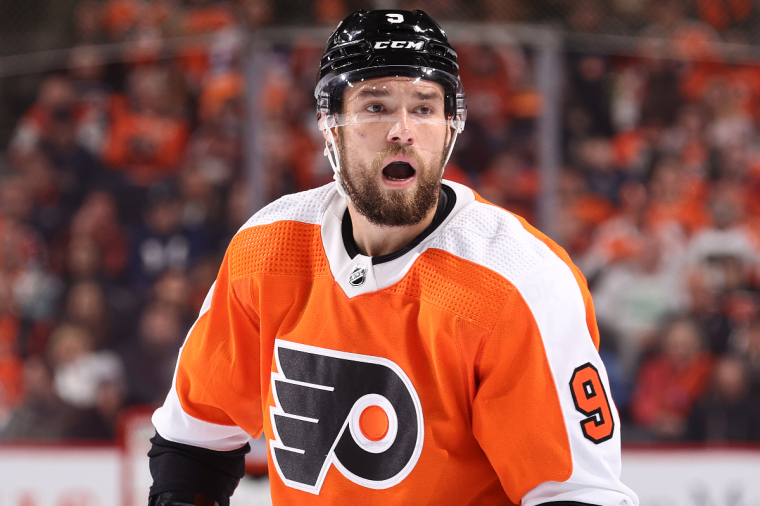 A hockey player for the Philadelphia Flyers refused to participate in his team's LGBT pride night commemoration on Tuesday because he said he needs to "stay true to his religion" as an Orthodox Christian.
Flyers defenseman Ivan Provorov willingly sat out as his team members engaged in pregame warmups and a pride celebration, which was part of the team's effort to show solidarity with the LGBT community. 
Pride-related decor and lighting were visible at the Wells Fargo Center in Philadelphia. The Flyers could be seen on the ice for warmups adorned by rainbow jerseys with hockey sticks in hand decorated with rainbow tape. 
Although Provorov didn't participate in the pride festivities, he joined his team members on the ice after the warmups and played against the Anaheim Ducks, a game in which the Flyers won 5-2.
"I respect everybody, and I respect everybody's choices," Provorov, a Russian Orthodox Christian, told reporters after the game. "My choice is to stay true to myself and my religion."
Flyers head coach John Tortorella supported Provorov's decision.
"He's being true to himself and to his religion. It's one thing I respect about Provy; he's always true to himself," Tortorella told media, adding that he would not deny a player the opportunity to participate in hockey games because of their religious beliefs. 
A statement released by the Philadelphia Flyers organization after the game states that it is "committed to inclusivity and is proud to support the LGBTQ+ community." 
"Many of our players are active in their support of local LGBTQ+ organizations, and we were proud to host our annual pride night again this year," reads the statement. 
"The Flyers will continue to be strong advocates for inclusivity and the LGBTQ+ community."
In the past few years, the National Hockey League has been known for its open stance in support of the LGBT community through its activism and diversity-equity-inclusion initiatives, as well as, its participation in hosting pride-month campaigns. 
The league has also been recognized for requesting that its employees make their pronouns known in company communications. 
In recent months, the organization tweeted about its involvement in hosting its own transgender tournament.
"The NHL is proud to support this past weekend's Team Trans Draft Tournament in Middleton, Wisconsin," wrote the league in a late November tweet. 
"This was the first tournament comprised entirely of transgender and nonbinary players, with around 80 folks participating! #HockeyIsForEveryone #NHLPride."
Following the tweet, critics took to social media to express concern for the league allowing biological males on the ice with women.
"Trans women are women. Trans men are men. Nonbinary identity is real," the NHL wrote as a comeback to the backlash.
Recently, the NHL advertised an upcoming Florida conference by stating it was for "diverse" job-seekers who hope to pursue careers in the sport open only to racial minorities and women. 
The administration of Gov. Ron DeSantis demanded the "discriminatory provisions" be taken down from the promotion, and the league reportedly made the event available to all applicants, reports National Review.