Damar Hamlin's uncle tells public to continue sending prayers as 'they are making a difference'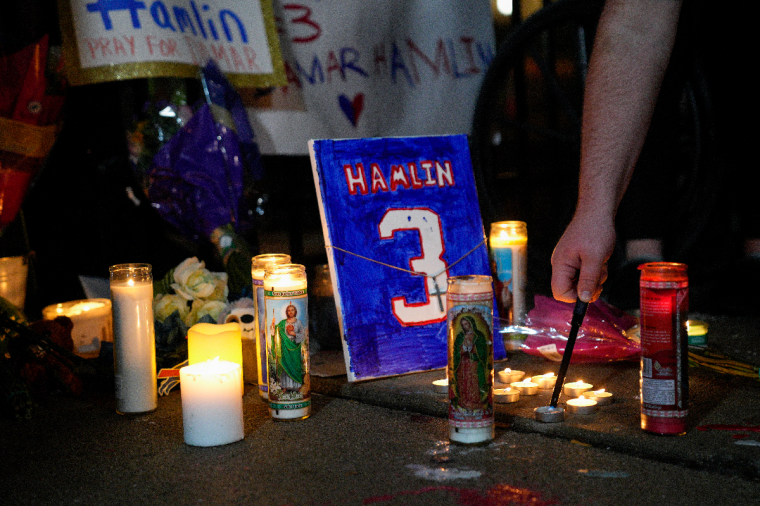 After learning that his nephew, Buffalo Bills safety Damar Hamlin, had to be resuscitated twice after he collapsed due to a cardiac arrest during Monday night's game against the Cincinnati Bengals, Dorrian Glenn, urged the public on Tuesday to keep praying as Hamlin's health has been "trending upwards in a positive way" since his hospitalization.
"His heart had went out, so they had to resuscitate him twice," Glenn told CNN's Adrienne Broaddus. "They resuscitated him on the field before they brought him to the hospital, and then they resuscitated him a second time when they got him to the hospital."
The 24-year-old Hamlin, who remains hospitalized in critical condition, collapsed at the 5:58 mark during the first quarter of the game at Paycor Stadium in Cincinnati, Ohio, after tackling Bengals receiver Tee Higgins on Monday night.
Glenn said he was watching with his family members, including Hamlin's younger brother, when they saw what happened.
"I'm not a crier, but I've never cried so hard in my life. Just to know like my nephew basically died on the field and they brought him back to life," he said.
In an interview with "NFL Total Access," Glenn described the first 12 hours for his family after his nephew's collapse as "heartbreaking."
"I haven't been asleep yet. I have been up about 24 hours now. As soon as they canceled the game, we got on the road, and we drove out from Pittsburgh to Cincinnati. I mean, it felt like we drove through a hurricane. There was so much rain coming down, [but] we weren't going to stop until we got here and be able to support my nephew and just be by his side," he said outside the University of Cincinnati Medical Center.
A national wave of prayers for Hamlin's recovery has followed since his Bills teammates dropped to their knees in prayer as the emergency unfolded. Glenn believes the combined work of the medical staff at the University of Cincinnati Medical Center and the prayers of the public and his loved ones are making a difference.
"They sedated him just to give a better chance for him to just continue to heal better. We are just taking it day by day. It seems like he's trending upwards in a positive way, and you know [I'm] thanking God for that," Glenn said.
"But … just continue to have people continue to send prayers because I really believe those are making a difference for him. Having a full recovery that we're all hoping and expecting."
Glenn explained that his nephew sustained some damage to his lungs that doctors are working to "remedy." Hamlin is also breathing with the help of a ventilator to take the pressure off his lungs.
"It's just a sad situation all the way," he said.
As far as Glenn knows, his nephew had no health problems before his collapse.
"He was healthy as an ox," Glenn said. "So this is really a surprise to everybody."
Josh Reed of the Buffalo-based WIVB-4 reported that Glenn informed him that Hamlin was initially treated with 100% oxygen and is now down to 50%.
Amid the outpouring of prayers for Hamlin's recovery, fans have also opened their wallets to support a GoFundMe campaign Hamlin started in December 2020 to raise money for a community toy drive. As of Wednesday morning, donations had skyrocketed to more than $6 million.
Glenn further told "NFL Total Access" he believes that his nephew, who he describes as "humble," will be floored when he recovers and sees the support and love people have for him.
"It's tremendous to see all the love and support that my nephew has out here. … A lot of people don't get a chance to see how loved they are while they are alive," Glenn said. "So for him to have a situation where he could have been taken away and he has a chance to come back and see all the love that he got is truly an amazing thing, and I can't wait for him to see all the love and support that people have for him."