DeSantis launches presidential bid, talks border crisis, fentanyl and 'book ban' in Twitter Q&A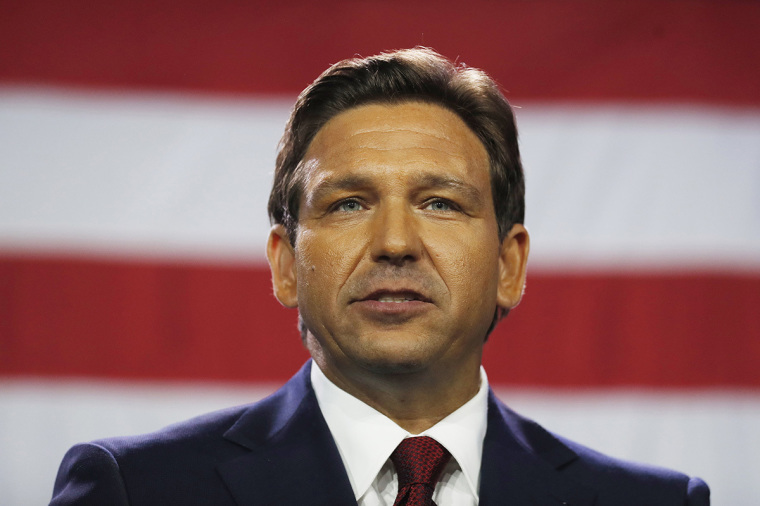 After months of speculation, Florida's Republican Gov. Ron DeSantis officially launched his presidential campaign on Wednesday and discussed his plans for resolving the illegal immigration crisis and cleaning out the federal bureaucracy with hundreds of thousands of listeners as he pitched himself as the candidate to "lead our great American comeback."  
Shortly after his presidential run became official, DeSantis discussed his vision for the country and record as Florida governor in a Twitter space hosted by Twitter CEO Elon Musk and venture capitalist David Sacks. When asked to address the media narrative that he was "trying to ban books," blocking efforts to "teach kids about slavery," and telling schools to "say that gay people don't exist," DeSantis responded by assuring the hundreds of thousands of people who tuned into the conversation that "the whole book ban thing is a hoax."  
"There's not been a single book banned in the state of Florida. You can go buy or you can use whatever book you want," DeSantis said. 
"What we have done is empowered parents with the ability to review the curriculum, to know what books are being used in school and then to ensure that those books match state standards and are age and developmentally appropriate," he noted. He cited examples of problematic books that "teach middle school kids how to use sex apps, that provide graphic depictions of sex acts and sex toys for people as young as fifth grade."
Describing such material as "not appropriate to be in a middle school classroom," DeSantis outlined how Florida has created a process where "parents object and the schools take them out." He recalled that when presenting the contents of problematic books at a press conference, "the local news had to cut the feed because they said it was too graphic."
"If it's too graphic for the 6 o'clock news, how is it OK for a sixth grader or a fifth grader?" he asked. The governor addressed claims that the state was working to remove "racial history" from the school curriculum. He acknowledged that "we eliminated critical race theory from our K-12 schools" while stressing that schools will "teach the accurate history."
"In the same bill that banned critical race theory, we require teaching thoroughly about racial discrimination that occurred in American history, and Florida's history standards require all of those subjects, from slavery, reconstruction, segregation, all of that to be taught and we'll continue to do that."
Additionally, DeSantis weighed in on the issue of immigration, which has figured prominently in American politics following the expiration of the coronavirus-era Title 42 policy that enabled immigration officials to turn away most illegal immigrants seeking entry into the U.S.: "I'd reverse what [President Joe] Biden's doing. You need to shut the border down. You should not be entertaining these asylum claims for people crossing illegally." 
Identifying the idea of asylum as a "legitimate thing" for those who are "being persecuted," he said most asylum seekers are "economic migrants that are coming across many other different countries." He insisted that "they should be applying for asylum there if they were … truly qualifying for that, but they're not."
DeSantis condemned the "absolutely insane system" where people "just show up at the southern border" and "get a sheet of paper" inviting them to show up at an immigration court in three years as they are released into the interior of the U.S. He outlined some of his priorities on the issue of illegal immigration should he win the 2024 presidential election.
"We will move on day one by declaring a national emergency," he vowed. "We will construct a border wall. We will make sure we have Remain in Mexico and that we're not entertaining those claims in that way." 
DeSantis also addressed the "need to hold the Mexican drug cartels accountable because they're facilitating a lot of this migration." He described how "they obviously make money off of it" and "treat a lot of these people very horribly as they're trafficking them through Mexico and into the United States."  
"The cartels have been responsible for moving massive amounts of fentanyl into this country and that's killing tens of thousands of Americans every year now," he added. "What they're doing is they lace the other types of drugs with the fentanyl."
DeSantis detailed how this has resulted in a phenomenon where teenagers taking previously nonfatal drugs "overdose and die." He classified the border crisis as a "day one issue," promising to "stop this insanity once and for all."
In response to a question that constituted a veiled swipe at former President Donald Trump, the current frontrunner for the Republican nomination for president, Iowa-based radio show host Steve Deace asked DeSantis to make an assurance to the American people that "you can actually do the agenda that you just articulated when others tweeted about it and talked about it but then couldn't actually follow through." 
"Even my worst critics in Florida will acknowledge when I tell people I'm going to do something, I don't make promises or say I'm going to do something lightly. I've thought it through and I know that I am going to follow through on what I tell people I'm going to do," he said. Referring to his philosophy as the governor of Florida and as a presidential candidate, DeSantis maintained, "I'm not going to take no for an answer." 
"Voters are sick of the empty promises," he concluded. "They want to see action."
DeSantis also discussed how the COVID-19 pandemic illustrated the need to reform the federal bureaucracy, specifically expressing contempt for their advancement of the idea that widespread lockdowns were necessary to curb the spread of the virus: "We need an honest reckoning about what happened during COVID, and the only honest reckoning is that all of those agencies, all of the elites, the public health establishment, they failed, they instituted bad policies."
"When the data was becoming more and more apparent that the path they were on was wrong, they doubled down and wanted to do it even more. And I really believe had Florida not just kind of stood in the way, I think this country would have had rolling lockdowns for probably a two-year period. And so their impulses were authoritarian. They were not following the data, and I think the U.S. government needs to acknowledge the failures. And I think all of those agencies need to be cleaned out."
DeSantis contended that an "interest in the narrative and in politics over evidence-based reasoning and evidence-based medicine" plagued the federal government's response to the pandemic: "I don't have confidence that those agencies are up to the task, and I think you need a major, major overhaul of the whole enchilada with respect to public health in this country." 
Shortly before beginning his conversation with Musk, Sacks and others, DeSantis released his announcement video at 6 p.m. ET. It features a voiceover of the candidate painting a dire picture of the current state of affairs in the U.S., while video footage of the 44-year-old politician preparing backstage for a rally plays on screen: "Our border is a disaster. Crime infests our cities. The federal government makes it harder for families to make ends meet and the president flounders."
"Decline is a choice," he proclaimed. "Success is attainable and freedom is worth fighting for. Righting the ship requires restoring sanity to our society, normalcy to our communities and integrity to our institutions."
The ad transitions to DeSantis addressing viewers on-screen, declaring that "truth must be our foundation and common sense can no longer be an uncommon virtue." He pointed to his record as governor of the third-most-populous state in the U.S.: "In Florida, we proved that it can be done. We chose facts over fear, education over indoctrination, law and order over rioting and disorder. We held the line when freedom hung in the balance. We showed that we can and must revitalize America."
After insisting that "we need the courage to lead and the strength to win," DeSantis says, "I'm Ron DeSantis and I'm running for president to lead our great American comeback." 
I'm running for president to lead our Great American Comeback. pic.twitter.com/YmkWkLaVDg

— Ron DeSantis (@RonDeSantis) May 24, 2023
While DeSantis starts off his presidential bid in a stronger position than most of the other declared and potential Republican presidential hopefuls, polling shows that his level of support still remains far behind that of Trump. The RealClearPolitics average of polls sampling the presidential preferences of Republican primary voters taken from April 28 through May 22 shows DeSantis capturing 20.9% while Trump remains firmly in first place with 54.9% support.
DeSantis' presidential bid comes six months after he overwhelmingly won re-election as governor of the state of Florida as Republican candidates in other parts of the country underperformed in last year's midterm elections. A chart shared on social media by MSNBC's Steve Kornacki shows how in addition to winning re-election by 19.4 percentage points two years after Trump carried the state with a 3.3% margin of victory in the 2020 presidential election, DeSantis outperformed Trump in every single county in the state. 
In his 2020 re-election bid, Trump carried Florida by 3.3 points. In his 2022 re-election bid, DeSantis carried it by 19.4%. Here's how much DeSantis outperformed Trump by in each of FL's counties, ranked from most to least: pic.twitter.com/aKI9eLXh8e

— Steve Kornacki (@SteveKornacki) May 24, 2023
The RealClearPolitics average of polls taken between April 11 and May 22 of a general election matchup between DeSantis and Biden, the likely Democratic presidential nominee, shows DeSantis beating the incumbent by 0.1 points. By contrast, the RealClearPolitics average of polls from the same time period measuring public opinion regarding a hypothetical matchup between Biden and Trump shows the former president beating his successor by 0.8 points.