First Step Act leader says his faith in God won't let him give up seeking criminal justice reform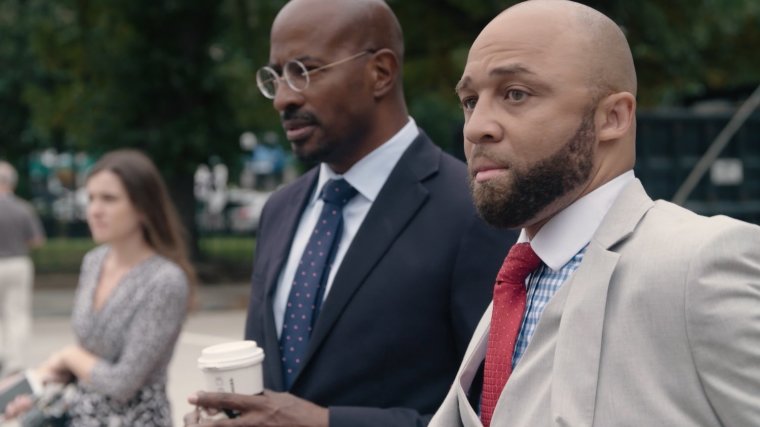 In 2018, Congress and President Donald Trump passed The First Step Act, a bipartisan criminal justice reform bill that has had mixed reviews since its inception.
A recent documentary gives viewers an inside look into the journey of getting the bill passed and one of its leaders, Louis L. Reed, says people of faith should pay attention to this "American issue."
Reed, the senior director of Membership and Partnerships for the REFORM Alliance has years of experience in government, criminal justice expertise, policy advocacy, public health and personal impact. He served nearly 14 years in federal prison and several years on supervision and is featured in the new documentary "The First Step."
"The First Step," which is now available to stream on Amazon Promo, Vudu, and other platforms, follows Reed as he supports media personality Van Jones on his controversial journey to pass the landmark criminal justice bill.
"The film reveals an intimate portrait of an activist's isolation and internal struggles, and what it takes to make a change in a divided nation," the film's description reveals. 
"Republicans at their best believe in Liberty. Democrats at their best believe in Justice. All Americans at our best should believe in Liberty and Justice for All. Not just for the privileged or those who have access to power or influence-for ALL Americans. This makes Justice reform an American issue," Reed shared in a recent interview with The Christian Post.
The First Step Act is aimed at providing a pathway for non-violent prisoners to shorten their sentences while also reducing mandatory minimum sentences and recidivism.
However, it has been accused by some of also releasing hundreds of "violent criminals and sex offenders." Just this week, 2024 Republican presidential candidate, Florida Gov. Ron DeSantis made headlines for seeking to repeal The First Step Act. 
While on the "The Ben Shapiro Show," DeSantis criticized the bipartisan bill and called the legislation "basically a jailbreak bill."
DeSantis voted for the first version of the bill in 2018 as a member of the House of Representatives, but resigned before the final version of the bill came to a vote. 
Another controversy have been isolated incidents of recidivism. Joel Francisco was 14 years into a life sentence for selling crack cocaine when The First Step Act gave him his second chance. After his release, however, he was arrested again in 2019 for stabbing to death 46-year-old Troy Pine at a Providence, Rhode Island, hookah lounge.
Although a minority occurrence in the estimated 5,000 releases via The First Step Act, the tragedy raised concerns from detractors of the legislation.
"This case is upsetting but it's not a surprise," U.S. Sen. Tom Cotton (R-Ark.) said at the time, as quoted by CNN. "Letting violent felons out of prison early as the First Step Act did leads to more crime and more victims."
Karen Bass, a former Democrat House of Representatives member representing California, said this tragic occurrence should not dictate the progress that the bill could make.
"If you're looking at reforming the criminal justice system you cannot pick an individual criminal act to then raise the question as to whether or not you do reforms to the system," Bass noted in 2019, as quoted by CNN.
Likewise, Reed, who is an example of the power of a second chance, believes all people should back the prison reform initiative. The following is an edited transcript of The Christian Post interview with Reed.
CP: Why is The First Act movie important for people of faith to watch?
Reed: There are several reasons for people of faith to watch this film, one being my personal journey. I was incarcerated and had an awakening as to the revolutionary thoughts of Jesus. Jesus looked at those who were most disenfranchised and wants us to do the same. When you watch this movie, this movie espouses those principles, to help those who are most forgotten—which currently are the black-brown population who are disproportionately affected by the justice system. 
CP: Can you share a little more of your own testimony with us?
Reed: I was exposed to the Gospel in the black Pentecostal church, but had an epiphany in my faith during the 14 years I served in federal prison. I was in solitary confinement facing a sentence of more than 70 years. I had picked up a Bible for the first time as an adult, and turned to the book of John and started reading. When I came to the crucifixion of Jesus, I realized I was crying as I would at a funeral of someone I knew, someone I was close to.  I looked up to my jail wall—and this will sound untrue to a non-believer—but I saw my jail wall covered in blood. I saw that as a sign of the redemptive blood of Jesus through the atoning cross. I had an encounter with Jesus. This led to a righteous indignation of the number of black, brown and poor white people in the justice system. When I saw these people, I didn't see them as convicts or felons, I saw them as brothers and sisters in Christ. I saw them as I believe Jesus sees them. I would also attempt to encourage them to see each other from that same viewpoint. 
CP: Why is this type of reform a bipartisan issue?
Reed: Republicans at their best believe in Liberty. Democrats at their best believe in Justice. All Americans at our best should believe in Liberty and Justice for All. Not just for the privileged or those who have access to power or influence—for ALL Americans. This makes Justice reform an American issue. 
The United States of America makes up five percent of the world's population, but we lead the world by 25% in public incarceration. There are more than 70 million people in the United States with criminal histories. That means they suffer what the American Bar Association calls collateral consequences. There are 46,000 collateral consequences for every conviction. That's equivalent to 46,000-to-one odds against you to be able to succeed. No one in life wants to be reduced down to the poorest decision they made. 
CP: The film talked about putting people over politics, can you share the importance of doing that in times that are so hateful?
Reed: You can't get to purpose without travailing through pain. It just is what it is. If you consider the hate that is in the world, if love doesn't stand up, if life doesn't break through, if we don't rise to the occasion, then we will be overtaken with that hate. When we were working on this, we chose to look at the opposition as opportunity. Right before you have the greatest opportunity of your life, you have the greatest opposition. On the other side of a breakdown was a breakthrough. 
CP: How hard was it for you guys to walk that line to try and rally Trump and the Republicans while also keeping the support of the Democrats?
Reed: To get this bill over the line, you had to consider the current political landscape. We had a polarizing president in office and when you looked at him and the Republican office through the eyes of someone who is economically disfranchised, being a Republican is perceived as being racist. The hardest part of this project was earning the trust of those being marginalized while also being credible messengers of the First Step Act. It helped that the bill was introduced as bipartisan, with Doug Collins representing the Republicans and Hakeem Jefferies representing the Democrats. These congressmen created a congressional appetite for everyone to work together and get this bill passed. 
CP: The divide was so real, that people hated the First Step Act just because Trump endorsed it, how did you navigate that?
Reed: You have to be mission-focused. While all of these people who didn't like it opposed the bill, those whom the bill was helping do not have social media. The people this bill helped only had the call to action to get on the phone in 15-minute-increments to call their families and get their families to support what we were doing.
Other people were concerned with outrage, we were concerned with outcome. We tapped into the 1964 movement of Dr. Martin Luther King that we had to do something to act.  
CP: Where is the First Step Act now?
Reed: On a Federal level, the First Step Act has passed. An extension has also been passed through the compassionate release provision of the act. This newest provision allows those with chronic or debilitating health issues to be released to care for these conditions or to care for their next of kin who have these health issues. Also, there are 12 other bills on a state level that were a version of the First Step Act that also have passed. 
Finally, the First Step Act is the only law in America that is unimpeachable, It has been affirmed by all three branches of government. 
CP: What can people do to jump on board with this initiative?
Reed: You can follow me on any social media platform at LousLReed. You can follow the film at firststepfilm.com. The website lists ways to get involved in your area. 
I would like to reiterate that this film is an exercise of faith that refuses to die, similarly to how Christ refused to stay down in the grave, that is what faith is about. It's about not staying where you were and not staying where the devil thought you were. Life is about resurrections. Life is about literally getting up every morning and beginning a new day just like the word says: "His Mercies are new every morning."