5 Christian students killed in car crash spent final week attending Bible classes: 'They finished the race'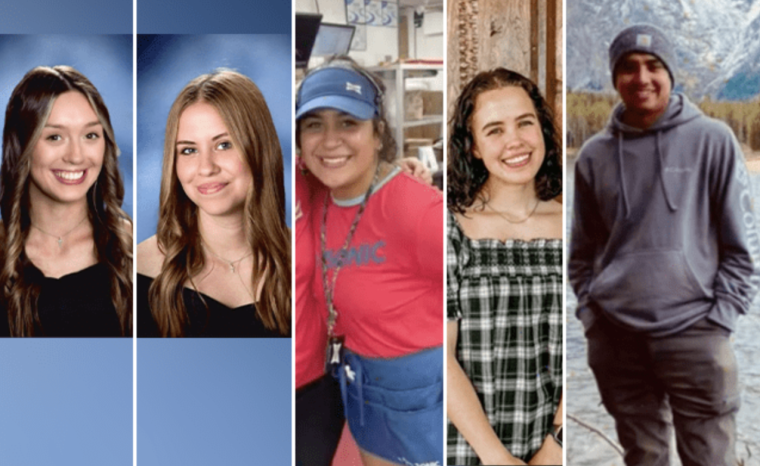 The five students who were killed in a car accident while on their way home to Arkansas from a Bible college in Wyoming were devout Christians who spent their final week on Earth attending Bible classes and communing with other like-minded young adults, the school has revealed. 
Sylvan Hills High School seniors Susana "Suzy" Prime and Ava Luplow, Salomon Correa, 21, Maggie Franco, 20, and 23-year-old Andrea Prime, Suzy's sister, were fatally injured in a multi-car collision on Sunday while on their way back from a church-sponsored trip to Jackson Hole Bible College in Wyoming. 
In a statement, the Bible college revealed the young adults had spent the week before the accident "sitting in on classes and getting to know this year's student body, as well as catching up with staff who were previous classmates to three of them."
"All five attended Faith Bible Fellowship in North Little Rock, Arkansas, a church of beloved brothers and sisters in Christ who we have come to love beyond words," the statement said. "It is with inexpressible joy that we tell you that our friends had placed their faith in Jesus Christ as their Lord and Savior. As a result, we know they are currently with Him, a reality we are quite envious of."
"There is no doubt that what they are currently seeing through their eyes is unspeakable joy, as they have finished the race set before them and are now enjoying fellowship with their Savior."
The five young adults were driving on Interstate 80 on Sunday when a Dodge Ram was reported heading east in the westbound lanes. 
The pickup truck collided with a passenger car and commercial truck, forcing another truck to swerve into the other side of the road where the driver collided head-on with the students' Ford F-150. The truck and the students' vehicle were engulfed in flames, killing the five young adults and leaving others with critical injuries. 
The driver of the Dodge Ram who allegedly caused the wrong-way crashes has not been identified. Officials said the individual "may receive future charges as the investigation unfolds." 
Following the accident, the five young people were remembered by their church and community for their strong faith and commitment to evangelism. 
Lydia VanderVate, who grew up going to church with the group, told KARK, "It feels like my heart is broken. … They all had such bubbly personalities, could get along, always laughing with each other."
Ruth and Betsy Peters, owners of the Humble Crumb bakery, where three of the students had worked, said they take comfort in a recent Bible verse both Susana and Ava had posted on their Instagram accounts: "I consider that our present sufferings are not worth comparing with the glory that will be revealed in us."
The bakery said they would be closing for two weeks to allow employees to grieve the girls' deaths.
"Our lives are forever changed and the bakery will continually feel this void. Our small team lost two of our own, two of our gems, on Sunday," the Facebook post said. "The news has broken our hearts and we are still trying the wrap our minds around this new reality.
"We have ONE comfort and ONE hope and that is the comfort that comes only from God," the business posted on Facebook. "Ava and Suzy loved Jesus and they knew Jesus as their redeeming Savior. They wanted to serve him with their lives and they were trusting in HIM for their salvation. They are now with HIM in glory and while we suffer their loss, our hearts are also filled with hope."
On Facebook, Faith Bible Fellowship said there will be a combined funeral service held for Salomon, Andrea, Maggie, Ava and Suzy at 10 a.m. on Feb. 4 at the Sylvan Hills High School Performing Arts Center.