'God using me in a different way': Damar Hamlin tweets his faith; 'prayer is powerful,' fmr. NFL player says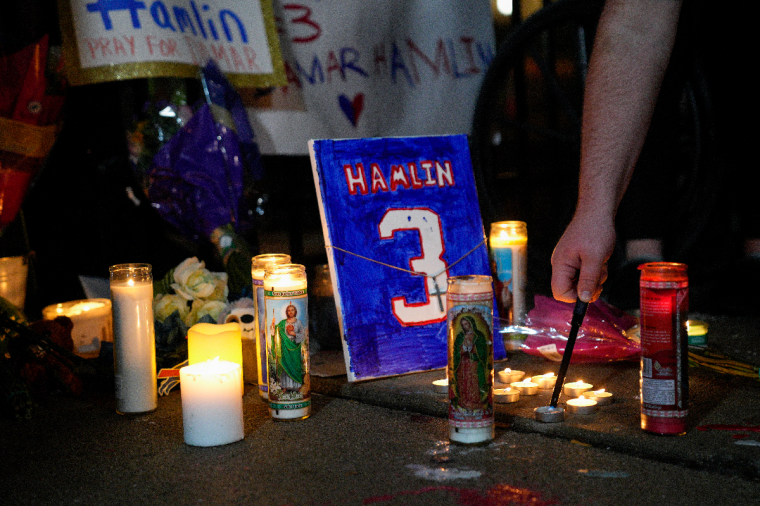 Before being discharged from the University of Cincinnati Medical Center a week after suffering a cardiac arrest on the field, Buffalo Bills safety Damar Hamlin wrote in a tweet saying, "God is using me in a different way."
"GameDay.. Nothing I Want More Than To Be Running Out That Tunnel With My Brothers," Hamlin tweeted Sunday, the day before he flew from Cincinnati to Buffalo General Medical Center/Gates Vascular Institute.
"God Using Me In A Different Way Today," added Hamlin, who is said to be in stable condition. "Tell Someone You Love Them Today!"
On his move to Buffalo, Hamlin tweeted, "Headed home to Buffalo today with a lot of love on my heart. Watching the world come together around me on Sunday was truly an amazing feeling. The same love you all have shown me is the same love that I plan to put back into the world n more. Bigger than football!"
When Buffalo Bills paid tribute to Hamlin after a 35-23 victory over the New England Patriots, he tweeted, "God Behind All This No Coincidence."
And when Bills tight end Dawson Knox posed in front of a camera on the field and made the heart symbol with his hands – just as Hamlin often does – Hamlin tweeted, "I love you too @Dawson_Knox."
Hamlin is making significant progress in his recovery, according to his doctors.
"He is currently listed in stable condition and continues to make significant progress in his recovery," the hospital said in a statement, ESPN reported. "The goal of the transfer to Buffalo General Medical Center/Gates Vascular Institute is to get him closer to home for further evaluation, recovery and eventually discharge and rehabilitation."
Hamlin collapsed at the 5:58 mark during the first quarter of the game at Paycor Stadium in Cincinnati, Ohio, after tackling Bengals receiver Tee Higgins last Monday. The Buffalo Bills confirmed in a statement at the time that Hamlin's collapse at the stadium was due to "a cardiac arrest," but his heartbeat was "restored on the field" before he was hospitalized.
"This was the first time in NFL history that someone has received CPR and defibrillator shocks on the field. And this was the first time that a game has been postponed due to a medical complication," Miles McPherson, senior pastor of the Rock Church in San Diego and a former NLF player, wrote in a column for The Christian Post.
"The crowd of nearly 70,000 people went quiet as they watched medics give CPR compressions for 10 minutes. Players and staff — some of the toughest men in the world — sobbed and consoled one another as they watched one of their own lay helpless. Then, players from both teams came together to take a knee and pray for Damar."
The pastor added, "NFL teams pray before every game, but this time, they prayed together … Prayer is powerful. God is powerful.
"… I want to encourage everyone who has heard this story to pause and consider that life is brief. Damar is only 24 years old."
Hamlin's fans have also been donating to a GoFundMe campaign Hamlin started in December 2020 to raise money for a community toy drive. This was months before he was selected in the sixth round of the 2021 NFL by the Buffalo Bills.
As of Tuesday, more than $8.6 million had been raised.
"As I embark on my journey to the NFL, I will never forget where I come from and I am committed to using my platform to positively impact the community that raised me," the 24-year-old wrote on the campaign website. "I created The Chasing M's Foundation as a vehicle that will allow me to deliver that impact, and the first program is the 2020 Community Toy Drive."
Hamlin further explained that his mother, Nina, would distribute the toys at a daycare center she runs.
Nina was reportedly at the stadium when her son collapsed and she traveled with him to the hospital.