'Grown & Gospel' cast share what it means to be adults who 'mess up a whole lot' but know God loves them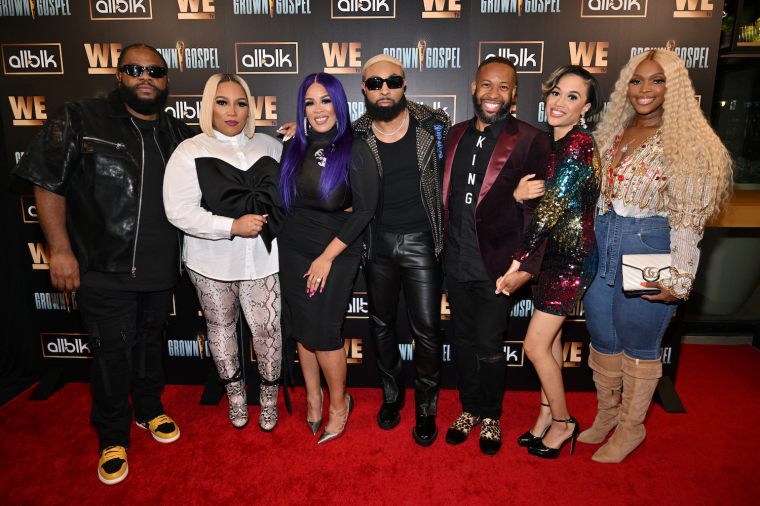 Reality TV fans looking for a gospel beat got their fix Thursday night with the We TV series "Grown & Gospel," which follows the children of famous gospel singers who are striving and struggling to chart their own path in the industry. 
The six-part series features five "career-driven childhood friends," including Tasha Page-Lockhart, Nikkia Cole-Branch and Elijah Connor, who are "searching for success in the Detroit gospel scene and beyond," according to the synopsis of the show, which will soon be available on ALLBLK. 
The reality series aims to show the positive and negative sides of balancing their music careers with their faith and personal lives.
Page-Lockhart, the daughter of Lisa Page Brooks, one of the original members of the contemporary gospel group Witness, said that even though she was raised in the church, it was through hardship and struggle that she formed a closer relationship with God.
"Being grown and gospel, to me, means growing up in the church, doing things because growing up you were told to do them. 'Go to church because you got to go to church because you live in this house. Do this because I said.' ... Training your children up in God, which I'm grateful for, but then there comes a time when your life takes a shift and takes a turn, and you start doing it because you actually want to," Page-Lockhart told The Christian Post in a video interview. 
"I started to develop a relationship with God on my own as I became an adult, and the best way to really understand how much God really loves you is to mess up a whole lot. When you mess up a whole lot you will understand. He embraces you no matter what," she said. 
The series shows Page-Lockhart's recording process as she struggles to hold on to her marriage. The tension in her life reflected on the small screen is what has helped her draw closer to God, she added.
"That's what really drew me closer to God in some of the lowest moments in my life. So that's what being grown and gospel means to me. I'm unapologetic about my life. I'm not ashamed of my story or my testimony. So I'm grown, but I still love God," she declared.
Nikkia Cole-Branch, daughter of the legendary Dorinda Clark Cole of The Clark Sisters, is also The Clark Sisters' tour manager and once rebelled against her faith but now sees the value in the Christian ethics her mother instilled in her.
"Of course, as my mom would say, we were dragged to church pretty much the whole week, not just on Sunday. So I think that it was important for us to go through that. So that way, as we got older, we can see the importance and why they instilled so much into us, scolded us, whatever they had to do. Now that we're older, we have more appreciation now as to why we need to make it known: the Gospel," Cole-Beach told CP.
"[That's] how we overcome our struggles and our challenges ... knowing that God got us no matter what," she added. "We had to see that for ourselves. So I'm grown, definitely, where I'm standing now."
R&B singer Elijah Connor, a pastor's kid who opted not to go the gospel direction with his music, said although he's strayed from the genre, he has not strayed from the faith.
"Scripture says, 'Train up a child in the way it should go and when he gets older, he won't depart.' Maybe, but I don't think I've departed," he declared. "A lot of times people think that just because you're singing R&B or secular music that you're not honoring God. I sing about love, and God is love. And I feel there is a different way to give Jesus to people.
"A lot of times, if you walk by in church and you can speak in tongues and do all this but you can't even speak to me, something's wrong here. So we got to find the balance. I'm all about relationship," he said. "Just because you don't go to church, your job may not allow you to go to church, you may be a nurse that works on Sundays as part of your shift. So really, at the end of the day, it's about relationships." 
He added, "Grown and gospel means I'm grown. I still don't have it right all the way, but I'm trying to figure it out because gospel is my roots and that's what I know is to honor God."
"Grown & Gospel is now streaming weekly. Along with Page-Lockhart, Connor and Cole-Branch, the show stars Breeann "Bree" Hammond, J. Brooks and Shana Wilson-Williams.