Kids taking turns sleeping on floor as overcrowding impacts Texas migrant shelter: lawyer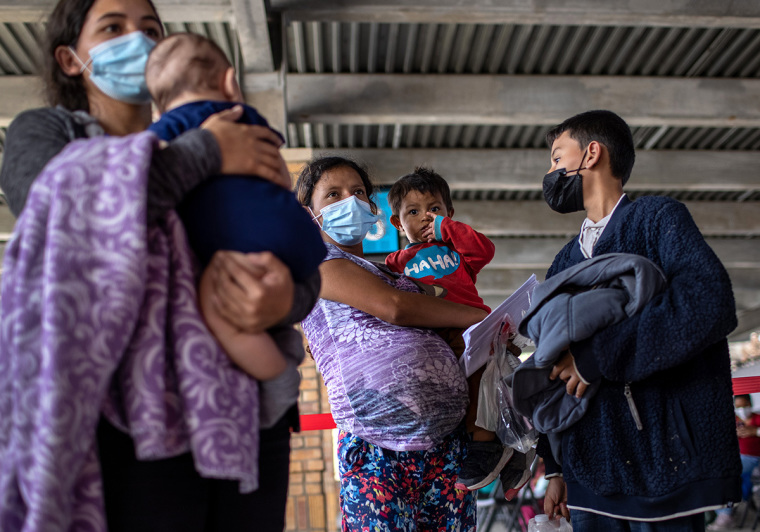 As unaccompanied minors and families seeking asylum continue to pour over the United States' southern border with Mexico at a rapid rate, many of the children in one Texas shelter are sleeping on the floor due to a lack of space.
Neha Desai, a lawyer who represents illegal immigrant youth, spoke with CBS News about the crisis last week. Desai spoke with children detained at a U.S. Customs and Border Protection holding facility in Donna, Texas. 
As of March 2, she said the Donna facility held more than 1,800 people, more than seven times its coronavirus-era capacity of 250.
"Some of the boys said that conditions were so overcrowded that they had to take turns sleeping on the floor," Desai reported. "They all said they wanted to shower more and they couldn't."
Additionally, Desai remarked that the children lamented to her that they "never saw the sun." 
"One of them shared that he could only see the sun when he showered because you can see the sun through the window," the lawyer told the news outlet. 
The crowded conditions at border detention facilities come as the U.S.-Mexico border experiences a surge in illegal border crossings.
Amid the concerns of overcrowding at holding shelters, a memo obtained by The Associated Press Monday states that the Federal Emergency Management Agency will temporarily house thousands of young migrant teenage boys at a Dallas convention center.
According to U.S. Customs and Border Protection, the number of encounters at the southwest border between law enforcement and illegal immigrants rose from 78,442 in January to 100,441 in February. 
The number of encounters in February 2021 is nearly three times the number in February 2020 (36,687).
The border surge comes less than two months after President Joe Biden took office. 
Biden has worked to undo most of former President Donald Trump's immigration policies, which were aimed at stemming the flow of illegal immigrants entering the U.S. 
"In early 2019, the Trump administration invoked the 'Migrant Protection Protocols,' forcing those seeking asylum to wait in Mexico," independent journalist Sharyl Attkisson explained on a recent episode of her weekly newsmagazine series "Full Measure." 
As the coronavirus pandemic began to engulf the U.S. in March 2020, she said Trump enacted Title 42, "an emergency health order" that "let border officials immediately turn back illegal immigrants." 
She added that after both the Migrant Protection Protocols and Title 42 had been implemented, "90% of illegal immigrants caught at the southwest border [in May 2020] were being expelled, and the number intercepted dropped from about a million in 2019 to roughly half that in 2020."
Since taking office, the Biden administration has worked to reverse those policies, leading to illegal border crossers "getting released inside U.S. border communities," Attkisson explained. 
While Biden has yet to visit the southern border since the latest surge in border crossings began, House Minority Leader Kevin McCarthy, R-Calif., led a delegation of congressional Republicans to visit the region Monday. 
On March 5, McCarthy wrote a letter to Biden expressing concern about how his administration is handling the crisis.
Citing a prediction that "117,000 unaccompanied alien children (UAC) will be crossing the border this year," McCarthy warned that "such drastic increases in apprehensions will, and no doubt already have, put a strain on the capacity of the U.S. Border Patrol and the Health and Human Services officials tasked with caring for unaccompanied alien children." 
The House Minority Leader quoted Secretary of Homeland Security Alejandro Mayorkas, who recently said that "We are not saying don't come, we are saying don't come now."
"To be clear, there is never a 'right time' to enter the country illegally and violate the laws of the United States," McCarthy said. "Signaling otherwise is reckless and will make the situation worse."
"We must acknowledge the border crisis, develop a plan, and in no uncertain terms, strongly discourage individuals from Mexico and Central America from ever making the dangerous journey to our southern border," McCarthy wrote.
While the surge in border crossings comes in the context of a new administration, it also comes as the U.S. and the world continue to deal with the coronavirus pandemic. 
As the Donna facility and others like it continue detaining migrants in numbers far exceeding their capacities, border crossers are testing positive for coronavirus at a higher rate than the American public as a whole.
Migrant families tested in Brownsville, Texas, have a 12% positivity rate, compared to a 3.5% positivity rate among the general U.S. public, according to The Washington Times. 
A pastor who runs a shelter for migrant families in Harlingen, Texas claimed that 25% of one group of migrants who arrived at the shelter tested positive for coronavirus. The other group was not tested.
In addition to facing expected criticism from congressional Republicans, local officials and even some Democrats have also criticized the Biden administration's immigration policies. 
Rep. Henry Cuellar, D-Texas, who represents a border district in Congress, spoke of three messages that those seeking to enter the U.S. hear in an interview with CNN last Thursday.
Identifying the message from the White House as "don't come now, come later," Cuellar contended that two other messages heard by would-be border crossers are far more attractive and encourage them to make the dangerous journey to the U.S.-Mexico border. 
One message comes from their family and friends, who tell them, "Hey, Pedro, ya pasamos. We're able to come. Come over right now."
The other message comes from criminal organizations, which say, "Hey, I can get you across. Pay me a little bit of money." 
Speaking to The Houston Chronicle, Cuellar warned that "we are weeks, maybe even days from a crisis on the southern border," adding that "inaction is simply not an option."
Earlier this month, Texas Gov. Greg Abbott announced his intention to deploy the state's National Guard to the U.S.-Mexico border to address the crisis. Abbott slammed the president for advancing "policies that refuse to secure the border and invite illegal immigration."
"Texas supports legal immigration but will not be an accomplice to the open border policies that cause, rather than prevent, a humanitarian crisis in our state and endanger the lives of Texans. We will surge the resources and law enforcement personnel needed to confront this crisis," he continued.
Del Rio, Texas Mayor Bruno Lozano urged the Biden administration to halt policies that would lead to the "release of immigrants awaiting court dates into Del Rio and the surrounding areas" in a video last month.