Kirk Cameron to Release New Film on Parenting Kids in the Digital Age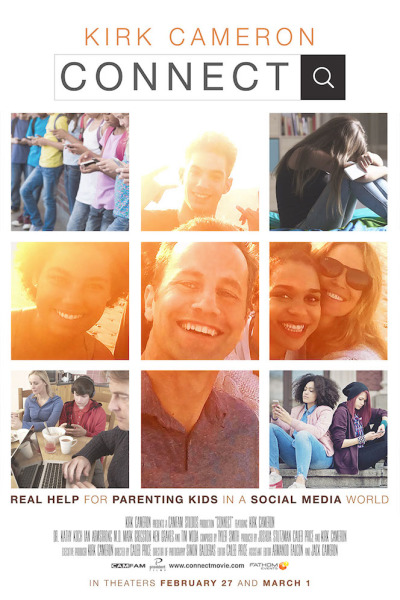 Actor Kirk Cameron has become quite the advocate for marriages and families in recent years and has now announced his latest theatrical event, which aims to help parents connect with their children in today's digitally-driven age.
The special two-night cinema event, titled "Kirk Cameron: CONNECT," will reportedly offer "real help for parenting kids in a social media world."
The exclusive Fathom Events, CAMFAM Studios and Provident Films production will run in nearly 750 select movie theaters on Feb. 27 and March 1 at 7:00 p.m. local time (both days).
"In an online world that creates an illusion of reality and 'friends' through social media, apps and 'followers,' 'Kirk Cameron: CONNECT' pulls back the curtain to the benefits, dangers and boundaries that every parent, teacher, pastor or youth leader should consider while monitoring and utilizing technology in our children's lives. As Cameron reminds parents, 'The heart of the battle is really the battle of the heart,'" a statement shared with The Christian Post about the event, details.
The documentary features commentary from notable guests such as Dr. Ian Armstrong (neurosurgeon), Kathy Koch, Ph.D. (founder of Celebrate Kids, Inc.), Tim Woda (founder of uKnowKids), Pastor Ken Graves (Calvary Chapel, Bangor, Maine), and Mark Gregston (founder of Heartlight).
Also participating in the film are real-life families — parents and young adults who share their own personal journey of how technology is impacting their lives and relationship.
"God-fearing parents can find confidence and guidance when it comes to the challenges of parenting in our technology-driven world, knowing that God has fully equipped us for the sacred calling as a parent," Cameron shared in the statement. "We have resources to prepare our children as they learn their purpose and identity, and responsibly use technology to understand family, friends, God and the world around them."
"The Growing Pains" star also recently announced that he and his wife, Chelsea, are taking their living room conversations on the road for a tour that will help marriages and families reset and focus on the things that "really matter."
In a promotional video for the tour, Cameron, who has been married to his wife for 27 years, reflected on how the most important family discussions always happen in the living room. The couple will venture out on the road for a 30-date tour called "Living Room Reset," beginning Jan. 26 in Baton Rouge, Louisiana. They will allow each city to custom tailor the discussions each night.
The Camerons have six children together, from ages 15 to 21. Like the film, the tour will also help parents navigate through the social media age as well as overcome the hurdles of their teenage children's dating lives.
The evangelist recently told The Christian Post in an interview that having a successful, godly family goes hand in hand with mentoring and ministering to the next generation.
"Kids love to play follow the leader. They do it from the time they're really little. As children grow up they continue to watch those who lead them. As parents we're positioned to be the best leaders in their life. So I would say the best thing to do with our kids, in regards to helping them with their faith, is to be the kind of people that you would like your children to become," he told CP.
"If you want your children to love the Lord, let them see you honoring God and speaking good and reading His Word and trusting His promises. If you want your children to be kind and compassionate toward others, especially those who are struggling, then let them see you helping those who struggle in being generous and compassionate, and they likely will continue to play follow the leader and turn around and be a lot like what they see in their parents," Cameron illustrated.
Tickets for "Kirk Cameron: CONNECT" can be found online at www.FathomEvents.com.