Lawmakers join Evangelical leaders to repent for nation's sins of abortion, LGBT lifestyles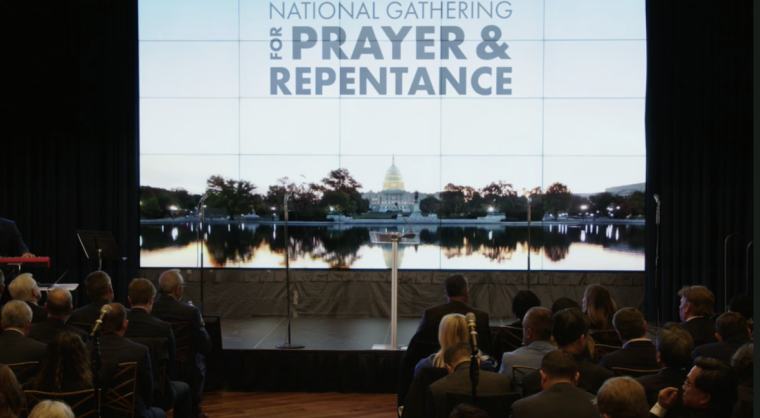 Several members of Congress joined Evangelical leaders at the Museum of the Bible in Washington, D.C., Wednesday morning for the National Gathering for Prayer and Repentance, asking God to forgive the many ways the country has strayed from His will. 
The gathering, featuring several Republican lawmakers, was held a day before President Joe Biden, a Democrat, attended the National Prayer Breakfast in Washington, D.C. on Thursday.
Among the variety of topics addressed at the event was the reversal of Roe V. Wade, in which attendees thanked God and asked for forgiveness for the "murder" of children through the act of abortion over the past decades.   
"Father, you have heard our millions of prayers and acted graciously to end the supposed right to kill our own children. For you Lord are good and ready to forgive and abundant in mercy to all those who call upon you. Therefore, I repent for my own sins and those of the Supreme Court and for your Church and for my nation," prayed pro-life lawyer Allan Parker, the president of the nonprofit litigation firm Justice Foundation who represented Norma McCorvey, formerly "Roe" of Roe v. Wade, from 2000 to 2012. 
"For we have sinned and are sinning grievously against you in the murder of children," Parker continued in his prayer.  
"We have not boldly proclaimed and insisted that the sacred right to life in the Fifth and 14th Amendments of the Constitution includes the life of children and in the womb. In Jesus name, please help us, save us, protect us and defend us, almighty God." 
Lisa Washington, the city director of Love Life ministry based in New York City, prayed that she is thankful for God protecting her life from abortion. She thanked God for His grace in forgiving her for her sin of abortion.  
"Thank you for keeping my mother from being able, Lord, to abort me. I come before you, Lord, this morning, and I just want to publicly thank you for forgiving me of my own sin of abortion. I thank you Lord for your healing. I thank you for your deliverance," Washington said. 
Love Life ministry is a nonprofit organization that mobilizes "the Church to create a culture of love and life where women and men that are faced with unwanted pregnancies can start running to the local church rather than the abortion clinics for real help and hope."  
Washington said that she also repents on behalf of other women and men for their pride, selfishness and sexual immorality when it comes to the issue of abortion. She also prayed for forgiveness for the Church for not spreading awareness and providing enough support, pushing women to seek an abortion.     
"I do also repent for the killing of 64 million innocent children. Lord, we call them 'a choice,' but you, through the prophet Ezekiel, said: 'they are your children.' Lord forgive us," Washington said. "Father, we want the pleasure of sexual intimacy. But we don't want the responsibility. We say forgive us. You made it clear, Lord, that we are always to choose life, but yet we choose death, Lord. Forgive us." 
"Please Lord, forgive your Church. Lord, Forgive our silence," she continued. "Lord, forgive our apathy. God forgive our inaction, when your Word clearly commands us, Lord, to rescue those that are appointed for the slaughter, to save those that are staggering to their death God," Washington added. "Cause us to rise. Mobilize your Church, Lord."
Pastor Jim Domen of California's Church United, who grew up with same-sex attraction, repented publicly for the sin of homosexuality and living a gay life.
Church United is a ministry designed to help church leaders reach prominent leaders in Washington, D.C. and Sacramento, California, with annual "Watchmen on the Wall" conferences. Domen, a pastor since 2004 and married to his wife for over 10 years, is the author of a book about his life journey to help those struggling with their choices titled: Not a Mistake: Parents' Hope For Their Gay Son.  
"Jesus, I repent for the sin of homosexuality and living a gay lifestyle. I exchanged the truth of sexuality as you created only between a man and a woman for a lie," he prayed. "God, my heart grieves for your Church. Your Church is to bring light and Jesus' truth to a hopeless world. Denominations, churches and pastors have [given into] lies," Domen prayed. 
In his prayer, Domen said that "for the first time in history, every branch of the federal government promotes sexuality outside [God's] design for men and women."  
"Our government, social media, public education, the medical and pharmaceutical fields are mutilating our children's bodies and lying to kids that they can change their biological sex," he added. "Jesus, let your blood flow across my nation. Cleanse us from all unrighteousness. Specifically the sins of homosexuality, lesbianism, bisexuality and sex confusion. And set Americans free, in the mighty name of Jesus."
Danielle Vota, also from the Church United ministry, asked God to forgive the sin of bisexuality.
"Father God, I repent of the sin of bisexuality. I rejected your Word and openly mocked your Son Jesus. My itching ears sought after false teachers to encourage my wicked behavior. I learned to call evil good and good evil," Vota prayed. 
"I broke your sacred covenant of marriage by practicing an open marriage and a ployamorous lifestyle. And yet, you are so good and merciful because 'there is no condemnation for those who are in Christ Jesus.'" 
Vota prayed for the nation to have the courage to speak God's Word in such a bold manner that "the noise coming from the false teachers is nothing more than a dull murmur."  
"Lord, please create a wave across this nation of contrite hearts, humbled hearts that are ready to see the true nature of their sin and our desperate need for a Savior," she added. 
Kris Olsen, the founder of "Coming Out Again," added a similar prayer sentiment, asking God for forgiveness for her involvement in the lesbian lifestyle. 
"Coming Out Again" "offers a one-to-one discipleship program, phone support, a family support group, and an itinerant speaker on the topic of undesired homosexuality." 
"Father, in the name of Jesus, I repent of the sin of female homosexuality in all aspects of my lesbian thinking and behavior. I repent of the idolatry I engaged in of worshiping others and wanting them to worship me. I renounce my rejection of and disdain for God-given feminine gender and attributes," Olsen prayed.  
"I renounce my disdain for men and their God-given gender attributes. Forgive my nation for teaching our youth to do the same. Forgive me and all who call themselves followers of Jesus for the deception that I could have a homosexual relationship and that You, oh Holy God, were willing to bless that fallen form of love." 
Olsen offered prayers for church denominations that believe that God would bless same-sex unions.  
"Father, have mercy on this country. We continue to purposely reject your truth about sexuality and how you've created it, making ourselves to be as God. Forgive us. Help us to turn to you in full repentance and humility that you might restore our natural affections," she concluded. 
More prayers were offered throughout the nearly three-hour event. Biblical exhortations were also delivered by Evangelical figures like Anne Graham Lotz, Carter Conlon, Andrew Brunson and Jonathan Cahn to respond to God's call for the nation to repent. 
Members of Congress in attendance include House Majority Leader Steve Scalise, R-La.; Rep. Mary Miller, R-Ill.; Rep. Rick Allen, R-Ga.; Rep. Brian Babin, R-Texas; Rep. Michael Cloud, R-Texas; Rep. Robert Aderholt, R-Ala.; and Rep. Tracey Mann, R-Kan.