March for Life: How pro-lifers can maintain momentum after Roe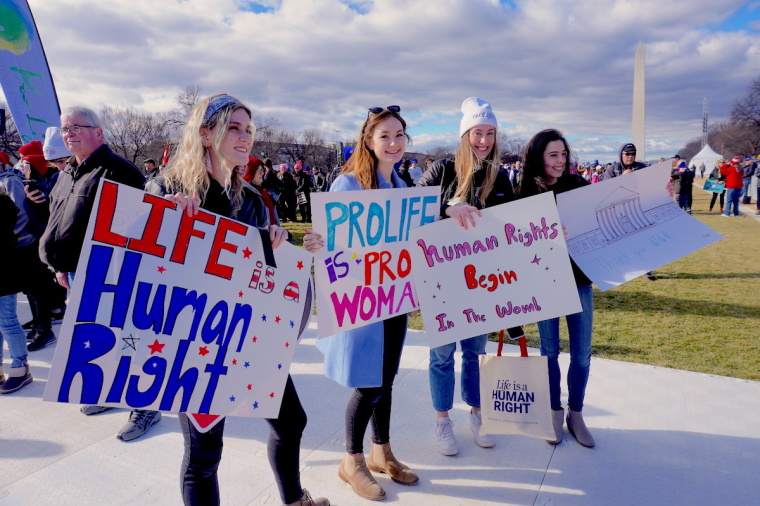 WASHINGTON — Even though Roe v. Wade no longer stands, pro-lifers at the 2023 March for Life emphasized that there is still work to be done, outlining various ways the movement can maintain the momentum it gained from its judicial victory last summer.
"Our efforts have to continue and redouble by a hundred times," Catherine Glenn Foster, president and CEO of Americans United for Life,  told The Christian Post about the work that must be done in a post-Roe society.
"We need everyone in this fight at every level. We need the sidewalk counselors; we need the pro-life pregnancy centers; we need the people who just come out to testify when there's a bill, a good one or a bad one." 
Ashley Bratcher, star of the 2019 pro-life film "Unplanned," stated that despite the court's decision last summer, pro-lifers are going to "continue the fight" and keep "showing women that [they] care." 
Bratcher serves as an ambassador for Save the Storks, which offers free ultrasounds to women entering abortion facilities, and it also helps connect women to free pregnancy resources.
In response to the U.S. Food and Drug Administration modifying restrictions on mifepristone, allowing certified retail pharmacies to dispense the abortion pill, Bratcher said that Save the Storks plans to park its pregnancy help vans outside pharmacies. The group is working to expand the number of pregnancy help vans it has offering services to women in local communities, with the goal of going from 90 fully-functioning vans to 1,000.
"It's another thing that [Save the Storks] is able to do in this moment when a woman may feel like she's in a desperate situation and there's no one to help her," Bratcher said.
"We're going to keep doing what we've always been doing, which is standing in the gap," Bratcher told The Christian Post. "There are thousands of pregnancy resource centers throughout the country. Save the Storks works with them to serve those women at abortion clinics who are maybe undecided or they change their mind, and [Save the Storks] connects them with resources right there where they are."
Penny Nance, CEO and president of Concerned Women for America, emphasized the need to ensure women have pregnancy resources to feel "comfortable" about choosing life.
Nance told CP that CWA is working on legislation called the Standing with Moms Act. 
The legislation, which was first introduced in July and will be re-introduced during the next congressional session, would create a website, life.gov. The website would contain information about local, state or federal resources for pregnant women and families.
"Everything that [a woman] needs in order to make the choice for life," Nance said. "And, it allows people like us to see what we're missing. What do we need to do to better support women in need?" 
On the legal front, Foster of Americans United for Life told CP that her organization is working on a model constitutional amendment to abolish abortion, similar to the 13th Amendment, which ended slavery.
The pro-life advocate acknowledged that an amendment against abortion is probably still a "long way out." In the meantime, Foster said that AUL advocates for "holistic support" for pregnant women. 
Foster cited a recent whitepaper she authored alongside Democrats for Life of America Executive Director Kristen Day, which calls on Congress to make childbirth free, pointing to the high cost of delivery in the United States.
Marjorie Dannenfelser, president of the national grassroots group Susan B. Anthony Pro-Life America, told CP that the organization's goals are to engage in battles at the state level and equip the presidential candidate for the 2024 election with the necessary tools to be an effective pro-life advocate. 
"That future presidential race will have an enormous impact on whether our country will ever stand for any abortion ban," she said. 
Dannenfelser disagreed with the idea that the Republican party's pro-life stance led to heavy losses during the 2022 midterm elections, arguing that many political leaders' failure to make their position on abortion clear was the reason that the party failed to win several elections. 
She criticized some Republicans for focusing on issues like inflation instead of addressing their opponents' claims that pro-lifers want to prosecute women or outlaw treatment for miscarriages and ectopic pregnancies. The pro-life leader, however, named a few notable exceptions, such as Florida Republican Gov. Ron DeSantis and Georgia Gov. Brett Kemp. 
While Dannenfelser praised Republicans for using their new majority in the House of Representatives to pass two pro-life bills, the Born-Alive Abortion Survivors Protection Act and a resolution condemning violence against pregnancy centers, she would like to see more bills like these in Congress.
Dannenfelser also noted that only one Democrat voted for the former bill, which enacts criminal penalties for practitioners who fail to provide medical care for infants who survive abortions.
"If Republicans are smart, they will exploit the extremism on the Democratic side," she said. "And if I were a Democrat, I would be thinking, 'How am I going to come up with something that sounds reasonable?'" 
"Maybe a third-trimester ban sounds reasonable," the SBA Pro-Life America president suggested, adding that she believes some of the essential abortion restrictions at the moment are gestational limits. 
"That's where lives are really saved," she said. "And also, chemical abortions threaten to undo all of these victories and truly threaten the lives of women."
The pro-life leader praised Florida for making it clear that pharmacies are not allowed to dispense mifepristone, ensuring that the state's pro-life laws are not "undermined."