'Silent Night': Matthew West shares stunning video of 4,500 fans singing together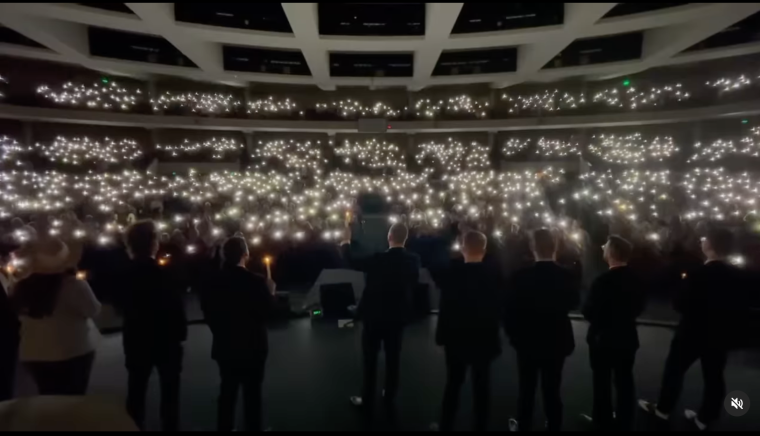 Grammy Award-nominated Christian singer-songwriter Matthew West shared a video with his tens of thousands of followers on Instagram showing 4,500 people singing the Christmas hymn "Silent Night."
"Wanna hear what a sold-out crowd of 4,500 people singing 'Silent Night' together sounds like?" the 45-year-old "Let the Truth Be Told" artist and five-time Grammy Award nominee wrote in the post.
The video, shot from behind West and a few others on stage, shows the crowd holding candles in their hands and singing the hymn in a big hall.
"Beautiful, absolutely beautiful and when you think that the praise in Heaven will sound more beautiful than this our minds cannot comprehend," commented a follower.
"Such an amazing experience — thanks for the tears that felt the emotion of the music and words!" wrote another fan.
West has decades of experience in the Christian music industry, but he is also an artist and author.
In a recent interview with The Christian Post, West explained how recognizing his spiritual complacency inspired his new book, titled The God Who Stays.
"God doesn't move on. Even when the rest of the world does, He stays with you. And He walks with you, no matter how long it takes," he told the CP.
"Our world is in the business of moving on. We're already on to the next crisis. If you turn on the news today, it'll be a different crisis than they were highlighting yesterday; the world moves on. But when we're still stuck in our grief, or we're still stuck in our anxiety, we're still wrestling with our depression, we're still battling our demons and our addictions, there's One who promises that He's not going to leave us. Even if the world says, 'Too much for me, I'm moving on,' He stays, He stays, He stays."
The book shares a title with West's chart-topping 2020 song, which includes the lyrics: "You're the one who runs in my direction/ When the whole world walks away/ You're the God who stands/ With wide open arms."
Described as his "most personal book to date," the artist reflects on how the events of 2020 sent him on a much-needed spiritual journey of rediscovery and revival — and how God gently reminded him of the biblical truths he claimed to believe.
The message that we are not alone, West said, is especially needed as the world struggles to recover from the after-effects of the pandemic. A self-described "storyteller," the artist shared how he's heard from countless individuals struggling with their mental, spiritual and emotional health in recent months.