Calling himself a 'miracle of God,' Mayor Eric Adams wants New York City to be a place of faith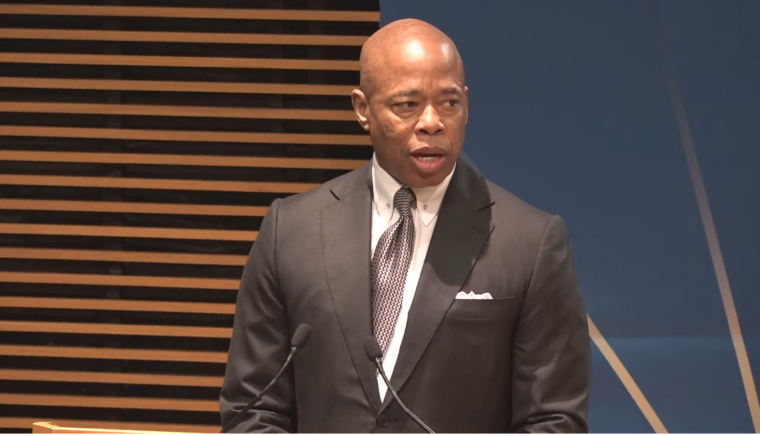 Boldly declaring himself an unapologetic "man of God" and lamenting that Americans have lost their faith, New York City Mayor Eric Adams issued a call to local faith leaders to work with him to make the city a place of faith and healing and help "introduce faith back into our families."
"We must introduce faith and wellness back into our families. And I'm baffled that you could talk about cannabis in schools but not faith. I'm baffled. I'm baffled that we don't understand the importance of it," Adams said at a mental health faith-based summit hosted by the Mayor's Office of Faith-Based and Community Partnerships at the International Interfaith Research Lab at Teachers College, Columbia University on Thursday.
"That's why we are rolling out in the Department of Education that every child is going to learn mindfulness, breathing exercises, they're gonna learn internal care."
Adams' comments come after he made waves at another event last month where he declared that it was a mistake to take prayer out of public schools.
The mayor, who was raised in the Church of God in Christ but now attends mostly nondenominational services, identifies as a Christian.
He told his multifaith audience, which included Christian pastors and mental health professionals, that had it not been for his faith as a child, he would never have been able to escape the dysfunction that once marked his life.
"People wonder why I lean into my faith so much. If you only know how broken I have been as a child, and I am just a pure miracle of God," he said, sounding like a pastor delivering a rousing sermon. "And every day, just to be able to just rejoice in the fullness of you can take a broken child and turn him into the Mayor of the city of New York. God is real. God is real."
Adams expressed grave concern over the state of hopelessness among America's youth and argued that the erosion of faith in society is partly to blame.
"I am so fearful of what is happening not only to New York City but what's happening to America," he said.
"You know, there was a scientific experiment I did as a child in biology class, it was, you think about it, it was a terrible experiment. But it was a reflection of where we are today. It was an experiment where if you placed a frog … in hot water, it would jump out immediately. But if you placed it in cold water and turn up the temperature ever so slightly, it will stay there until it boils itself to death," he added. "That is what's happening across our city and country. The temperature, it increases so slightly, that we have normalized the conditions we are facing.
"You know, … my greatest probably handicap is that I have a maladjusted personality. I cannot adjust to the dysfunctionality of what's around me."
He said when he visited China, for example, social media such as TikTok feeds positive content to users. 
"They don't allow the TikTok that our children are looking at. They don't allow it in China. They only have education TikTok. Our babies are waking up every day in the morning, on their way to school, stopping into stores and bodegas, buying gummy bears and Skittles laced with cannabis and sitting inside the classroom," he said.
"Little girls across this country are defining themselves through social media, dealing with depression, asking their parents can they have some form of surgical changes to their figure, to having liposuction at 12 and 13 years old. Suicide rates are increasing among 9 and 10 and 11-year-olds. We are seeing the erosion of the foundation of our future. But the temperature is just so low. So slight," Adams continued. "Just one Instagram post at a time, one Twitter at a time, one TikTok at a time and we think it's all in fun. Just the other day, a 14-year-old child stabbed his sister multiple times. [She was] 15 years old."
And Adams isn't wrong about the decline of faith in America.
Data from the National Public Opinion Reference Survey conducted by Pew Research Center shows that less than half of American adults pray daily as church membership continues to decline and the ranks of the religiously unaffiliated swells.
The survey results published in late 2021, found that only 45% of U.S. adults say they pray daily compared to 58% who reported doing so in 2007 and 55% who said they prayed daily in 2014.
Some 32% said they seldom or never pray, which is close to the 29% of U.S. adults who identify as religious "nones" — people who describe themselves as atheists, agnostics or "nothing in particular," the study says.
The nation's share of religious "nones" was 6% higher than it was five years earlier and 10% higher than it was a decade ago.
"And people asked me over and over again. Why do you keep saying it's time to pray? It's time to pray. We have moved our faith-based leaders outside of what we should be doing together," Adams said.
"Our challenge it's not economics. Our challenge is not finance. Our challenge is faith. People have lost their faith. And when you can take a broken child, one that was dyslexic, arrested, rejected, and now he's elected as the Mayor of the city of New York. That's what we are attempting to accomplish in this city," he added. "A man of God is the mayor of the city of New York. And I'm unapologetic about that."