Mike Pence files paperwork to enter 2024 presidential race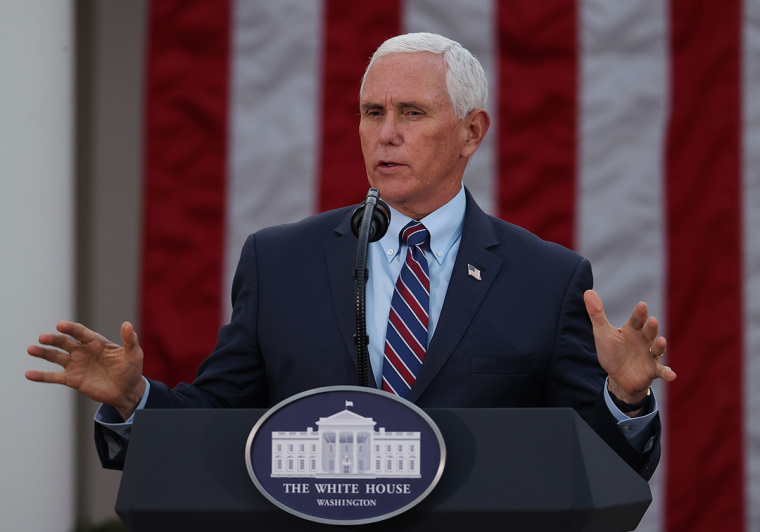 Former Vice President Mike Pence has filed paperwork to become a 2024 presidential campaign hopeful, setting him up to challenge the man he served under, former President Donald Trump.
The former Indiana governor and federal lawmaker is expected to formally declare his candidacy on Wednesday during an event at Des Moines Area Community College in Iowa, according to a press advisory received by The Christian Post.
He filed the paperwork with the Federal Election Commission on Monday, The Washington Post reported.
In a series of tweets posted Saturday, Pence remarked that he believed that "Conservatives have a once-in-a-lifetime opportunity to renew the promise of America."
"We don't have to accept a future of economic decline and moral decay. We don't have to exchange the American dream for a socialist nightmare. We don't have to relegate our children to a future of cynicism, bitterness and division," Pence tweeted.
"We can be a Nation where everyone prospers, and everyone wins. We can have a government that is as good as our people. And we can be a nation where every American is free to live, to work, and to worship, according to the dictates of their faith and conscience!"
The 63-year-old Evangelical Christian joins a growing field of Republican hopefuls, including Trump, Florida Gov. Ron DeSantis, former U.S. Ambassador to the United Nations Nikki Haley, former Arkansas Gov. Asa Hutchinson and U. S. Sen. Tim Scott of South Carolina.
According to the average of Republican primary election polling compiled by RealClearPolitics, Pence is averaging 3.8% support, as of Monday afternoon. Trump leads with 53.2% support, followed by DeSantis at 22.4%. 
In April, Democrat President Joe Biden announced his intention to run for reelection, despite concerns by many, even in his own party, about the 80-year-old's age and overall health.  
"When I ran for president four years ago, I said we are in a battle for the soul of America. And we still are. The question we are facing is, whether in the years ahead, we have more freedom or less freedom. More rights or fewer," said Biden.
"I know what I want the answer to be, and I think you do too. This is not a time to be complacent. That's why I'm running for reelection."
Other Democrat presidential hopefuls include best-selling author and former 2020 candidate Marianne Williamson and anti-vaccine activist and lawyer Robert F. Kennedy Jr.
An NBC News poll released in April found that 70% of respondents said they did not want Biden to run for reelection, while 60% said that they did not want Trump to run for president.