MLB accused of 'hypocrisy' for moving All-Star Game out of Atlanta over new voting law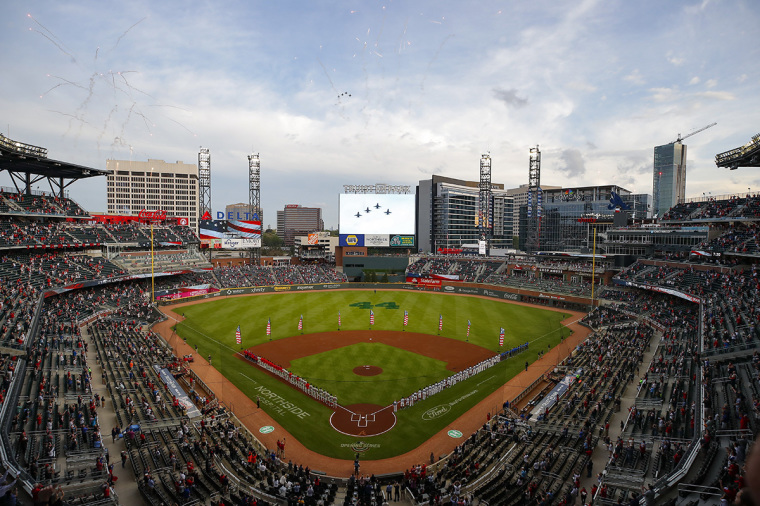 Major League Baseball has faced harsh criticism from both conservatives and Atlanta business owners after it decided to move its 2021 All-Star Game to Denver to protest a new Georgia voting law.
The MLB's move comes as part of the backlash against Georgia's Election Integrity Act of 2021, which Gov. Brian Kemp signed into law late last month. While Democrats argue that the legislation constitutes an example of voter suppression, Republicans paint the measure as necessary to protect against voter fraud. The law strengthens voter identification requirements for mail-in ballots while expanding early voting in most counties.  
Georgia Business leader Alfredo Ortiz, CEO of Job Creators Network, lamented the severity in which businesses that are already struggling will be harmed further by the MLB's decision.
"They are barely making it out of the coast crisis out of the pandemic and now they're faced under the Biden administration with potentially higher taxes, a higher minimum wage ... and now this," Ortiz said of minority business owners on "Fox & Friends" earlier this week. 
"I mean,  … this is going to cost upwards of $100 million of economic damages and impact to the state. These small business owners, especially in Cobb, … a lot of these are minority-owned businesses that were really looking forward and desperately needed this kind of revenue instream," he added. 
The MLB, along with Georgia-based corporations Coca-Cola and Delta Airlines, have sympathized with the Democrats' point of view on the law. Appearing on Fox News' "Tucker Carlson Tonight" Tuesday, senior political analyst Brit Hume suggested that moving the All-Star game from Atlanta to Denver in the name of standing up for civil rights was counterintuitive. 
"This is a great benefit, this game, to the economy … of the host city," he explained. "Atlanta is more than half people of color" while "Denver is under 10% black." 
"So, if you're striking a blow for civil rights, you probably wouldn't want to pull out of Atlanta?" Carlson asked. "You're striking a blow for that community," Hume responded.
Stacey Abrams, a longtime supporter of President Joe Biden and political activist, who once served in Georgia's state House of Representatives, also said she was "disappointed" that businesses and families would be hurt by the MLB pulling its July 13 All-Star Game out of the state. 
"I am disappointed that the MLB is relocating the All-Star game; however I commend the players, owners and League commissioner for speaking out. I urge others in positions of leadership to do so as well. As I have stated, I respect boycotts, although I don't want to see Georgia families hurt by lost events and jobs. Georgians targeted by voter suppression will be hurt as opportunities go to other states. We should not abandon the victims of GOP malice and lies — we must stand together," Abrams said in part in a statement released on April 2.
Wes Cantrell, a Republican member of the Georgia House of Representatives, was one of several conservatives to point out that even with the passage of the Election Integrity Act, Georgia's voting laws are still less strict than those of overwhelmingly Democratic states. Cantrell took to Facebook to compare Georgia's voting laws with laws in New York, home to Democratic Senate Majority Leader Chuck Schumer, and Delaware, Biden's home state. Both Schumer and Biden have criticized Georgia's bill.
Cantrell sarcastically announced his intention to file legislation called "The President Joe Biden Jim Crow on Steroids Voting Act" that would "make Georgia's voting laws identical to those of (Biden's) home state of Delaware." ... "Instead of having up to 19 days of early voting in Georgia, we will have ZERO days of early voting JUST LIKE DELAWARE!" he wrote.
"Instead of having no excuse absentee voting in Georgia, you will have to have the excuse of being sick or disabled to vote absentee JUST LIKE DELAWARE! Instead of having plenty of secure drop boxes in Georgia, there will be no drop boxes JUST LIKE DELAWARE!" he continued.
According to the National Conference of State Legislatures, Delaware does not have early voting. However, a recently passed law slated to go into effect in 2022 will allow early voting at least 10 days before an election. 
Additionally, Cantrell sarcastically proposed the introduction of "The Senator Chuck Schumer 'Racist Voter Suppression' Voting Act," reflecting comments the Senate Majority Leader made about the law. This proposal would work to "make Georgia's voting laws just like New York's." 
"Instead of up to 19 days of early voting, we'll only have 9 days of early voting JUST LIKE NEW YORK! Instead of no excuse absentee voting, we will now require an excuse for you to vote absentee JUST LIKE NEW YORK!"
Other conservatives have slammed the MLB for swiftly pulling the All-Star Game out of Georgia while continuing to do business with oppressive regimes around the world. In a letter to MLB Commissioner Rob Manfred, Sen. Marco Rubio, R-Fla., slammed the decision to relocate the All-Star Game out of Atlanta as "one that reeks of hypocrisy."
"Will Major League Baseball now end its engagement with nations that do not hold elections at all like China and Cuba? Will you end your lucrative financial relationship with Tencent, a company with deep ties to the Communist Party and actively helps the Chinese Government hunt down and silence political dissidents?" he asked.
"Since Major League Baseball now appears eager to use its 'platform' to demonstrate its 'unwavering support' for fundamental human rights, will you cease your relationship with the Chinese Government, which at this very moment is committing genocide against the Uyghur Muslims in the Xinjiang Uyghur Autonomous Region (XUAR)?" 
Rubio stressed that he was "under no expectation any of this will happen" because while "taking the All-Star Game out of Georgia is an easy way to signal virtues without significant financial fallout," "speaking out against the Chinese Communist Party would involve a significant loss of revenue and being closed out of a lucrative market."
Florida's other senator, Republican Rick Scott, offered a similar analysis in a tweet last Friday: "@MLB played games in Cuba, where the brutal Castro Regime murders its own citizens and denies them basic human rights like freedom of speech and free elections. Now these hypocrites are bowing to the woke liberal mob that upset over common-sense election reforms."  
.@MLB played games in Cuba, where the brutal Castro Regime murders its own citizens and denies them basic human rights like freedom of speech and free elections.

Now these hypocrites are bowing to the woke liberal mob that upset over common-sense election reforms. https://t.co/GwDfDe6OYZ

— Rick Scott (@ScottforFlorida) April 2, 2021
Sen. Rand Paul, R-Ky., declared: "Your sports league might be a little too woke if it will freely do business with Communists in China and Cuba, but boycotts a US state that wants people to show an ID to vote." 
Your sports league might be a little too woke if it will freely do business with Communists in China and Cuba, but boycotts a US state that wants people to show an ID to vote. #MLBAllStarGame#mlb

— Senator Rand Paul (@RandPaul) April 3, 2021