Pastor offers 3 reasons why God allows trials and suffering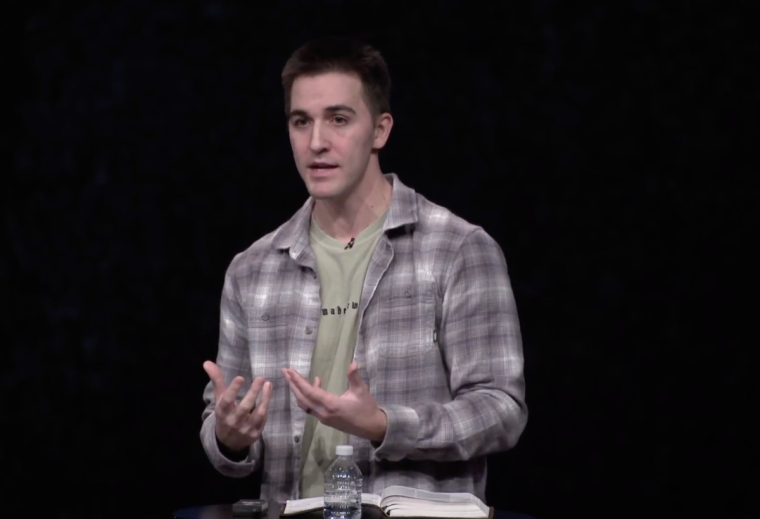 A young adults pastor at a Virginia megachurch recently detailed three biblical reasons why God allows trials and suffering. 

Austin Hamrick of Cornerstone Church of Leesburg shared with an audience of mainly young adults in a sermon last Monday about why God allows Christ's followers to go through trials and hardships, preaching from James 1. 
The first reason, Hamrick said, is that God wants to help His followers "mature." 
"God wants to use the difficulty to mature us, to grow us up. And some of us — and I've been guilty of this myself — our growth has been stunted in the Lord because instead of having confidence in the Lord, we complain," Hamrick preached. "I'm not saying God has caused it, but He's permitted it."
"And as much as we don't like to go through the bad times, it purges us of ... self-reliance," he said. "The Lord has done a wonderful work in my life by purging me of this self-reliance." 
Hamrick, an assistant pastor who oversees the young adult ministry and communications at the church, said people tend to "esteem in our culture, people who are self-made." He said, "the problem with self-made people is that they're self-reliant" and "God does not want a self-reliant person."
"He wants a person completely reliant and dependent on the power of the Holy Spirit. Because God gets no glory when you accomplish things in your own effort, with your own pride," Hamrick said. 
"The only way God gets glory is when you submit all that you do to the Lord and say: 'this wasn't because of me. But when I relied on the Lord and His power and His strength, when I relied and pressed further into the Holy Spirit, asking God to show up in my life, that's where God received more glory, and God could use me to the fullest extent.'" 
The second reason God allows trials, Hamrick believes, is to "correct" people, claiming they "will never grow up in the Lord as long as [they] neglect correction."  
"Sometimes, we invite trials and difficulty into our lives by our own sinful choices and decisions. So, I'm not going to sugarcoat it. Why do we face difficulty sometimes? Because we just make bad decisions," Hamrick stated.
"I've made plenty of poor choices and decisions in my own life, where God has then come alongside by His Holy Spirit, and He's corrected me. Now here's the key: not to neglect that correction, but to receive it." 
The pastor said when people sin and fall short, they often invite consequences into their lives through their own "foolish decisions." 
"[God] says if you would repent and turn from your sin, my arms are wide open to reconcile you back to Me because He's gracious. He's loving. He's compassionate. The Bible says He's slow to anger. He's abounding in love. So when you sin, God's grace is so deep that He desires to pull you out of that pit. But it sometimes involves correction," Hamrick said. 
"Don't despise it. Don't neglect it. God uses our difficulty for our correction so that we wake up and we don't live in our sin any longer. But don't see God as just this killjoy. … Listen, every good parent disciplines the child that they love. You know this [from] when you were a kid."  
The final reason Hamrick mentioned is that God wants to "direct" people.
"Sometimes God allows difficulty to redirect us for a season. This is what He did with Paul in the book of Acts. He redirected Paul's course. And He used a winter storm to do it so that Paul was then shipwrecked on Malta so that he could heal, by the power of the Holy Spirit, several people on the island who were sick. And then after that, [God] got him back on track to Rome," Hamrick said. 
"The storm didn't come because Paul had done something wrong. It was just the tool, so to speak, that God used for his purposes. ... No matter what form trials might come in, God promises that He will bless the person who perseveres."