Tennessee pastor who survived deadly plane crash making 'positive strides on road to recovery'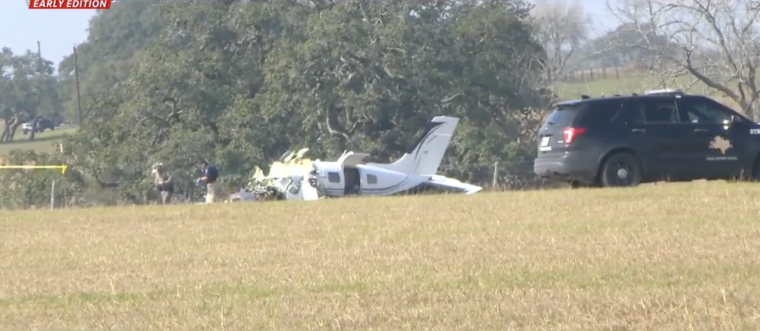 The Tennessee pastor who survived a plane crash that killed four church members is making "positive strides on his road toward recovery," Harvest Church revealed in a recent statement that also asked for continued prayers for the congregation. 
In a statement Sunday, the Memphis-based church posted an update on social media regarding Pastor Kennon Vaughan's condition. 
"Kennon continues to make positive strides on his road toward recovery," the update said. "He had his most restful night yet last night, and showed continued positive development in his healing throughout the day. The procedure this morning went extremely well, and he is showing no signs of infection."
The church said the pastor's doctors are all "encouraged" by his progress, though he remains in the intensive care unit. 
"He continues to have risk for infection as he heals," the church said. "We are grateful for the outpouring of love toward him and Kathryn, and they covet your continued prayers."
The statement detailed that Kennon began a liquid diet on Sunday. The church has asked people not to make plans to visit him in the hospital to avoid increasing the risk of infection.  
Vaughan is the sole survivor of a Tuesday morning plane crash outside Yoakum, Texas, as the plane was preparing to land at the Yoakum Municipal Airport.
The four deceased passengers were all members of the church: Executive Pastor Bill Garner, church elder Steve Tucker, and church staff members Tyler Patterson and Tyler Springer, who piloted the plane. 
The National Transportation Safety Board (NTSB) and the Federal Aviation Agency (FAA) are investigating the crash, which the FAA said occurred "under unknown circumstances." 
Following the accident, Harvest posted on its website, announcing the deaths of Garner, Tucker, Patterson and Springer. 
"All were beloved members of Harvest Church and their loss currently leaves us without the proper words to articulate our grief," said the church. "Kennon Vaughan is in stable condition in a Texas hospital. We ask for your prayers and kindly request that the families of all involved are given the proper space to grieve at this time."
The statement concluded with 1 Thessalonians 4:13: "But we do not want you to be uninformed, brothers, about those who are asleep, that you may not grieve as others who have no hope."

Earlier, the church revealed that Vaughan was intubated and underwent surgery Tuesday night for "significant internal injuries." Following successful surgery, the pastor was able to come off the breathing tube.
Vaughan, a husband and father of five, is both the lead pastor of Harvest Church and founder of Downline Ministries in Memphis, Tennessee, which focuses on "Gospel-centered discipleship training."
In his bio, Vaughan wrote: "It is such a privilege to pastor a church so loving, so authentic, and so deeply committed to God's Word and the Great Commission, and I stand in awe at the work God is doing in and through Harvest to make disciples in our community and to the ends of the Earth."
In a social media statement posted ahead of Sunday, one of the church's pastors, Jamie Trussell, encouraged the church to gather in worship and mourning. 
"I do not always know the way forward or the right words to pray, but I know that this Sunday I believe Psalm 122 when it says that it will be good to be in the house of the Lord," Trussell wrote. "It will be good to pray. To cry. To teach God's Word, and to sing. And though I will sing some lyrics with a shaky voice, I will draw upon the reality that our Lead Pastor loves when we praise through song. On behalf of the elders of Harvest please know you are loved, your grief is felt, and that Christ's bride can never be crushed, nor will she be abandoned."
The crash came just days after Clint Clifton, a church planter with the Southern Baptist Convention's North American Mission Board, died in a plane crash in Georgia. Clifton was the only person on the plane and was pronounced dead at the scene of the accident.
In a social media post, pastor and author David Platt mourned Clifton's passing.
"Words can't express the respect I have for Clint as a husband, dad, church planter, & friend. I'm stunned & really sad. And I really long for the day when news like this is no more," he wrote. "Please pray for Clint's amazing wife, Jennifer, & their incredible kids."