Pennsylvania church erecting 108-foot-tall cross to 'share the hope of Jesus'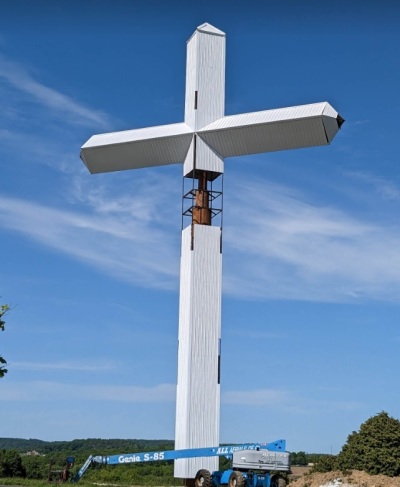 A church in Pennsylvania is nearing the completion of a cross that stands 108 feet high on its property, with the sizeable Christian symbol expected to be finished in June.
Hilltop Baptist Church of Indiana, Pennsylvania, just north of Pittsburgh, is building the large cross with volunteer help and hopes it will serve as a beacon for evangelism outreach.
In comments sent to The Christian Post, Hilltop Baptist Church Pastor Jack Lucas said his congregation is building the cross "to share the hope of Jesus Christ and to remind folks" that "God loves us."
Funding for the project has come through donations by the congregation, the pastor said. The church expects to finish construction on the massive cross by Father's Day (June 18). 
Lucas hopes the large cross will become a quiet place of spiritual contemplation where "people can come, sit, and pray."
An independent Baptist congregation that recently opened a satellite location in Blairsville, Hilltop Baptist Church describes itself as a "Bible-believing church that works hard to meet the needs of every age group."
"Our services are traditional, we sing traditional hymns, and preach from the King James Bible," the church's website explains. "Whether you are young or old, you'll discover a warm welcome and friendly people at Hilltop Baptist Church."
According to The Indiana Gazette, the Hilltop Baptist Church cross is now the tallest cross in Pennsylvania, a record previously held by a 40-foot cross in Fayette County. 
Other churches have taken up similar initiatives in recent years.
In 2020, the nondenominational Katy Community Fellowship of Texas installed a 45-foot-tall cross as the first step in creating a "prayer park" on their church property.
Katy Community Fellowship Pastor Tim Barker told CP that the cross and the prayer park are meant to be "a beacon of hope and a reminder of God's love for all people."
"Each nail was prayed over representing each family in our congregation," said Barker. "Some of the inspiration for the cross and park came from artist and architect Max Greiner Jr. in Kerrville, Texas, where monthly thousands tour his 'Coming King Sculpture Prayer Garden.'"
According to Guinness World Records, the tallest freestanding cross in the world is located at the Valley of the Fallen in Madrid, Spain, a stone monument that measures 500 feet in height that stands above an underground church and tomb.