Planned Parenthood 'sex educator' pushing sex toys on kids, talks how to 'unlearn purity culture'
TikTok influencer calls her Evangelical Christian upbringing 'toxic'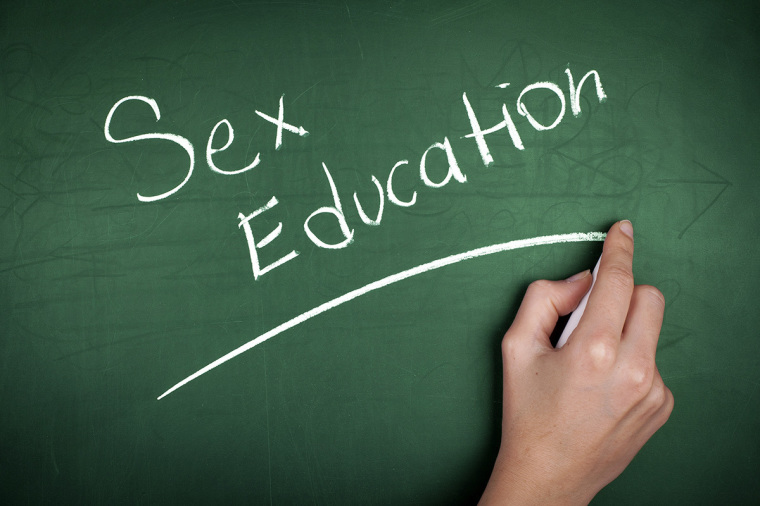 A TikTok influencer who teaches young people how to buy sex toys online and "unlearn purity culture" has been outed as a "sex educator" who works for a Planned Parenthood chapter in California.
Mariah Caudillo, who has over 418,000 followers on TikTok, works for Mar Monte Community Clinic in San Jose, a Planned Parenthood affiliate that offers sex education services to more than 220,000 people annually in California and Nevada, Fox News reported.
On her TikTok page @sexedfiles and other social media platforms, Caudillo advocates for "pleasure-based sex education" and argues that age need not be a determinative factor when it comes to deciding when to become sexually active.
In one video, Caudillo — who often takes sex-related questions from young people — is asked how old one must be to purchase a sex toy, which she calls a "spicy toy."
"It's not illegal to buy spicy toys online, even as a teen, which most people do," Caudillo replied. "You just have to purchase them with a valid credit card, debit card or gift card."
She also recommends any of her followers who are interested in sex toys to purchase them online, adding, "Do keep in mind that some of these stores also have age restrictions on their website, but like this app, people can access them anyway."
Caudillo suggests her followers make their own sex toys, including using everything from fruits and vegetables to an XBOX controller and an electric toothbrush.
The revelation of Caudillo's popularity on social media comes just days after a tweet went viral with images of young students playing with sex toys and simulating sexual acts as part of club funded by Planned Parenthood.
"The Rainbow Room" is a club which is funded by Planned Parenthood. They partner with teachers to offer support for discussing topics relating to LGBTQ in school.

Here's a photo from one of their programs. Kids are pictured playing with sex toys and simulating sexual acts. pic.twitter.com/pFhNy1tc6f

— Libs of TikTok (@libsoftiktok) January 19, 2023
The Rainbow Room, an initiative of Planned Parenthood Keystone in Pennsylvania, opened in 2002 with a mission to provide a supportive environment and programs for LGBTQ+ youth ages 14-21.
"As anti-[LGBT] sentiment continues to grow, Planned Parenthood Keystone is fighting back by expanding our educational programming and giving youth the platform to be seen and heard," Melissa Reed, president and CEO of Planned Parenthood, said last June.
Planned Parenthood did not respond to a request for comment Monday from The Christian Post.
In a post from last March on her now-deleted LinkedIn account, Caudillo appeared to advocate for sex education for minors that is focused on how to "experience pleasure."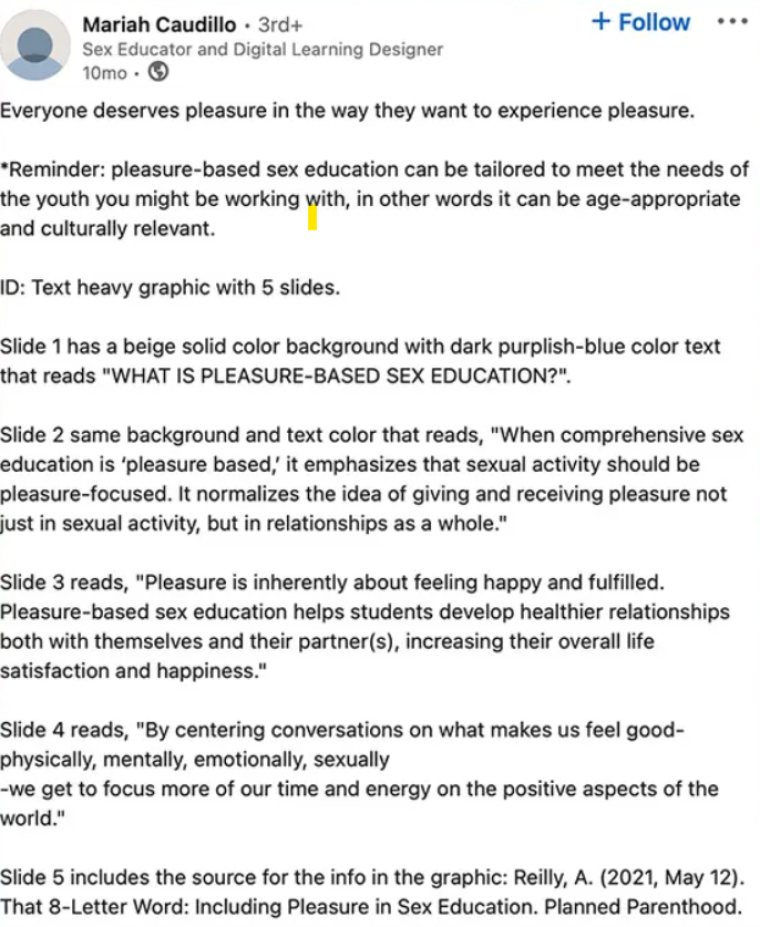 "Everyone deserves pleasure in the way they want to experience pleasure," Caudillo wrote.
"Reminder: pleasure-based sex education can be tailored to meet the needs of the youth you might be working with, in other words it can be age-appropriate and culturally relevant."
On her now-private Instagram account, Caudillo describes herself as an "inclusive sex educator" who "advocates for trauma-informed, shame-free, comprehensive sex ed."
Last June, Caudillo appeared on the self-described "feminist podcast" Sex Ed with DB, in which she took questions and discussed "unlearning purity culture through sex education."
During the podcast — which begins with promos for lubrication products and "incredible" sex toys — Caudillo described her childhood in terms of her family's faith.
"I grew up very religious," she told host Danielle Bezalel. "I grew up very conservative and in a Christian Evangelical home, so this really set the tone for the way that I understood myself, the way I understood the world, and it was very toxic."
Caudillo then explained her lack of sex education and purity culture, and revealed she experienced sexual abuse and violence in her "formative years."
"Purity culture, that's what my life was riddled with, so I didn't get sex education. My main sort of belief or understanding was that my body didn't belong to me, or it only existed to either make people happy or make people uncomfortable," she said. "That's how I grew up for a very long time."
According to the Planned Parenthood website, "comprehensive" sex education refers to programs starting as young as kindergarten all the way through 12th grade and focuses on sexual behavior "including the full spectrum of ways people choose to be, or not be, sexual beings," and sexual health topics, including abortion, birth control and STDs.
The website also offers additional sex education resources, including Power to Decide, whose stated mission is to "ensure that all young people … have the power to decide if, when, and under what circumstances to get pregnant and have a child."