Mike Signorelli says he knows why some pastors avoid deliverance ministry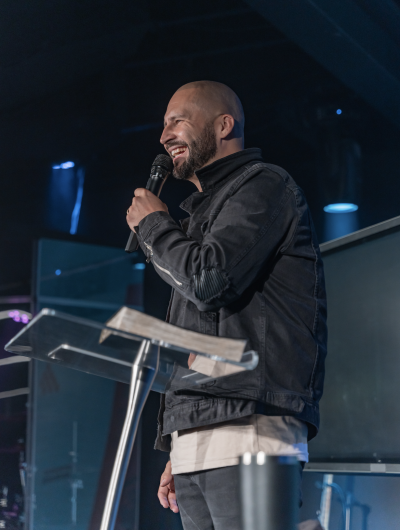 MOUNT JULIET, Tenn. — Some pastors are to blame for blocking God's purpose of freedom for Christians oppressed by demons, says Pastor Mike Signorelli, who believes some pastors also need to be delivered from demons. 
Signorelli is the lead pastor and founder of V1 Church based in New York City and is featured in the new film "Come Out in Jesus Name," which will be in theaters for one day only on Monday. 
The film follows the journey of Pastor Greg Locke, who rallied together deliverance ministers including Signorelli, Alexander Pagani, Vladimir Savchuck, and Daniel Adams, along with YouTube preacher Isaiah Saldivar.
"If you add up everything that Jesus did as recorded in Scripture, one-third of all of His ministry was the ministry of deliverance," said Signorelli in a sit-down interview with The Christian Post. "But far too often, pastors do the things they're comfortable with, and so what happens is their preferences block God's purposes."
Signorelli believes many pastors avoid deliverance ministry because they fear it will expose the deliverance they need themselves.
"There's no way to fake deliverance," he explained. "You can get up and preach a sermon and not even be saved anymore because you know how to sound. But try to take authority over demons without a relationship with Jesus and you'll end up like the sons of Sceva where you get beat down and you get stripped down naked. 
"I'm really blaming the pastors because I believe it starts with the house of God. They have a preference toward preaching and teaching. And they say, 'Well, I don't know how I feel about deliverance,' and they're blocking God's purposes because of their preference."
The New York pastor said he sincerely believes some ministers need demons to be cast out of them: "To be honest with you, I think a lot of pastors need deliverance."  
Signorelli recalled telling "many prominent pastors" while they were in green rooms together that they needed deliverance, which they scoffed at.  
"Within six months to a year, I watched those same people lose their entire ministry and church through infidelity, mismanagement of the church finances. ... And thankfully, some of them have been returning back to me recently saying, 'You know what, Mike? I remember when you told me I needed deliverance; I laughed at you. It probably was the demons in me laughing at you,'" he added.  
"We're just starting to find out here in America [that] you can't counsel a demon, you have to cast it out! You can't solve it with a pill. It's going to take deliverance," he maintained. 
Signorelli stressed that "people still need to go to doctors," and he is not advocating for people not to seek medical attention. 
"Luke was a physician," he added. "I'm sure he's still used some of that. But not everything is biological. There's a spiritual aspect, and people are finding that out. I tell you, many pastors from the pulpit have lied to the people and tried to convince them that once you say The Sinner's Prayer, then every single demon immediately leaves you, leaves your life. And that's what we've made it out to be."
Signorelli highlighted the profession of faith in Romans 10:9 but said confessing Jesus as Savior does not mean people are completely delivered.
"When you accept Christ as your Savior, your spirit is regenerating, but your physical body still dies," he said.
"Jesus cast out the spirit of infirmity. We have a story illustration in the Bible where there was somebody who was hunched over for over a decade, the spirit of infirmity was cast out, and that person stood upright. So where was the demon? The demon was not in their spirit, the demon was literally in their body. It was the spirit of infirmity."
"I think that's what this movie and many of us are helping people understand. When you say that prayer of salvation, you are saved, but not completely free. You have to go on a journey of freedom." 
"Sometimes it's the flesh. Sometimes it is lust and perversion. You need to stop watching pornography. You need to stop yielding to the desires of the flesh. But you can't crucify a demon, and you can't cast out the flesh," Signorelli added. 
The minister said his hope is that people will find complete freedom in Christ — mind, body and soul.
"Come Out in Jesus Name" will be in theaters one day only on Monday. Click here for more information.