Pro-life group warns Republicans not to seek 'middle ground' on abortion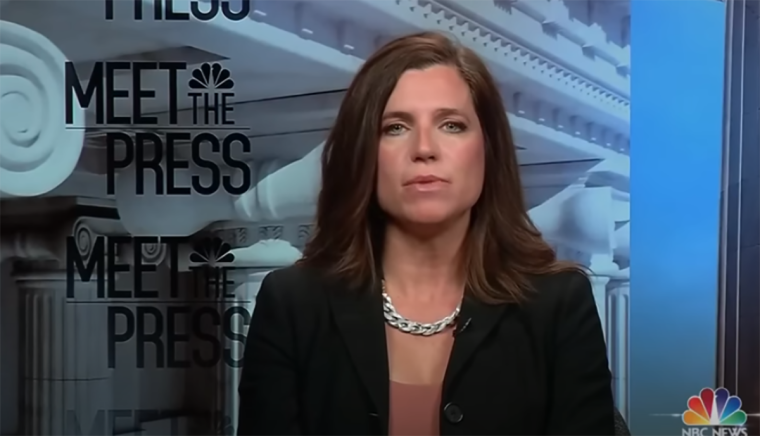 A pro-life group is warning Republicans not to make concessions with their Democratic colleagues on any abortion legislation, asserting that there is no "middle ground" and appeasing the abortion lobby is a "losing political strategy."
This came after Rep. Nancy Mace, R-S.C., appeared on NBC's "Meet the Press" Sunday, on the 50th anniversary of the United States Supreme Court's Roe v. Wade decision that legalized abortion nationwide. Last year, the court overturned Roe as part of its Dobbs v. Jackson Women's Health Organization ruling, enabling each state to decide the legality of abortion.
Host Chuck Todd asked Mace whether she thought Roe constituted an acceptable "middle ground" for a national abortion policy. She rejected the idea of Roe as a "middle ground," stating that "Roe, if you look at the details, would have allowed abortion up until birth of the baby."
However, Mace detailed conversations she's had with "Republican and Democrat women" in her district, explaining that "swing voters are willing to find some middle ground here."
"Everyone recognizes abortion up until birth is not something that they want. At the same time, banning all abortions with zero exceptions isn't something people support," she said. Democrats' position on abortion, she added, is 24 weeks with "gestational limits," while Republicans support banning abortions after 12 to 15 weeks on average. "Can we find some middle ground around 20 weeks, for example?"
Mace responded to her own question, declaring, "I don't know if we can get there because both sides are really, really entrenched and I see that because I'm repeatedly attacked by pro-life groups even though I am pro-life." She reiterated her support for securing "concessions" on the issue of abortion and finding "middle ground" on behalf of the "vast majority of people I represent." 
Mace's congressional district, while more competitive than other districts in South Carolina that strongly favor one party or the other, supported former President Donald Trump by nine points in the 2020 presidential election. Her comments about the possibility of achieving "middle ground" with congressional Democrats, who almost unanimously voted against the Born-Alive Abortion Survivors Protection Act, drew backlash from pro-life activists. 
Marjorie Dannenfelser, president of the pro-life group Susan B. Anthony Pro-Life America, issued a statement in response to Mace's comments on "Meet the Press."
" ... Nancy Mace stated that she is pro-life while implying that her Democrat colleagues are currently willing to reach a national compromise on abortion. Yet she failed to mention that every Democrat except one just voted against a bill that would have required babies born alive after a failed abortion [to] receive basic health care rather than be left to die," said Dannenfelser. 
"Being pro-life requires opposition to the destruction of children and tragic underestimation of women that abortion is — this is first and foremost a human rights issue. And failure to take a strong, coherent stand and contrast it with the extremism of the other side — for example by supporting a minimum national standard limiting abortions when unborn babies' heartbeats can be detected or when they feel pain — is an abandonment of leadership. It's also a losing political strategy as we saw in the midterm elections."
Concerns about the impact of the abortion issue on the results of the 2022 midterm elections loomed large in Mace's discussion with Todd. Republicans secured a razor-thin majority in the U.S. House of Representatives, controlling 222 seats to Democrats' 213. In the Senate, Democrats actually gained a seat, holding onto the majority.
While Susan B. Anthony Pro-Life America has repeatedly insisted that attempts to ignore or downplay the abortion issue cost Republicans seats in the midterms, Mace contended that failure to embrace a middle ground on abortion explained the Republicans' disappointing results in the midterms: "It's the reason why didn't get more of a majority. We should have had a dozen or two-dozen seat majority this legislative session but we don't because this was one of the issues that was top of mind for swing voters."
Former President Donald Trump has offered a similar assessment of the midterms, asserting in a statement on Truth Social earlier this month that "it was the 'abortion issue,' poorly handled by many Republicans, especially those that firmly insisted on No Exceptions, even in the case of Rape, Incest, or Life of the Mother, that lost large numbers of voters."
Susan B. Anthony Pro-Life America rejected the former president's analysis, however. 
"The approach to winning on abortion in federal races, proven for a decade is this: state clearly the ambitious consensus pro-life view on abortion and contrast that with the extreme view of Democrat opponents," the organization maintained in a statement released at the time. "We look forward to hearing that position fully articulated by Mr. Trump and all presidential candidates."