Saddleback Church Gathers to Share Grief Over Death of Pastor Rick Warren's Son
Members of Saddleback Church in Lake Forest, Calif., came together this weekend to pray and worship, and "to be real" in facing the death of the 27-year-old son of their pastor, Rick Warren, after a lifelong struggle with mental illness.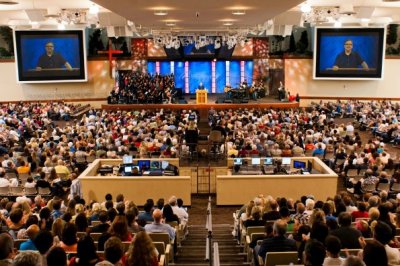 The service at the church began with Tom Holladay, teaching pastor at Saddleback, praying for Pastor Rick Warren and his wife, Kay, on Saturday, the day the internationally known Christian leader announced that his youngest son, Matthew, took his own life after struggling with mental illness, deep depression and suicidal thoughts throughout his life.
After praise and worship, Holladay told the congregation that Pastor Warren had called him earlier during the week to request him to preach to the church during the weekend. When Holladay asked what he should preach about, and what was on Warren's mind, Warren said he wanted the teaching pastor to preach about what to do on the worst day of your life – not knowing that later that week he would face Matthew's death.
Holladay's sermon was based on 1 Samuel 30, which is about David coming back from the battle and finding out that the entire town of Ziklag had been wiped out. The response of David and his people is a model for us to deal with a situation where hope seems distant, he said.
Holladay shared five things they did, and requested the audience to pray for Rick and Kay to walk through those steps.
The teaching pastor said the first thing they did was they wept, stressing the importance of not denying emotions as human beings. Jesus also wept, he said. Cry out to God, and share emotions with others, he added.
The second thing to do is, do not get bitter, Holladay said. Forgive others. The third thing, he shared, is encourage yourself in God. Get around God's people, and read the Word and find hope in Jesus, he explained.
The fourth thing is to look toward the future with hope; don't just look to the past. Jesus is about life, He wants to give us life in its fullness, Holladay said. The fifth thing to do is to attack evil. The best way to defeat evil is to attack evil, he said.
Holladay told the congregation that if they wanted to do something for Pastor Warren and Kay, they should attack evil in their own lives, apart from praying for their grieving pastor.
In an email sent to his staff early on Saturday, Pastor Warren wrote, "No words can express the anguished grief we feel right now. Our youngest son, Matthew, age 27, and a lifelong member of Saddleback, died today."
About 30,000 people "liked" the message on Pastor Warren's Facebook page, where the church wrote, "We appreciate all of your prayer and support for Pastor Rick and Kay during this difficult situation. Show your support through prayer, commenting, liking, or sharing this post."
Around 3,800 people commented on Pastor Warren's page, offering condolences. "Heavenly Father, place Your Comforting arms round about the Pastor Rick and Kay during this time of loss. In Jesus Name. AMEN!!!!!!!!!" wrote Cheryl Ullery Smith. "Prayers for comfort and peace that passes all understanding," said Becky Arellano Washington.
In his email, Warren described Matthew as "an incredibly kind, gentle, and compassionate man."
"He had a brilliant intellect and a gift for sensing who was most in pain or most uncomfortable in a room. He'd then make a bee-line to that person to engage and encourage them," Warren, the author of the multimillion-selling book, The Purpose Driven Life, continued. "But only those closest knew that he struggled from birth with mental illness, dark holes of depression, and even suicidal thoughts. In spite of America's best doctors, meds, counselors, and prayers for healing, the torture of mental illness never subsided. Today, after a fun evening together with Kay and me, in a momentary wave of despair at his home, he took his life."
Warren recalled that many years ago, after another approach had failed to give relief, Matthew said, "Dad, I know I'm going to heaven. Why can't I just die and end this pain?" But he kept going for another decade, Warren wrote.
Matthew's death sparked outpouring of prayers from Christian leaders, including evangelist Greg Laurie, Pastor Mark Driscoll, Bishop T.D. Jakes, evangelist Will Graham and Mike Huckabee.
Warren said he was grateful to church members and supporters for their "love and prayers," saying "we love you back."