Boston SatanCon: Satanist rips pages from the Bible in act of rebellion, shouts 'hail Satan'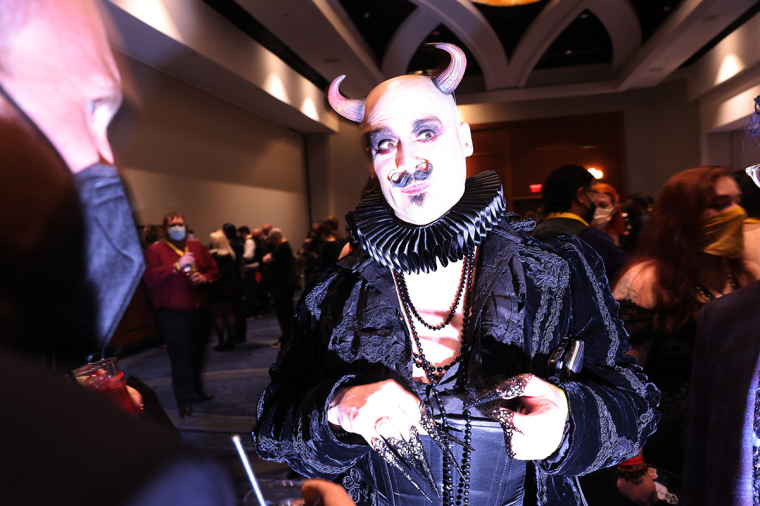 A video of the opening ceremony of SatanCon showed a group of satanists cheering on a leader as she ripped out pages from a Bible.
The Satanic Temple hosted SatanCon, a three-day sold-out event purported to be the "largest satanic gathering in history," in downtown Boston from April 28-30. This year, the annual event had the theme of "Hexennacht in Boston," a German phrase that means "Witches Night in Boston."
The opening ceremony, which took place on Friday, began with a pair of satanic leaders renouncing "symbols of oppression." Among these symbols were a Bible and the Thin Blue Line flag, which symbolizes police and the line that keeps society from descending into violent chaos. 
"We stand here today in defiance of their siege and destroy their symbols of oppression," the female leader shouted before ripping pages out of a Bible. As she ripped up the Bible, she chanted "hail Satan" as the crowd roared in applause. 
Additional video footage shows the satanic leaders tearing the "Thin Blue Line" flag in half. The crowd cheered as they tossed the items on the floor. The video later showed some attendees picking up the ripped pages of the Bible and posing with them for pictures.
"We must build true community outside of the virtual," a male leader declared before using a hammer to smash a keyboard. "Rebellion comes in many forms to each and their own within their own capabilities and their own situation. For some of us, merely existing one more day is victory, but for those of us who can, we must stand up for those who cannot."
The Satanic Temple website also revealed that SatanCon's events and panels included "Hellbillies: Visible Satanism in Rural America," "Deconstructing Your Religious Upbringing," "Sins of the Flesh: Satanism and Self-Pleasure," "Reclaiming the Trans Body: A/theistic Strategies for Self-Determination and Empowerment" and "Re-imagining Lilith as an Archetype for Reproductive Justice."
As reported by The Christian Post, several Christian groups infiltrated the event and were "mingling with the SatanCon attendees."
Lynn MacAskill, one of the regional leaders in Boston for Intercessors for America (IFA) told CP, "There were many opportunities to show kindness and love to those attending in the name of Jesus."
Video footage from SatanCon documents Christian protesters engaging in prayer and song as they demonstrated outside the facility where the gathering was held. 
SatanCon was held intentionally in Bean Town and "dedicated to Boston Mayor Michelle Wu for her unconstitutional efforts to keep TST out of Boston's public spaces." The reference to Wu pertains to the efforts of city leadership to pass a measure prohibiting the use of city flagpoles as a "forum for free expression by the public," which followed a U.S. Supreme Court decision finding that Boston violated the U.S. Constitution by refusing to allow a Christian group to fly its flag on one of the flagpoles while allowing other groups do so.
Listen to a pastor and his wife share their account of visiting TST HQ in Salem
The Satanic Temple's ongoing feud with the city of Boston predates Wu's tenure as mayor. In 2021, the group filed a lawsuit against the city for not allowing its members to give invocations at city council meetings.
While the Satanic Temple frequently relies on religious freedom arguments to make the case for its presence in the public square, TST claims to be a nontheistic organization that doesn't worship or believe in a personal Satan. According to its website, the TST aims to "encourage benevolence and empathy, reject tyrannical authority, advocate practical common sense, oppose injustice, and undertake noble pursuits."