Archbishop of York says gay sex is OK if in 'committed, stable, faithful relationships'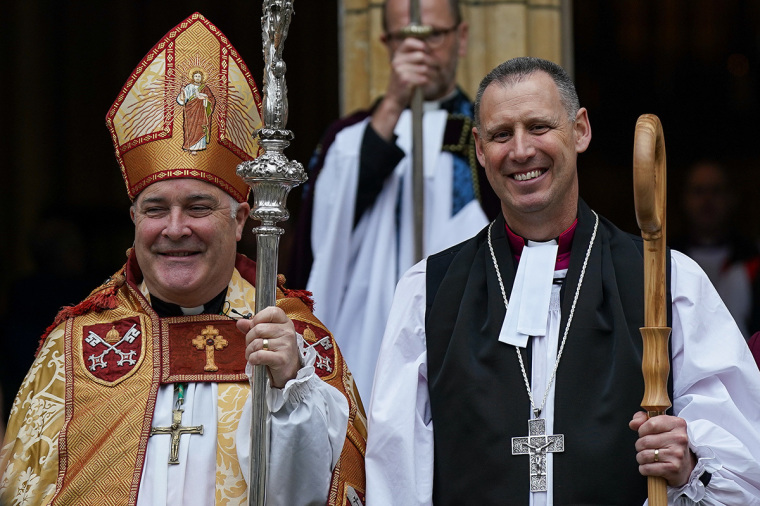 The Church of England's Archbishop of York, Stephen Cottrell, responded to pressure to answer whether homosexuality and same-sex marriage are sinful by saying the CofE's new stance on the issue is that it's OK, as long as couples are in "committed, stable, faithful relationships," adding that same-sex married couples will be "welcomed fully into the life of the Church, on their terms."
This comes on the heels of the denomination's recent decision not to officiate same-sex marriages but to offer blessings for same-sex couples in civil partnerships within its churches.
BBC Radio Four's William Crawley asked the archbishop whether the CofE's recent decision not to officiate same-sex weddings while allowing gay marriages to be blessed was a "bit of a fudge."
Cottrell responded, "I see it as a way of holding together a church which doesn't agree on this issue and it takes us to a place where LGBTIQ+ people, people entering into same-sex marriages, people in civil partnerships are able to come to the Church of England and those relationships and marriages can be acknowledged and celebrated."
Crawley then asked if the denomination believes "gay sex is sin," to which the archbishop replied, "Well, what we are saying is that physical and sexual intimacy belongs in committed, stable, faithful relationships and therefore where we see a committed, stable, faithful relationship between two people of the same sex, we are now in a position where those people can be welcomed fully into the life of the Church, on their terms."
Crawley said the CofE must be blessing same-sex unions because it believes it to be good.
Archbishop Cottrell replied, "As I say, we believe that stable, faithful, committed, loving relationships are good. They are the place for physical intimacy …"
Crawley again asked, "And not a sin?"
The archbishop then responded, "But well, that … that's what I'm saying … we're looking to focus on the good in relationships and we want people to live in good, stable, faithful relationships."
The group Christian Concern said Cottrell's statement confirms the CofE's departure from its own biblical teaching on human sexuality which states that marriage is: "in its nature a union permanent and lifelong, for better for worse, till death them do part, of one man with one woman."
Andrea Williams, Christian Concern's chief executive who was also a member of the general synod for 10 years, said Cottrell's comments "embody the compromised position of the Church of England on human sexuality."
"The role of the Archbishop of York is to lead in explaining God's beautiful pattern for human life and relationships, not to preside over a convoluted process of compromise. Sadly, it has been a failure of leadership from the start by the Archbishops of Canterbury and York. For this, they will answer to God, and we must pray for them. It is not loving or kind to hide the truth from the culture," she said.
"What we have needed for so long on these issues is spiritual leadership from the Church of England's hierarchy. Sadly, however, what we have seen is a relentless and determined capitulation to the spirit of the age from the Archbishop of York, among others. The church and Christians are called to be distinct from the world around them and yet the Archbishop has shown he is ashamed of the clear teachings of Jesus Christ."
Earlier this month, CofE bishops apologized to the LGBT community for their "rejection and exclusion" within the denomination, saying they were now "welcome and valued" within the denomination.
The CofE also announced its support for a proposal allowing same-sex couples to receive "God's blessings."
"We want to apologize for the ways in which the Church of England has treated LGBTQI+ people — both those who worship in our churches and those who do not," the bishops said in a statement.
"For the times we have rejected or excluded you, and those you love, we are deeply sorry. The occasions on which you have received a hostile and homophobic response in our churches are shameful, and for this we repent."
"As we have listened, we have been told time and time again how we have failed LGBTQI+ people," the statement continues. "We have not loved you as God loves you, and that is profoundly wrong. We affirm, publicly and unequivocally, that LGBTQI+ people are welcome and valued: we are all children of God."
Williams of Christian Concern said in a statement the apology could prove to be a "turning point" and signal the decline of the denomination.
"Christianity teaches that sexual expression is reserved for marriage between one man and one woman. Any other form of sexual relationships are sexually immoral," Williams said.