Shooting at London church leaves 7-year-old girl fighting for her life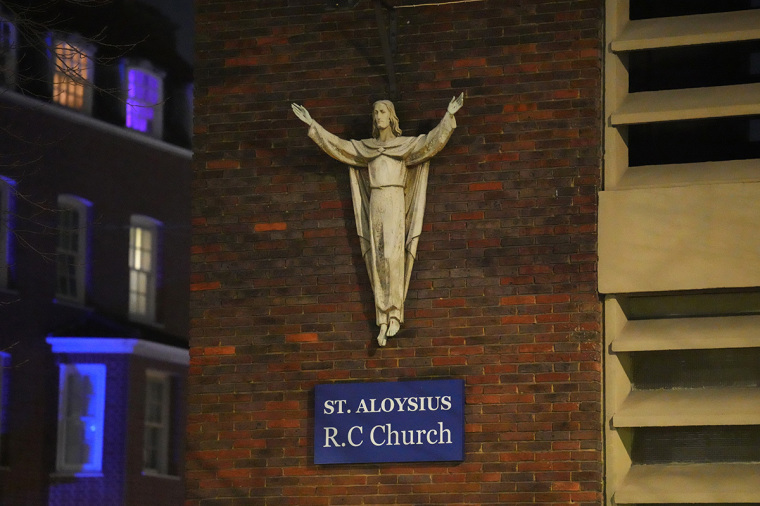 Police in London are on the lookout for the gunman who opened fire on mourners gathered outside a church for a memorial service. The mass shooting left a 7-year-old girl fighting for her life and five others wounded.
The shooting occurred outside St. Aloysius Roman Catholic church in Phoenix Road during a Saturday afternoon memorial for 50-year-old Fresia Calderon and her 20-year-old daughter, Sara Sanchez, who died within days of each other last November,  according to The Sunday Times. Sanchez has been battling leukemia and died three weeks after her mother died from a pulmonary embolism on a flight from Colombia to London.
At least four women — aged 21, 41, 48 and 54 — and a 12-year-old girl were also injured in the shooting outside Euston railway station in central London, The Sunday Times reported, adding that the 7-year-old girl was in a life-threatening condition.
The 12-year-old girl sustained a minor leg injury and the adult victims have been treated for non-life-threatening injuries. The 48-year-old's injuries could be "life-changing," according to reports.
Police said on Sunday they are looking for the suspects' vehicle, which is believed to be a black Toyota. Hundreds of people were attending the memorial service when shots were fired from the vehicle. 
"We believe the suspects discharged a shotgun from a moving vehicle, which was a black Toyota C-HR, likely a 2019 model or similar," said Superintendent Jack Rowlands of the Metropolitan Police. 
An area resident told The Daily Mail that an emergency services helicopter had made an aborted landing near the railway station before flying off and eventually landing in a nearby school playground.
"When the service finished, we were outside to see the flying of doves [released as part of the memorial service]. A black car came and started to shoot bullets. It was chaotic," a witness was quoted as saying.
Another witness said, according to MyLondon, "No one knew if it was a bomb or gunman. We were looking for places to hide. We all just snuggled into corners where we could. We left after about 10 minutes, I did not dare [leave before]."
A police source told the Mail that the gunman jumped out of the car and started firing into the crowd. 
Police Superintendent Ed Wells was quoted as saying that while any shooting incident is "unacceptable," it is "shocking" when multiple people, including two children, are injured.
"Our thoughts are with all the victims, but in particular with the 7-year-old girl who is in a life-threatening condition and with her family," Wells said, adding that officers and specialist detectives were investigating the case.
"I can assure the communities of Camden and beyond that we will do everything we possibly can to identify and bring to justice those who were responsible."
The Mail suggested that the gunman may have been targeting a particular guest at the memorial service to seek revenge.
"People are saying the intended target of the shooting was a man who attended the service," a woman who attended the service was quoted as saying. "There's speculation that it was some sort of revenge attack."