'Sound of Freedom' filmmaker files to run for president of Mexico following film's success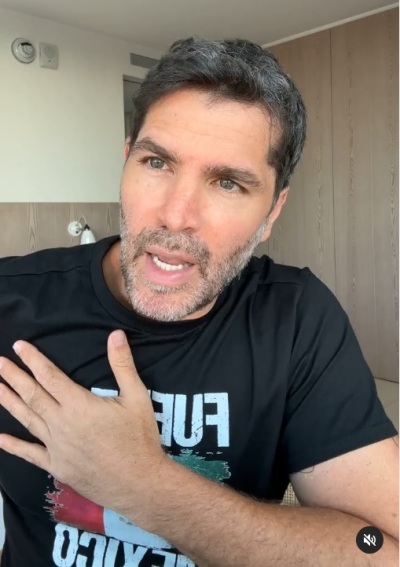 As his movie "Sound of Freedom" ranks No. 1 at the box office in Latin America, filmmaker and actor Eduardo Verástegui has officially registered to run as an independent candidate in Mexico's 2024 presidential election.
Believing he can create positive changes in Mexico if elected president, the entertainer and founder of the Viva México Movement, who's had a significant influence in the entertainment industry, filed his paperwork to run for president last week. 
Verástegui said he intends to run his campaign under the banner of "God, Fatherland and Family," and, if elected, will use the momentum from his successful film to "put an end to child trafficking."
In a social media post last Thursday, Verástegui said that he registered with the Instituto Nacional Electoral and made the decision after a "period of discernment." According to electoral regulations, Verástegui has 120 days to get 1 million signatures, the equivalent of 1% of the list of registered voters throughout the country, distributed over at least 17 states "with an equal percentage in each of them."
"My fight is for life. My fight is for freedom," he stated. "It is time to remove the same as always from power. Our country needs a new way of doing politics, to eradicate corruption and impunity. We are on time! Let's go with everything, for our Mexico!"
In a live video online Tuesday, Verástegui encouraged Mexican Americans who have a Mexican passport or are children of Mexicans to support his candidacy.
The political outsider believes Mexico needs a change. The ruling National Regeneration Movement declared Mexico City Mayor Claudia Sheinbaum as its candidate to succeed President Andres Manuel Lopez Obrador. Xóchitl Gálvez is the candidate of choice for the opposition coalition Frente Amplio por México. 
"We are one year away from the presidential election. Not only do we have to choose our next president, that day we will choose between two paths, or I would say between a dirt road or a highway," Verástegui stated in a video posted to X last month. "The dirt road, the same as always, the one we already know, where every six years we hear the same speeches telling us the same problems and same promises of solutions that don't work."
Verástegui urged Mexicans to choose the path of "innovation, security, growth," pointing to his Viva Mexico Movement. 
Filmed five years ago, "Sound Of Freedom," which has now topped the box office charts in the United States and Latin America countries, tells the true story of one man's journey to combat child sex trafficking. The Angel Studios film is based on the life of Tim Ballard, a former U.S. Department of Homeland Security agent who left his job because he wanted to do more to rescue children from modern-day slavery.
Starring Jim Caviezel ("Passion of The Christ"), the dramatic thriller film also features Oscar winner Mira Sorvino ("The Final Cut"), Bill Camp ("12 Years a Slave") and José Zúñiga ("Twilight"). Along with producing the film, Verástegui ("Unplanned") is also an actor in the movie. 
According to a report from the Organization for Economic Cooperation and Development released in January, Mexico "ranks first in child sexual abuse; first in exploitation, homicides, and trafficking of minors; and first in creation and distribution of child pornography." 
The United States was identified as the "number one consumer of sex worldwide," which includes child pornography, according to Geoff Rogers, co-founder of the United States Institute Against Human Trafficking, as quoted in a 2019 Fox News report.
Verástegui previously shared with CP that he wants to "put pressure on the government so these things become a prime priority, not just for the government, for everyone."
"What really hurts me the most is that the people who are doing this to these kids are human beings like you and me, made of the same. This is not people who are coming from other planets that are our enemies. This is people like us. So, in what moment, what happened to these guys?" Verástegui continued. "They were kids at some point full of dreams. So what happened in what moment they decided to, 'You know what? I'm going to use my life to hurt kids.'"
At the Miami premiere of "Sound Of Freedom," director and co-writer Alejandro Monteverde said he was encouraging Verástegui to run for president of Mexico.
Verástegui and Monteverde have been friends since they were teenagers, and for the past eight years, the pair have worked diligently with Ballard to bring his mission to combat child sex trafficking to the forefront for the masses to become aware.
The filmmaking team, both men of faith, believe in the film tagline "God's children are not for sale" and have encouraged millions to mobilize after watching the film. They hope the story will compel others to help bring an end to this form of child abuse.
"Sound of Freedom" will have viewers at the edge of their seats waiting to see what Ballard does next on his mission to reunite a vulnerable family whose worst nightmare came to life when both children were taken captive for sex work. Featuring mild foul language and some violence, the film's scenes that are not shown but suggested have a haunting effect on audiences. 
The United Nations Office on Drugs and Crime defines human trafficking as any situation in which someone experiences "force, coercion, abduction, fraud, deception, abuse of power or vulnerability, or giving payments or benefits to a person in control."