Texas millionaire shares inspirational journey from poverty to success through faith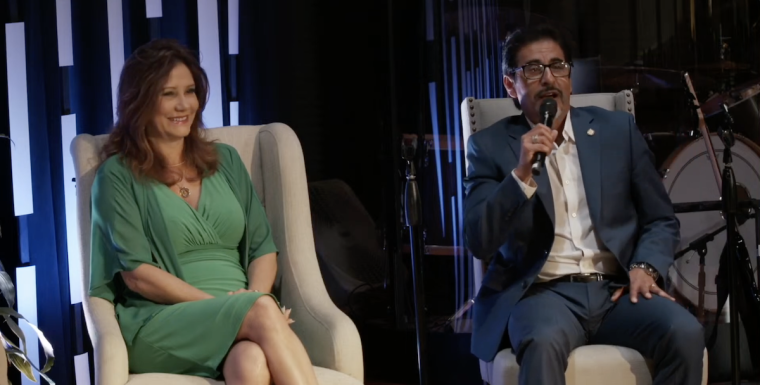 A Texas millionaire entrepreneur who was a former member of the George W. Bush administration recently shared her testimony about her challenging faith journey. 
Rebecca and David Contreras, who've been married for 33 years, were invited as guest speakers at Capital Life Church of Arlington, Virginia, on May 7, where they shared their testimonies with the congregation.
During her youth, Rebecca confronted the challenges of being a teenage mother, quitting high school, struggling with drug addiction and enduring poverty.
Rebecca, the president and chief executive officer of the prominent consulting firm AdvantGarde, attributes her success to the grace of God and the transformative influence of Jesus in what she refers to as her previously "broken life." Without these factors, Rebecca believes she wouldn't have achieved her current position.
In her 2021 memoir, Lost Girl: From the Hood to the White House to Millionaire Entrepreneur, Rebecca provides a detailed account of her journey to Christ and how divine intervention led her to meet her husband, David. The book also reveals their approximately 12-year tenure serving under Bush, both in Texas when he was governor and in Washington, D.C.
"I am a miracle of God. And I don't know any other way to describe it. And so, if you guys have a dictionary at home and you look up the word 'dysfunction,' you'll see David and Rebecca Contreras right under that word," Rebecca quipped. 
"We are definitely an incredible, redemptive power and the true redemptive story of what God can do with two very broken people and surrendered lives."
A cycle of poverty 
Rebecca grew up in El Paso as one of four children. She recounted her upbringing where her mother, who was never married, struggled with mental illness, drug addiction and poverty. Rebecca and her siblings faced the challenges associated with their mother's circumstances.
Consequently, Rebecca said she succumbed to "the path of least resistance" due to her mother's struggles, leading her to grapple with drug addiction and poverty.
"I got involved in all sorts of stuff," she said. "You know, you don't have an identity and you don't know who you are when you're told your whole life you're not going to amount to anything because you're making mistake after mistake. You begin to believe that as a young woman and as a young person." 
At 17, Contreras became a mother. However, her own mother, who had undergone a spiritual transformation and overcame her drug addiction, believed Rebecca was not capable of being a suitable parent. As a result, she left home.
"Losing my daughter was traumatic. But at the time, [it was] because I had so many issues with addiction and poverty," said Rebecca. "I had a bout of mental illness myself and just not understanding who I was until God reached me in my point of need. I was not looking for Him, but He reached down and pulled me up." 
At 19, Rebecca crossed paths with her future husband at a small church located in East Austin, where he had grown up and was actively engaged in gang outreach.
Two years after their initial meeting, Rebecca and her husband got married.
'Caught up in drugs'
According to David, he, too, carries a profound awareness of his past and the transformative power of God.
Prior to meeting his wife, he lived a life consumed by drugs. Reflecting on those years, he acknowledged the challenges he faced and the significant role that God played in pulling him out of that destructive path.
David revealed that his father, a veteran of both World War II and the Korean War, lost his life in an accident in their home when he was only 5 years old. This unfortunate event left his mother, who had a limited education because she had only completed the sixth grade, to raise five children.
"I started out life very, very traumatic and very difficult. And I didn't understand that trauma follows you," he said. "And it really impacts your life in different ways. And it can come in different forms: divorce, death and abandonment."
During his upbringing, David lived alongside his grandmother, Maria, who was from Guadalajara, Mexico. Both his mother and grandmother instilled in him the significance of a strong work ethic and the importance of owning a home. His family acquired their first house in a predominantly white neighborhood in Texas in the 1960s.
"I grew up without a father, without real leadership, without direction, and I got caught up in the drug life. And my friends were good people who were lost. Out of my five closest friends, three served time in the penitentiary; one died in a fiery car crash in high school. But one, Ruben, is the reason why I'm sitting here today because he came to know Jesus," he recalled. 
On Feb. 10, 1984, he experienced a significant encounter with Jesus that he described as an incredible and unexpected event. He shared that in the midst of his tumultuous lifestyle, God reached out to him.
David said that God healed him of his 10-year drug addiction instantaneously. 
"God just snapped it off me," he recounted. "It was this 800-pound gorilla I could not shake. But for the Holy Spirit, He came in and thumped that dude off me and set me free. … And I've been free ever since." 
A redeemed love story 
Five years after he was saved, David met his wife.
"God did a work. [It] took a season to really change my heart and teach me how to become a man, teach me how to treat women, teach me how to have respect for women, respect for myself, and how to learn how to honor God," he said. "And then, eventually, He brought this beautiful creature into my life and here we are 33 years later."
Following their encounter, Rebecca expressed her decision to enroll in a welfare-to-work program, driven by her aspiration to pursue further education and make a meaningful impact.
She recounted her strong desire to escape the hardships of abject poverty and provide a better life for her daughter. She landed a job working for Ann Richards as a receptionist during the time Richards was running for governor of Texas. Richards became a transformative figure in Rebecca's life. Under Richards' guidance, Rebecca received support for her education and was given opportunities to thrive.
Six years later, Richards reached out to inform Rebecca about how there was a job opening available working for the newly elected governor, George W. Bush, in 1995. 
Intrigued by the opportunity, Rebecca joined the staff, embarking on a remarkable journey that eventually resulted in her serving in the White House as the Bush administration's special assistant for personnel.
During this time, she and her husband started their own family, attributing their professional and personal growth to the transformative work of God in their lives.
Forming meaningful bonds 
Rebecca emphasized the significance of relationships in shaping her career and life, starting with her foremost connection to God. Throughout her personal journey, she learned the importance of forming and nurturing relationships with individuals whom she believes God has placed in her life.
Rebecca recalled her experience of securing a job while on welfare, where she had a single interview that led to her employment with Richards and then the former president. Since then, she said, she has not needed to go through traditional interviews.
She now runs a $20 million business that she established in 2011. Rebecca attributes her success to the relationships she's cultivated in various aspects of her life, including personal, career and spiritual spheres.
Rebecca said she evaluates relationships based on three criteria: their strategic alignment with her goals and purpose, mutual value addition, and their potential to help her grow as a person and align with her vision and aspirations.
She concluded with a prayer for unity amid the "brokenness" seen across society.
"You are a God of unity; unite us together, God," she prayed. "There's more that unites us than divides us. Bring us together in hope so that we can once again walk in our full purpose and potential."