Texas Pastor in Church Shooting Talks Trusting Christ, Reveals Nearly 30 People Reconnected With Faith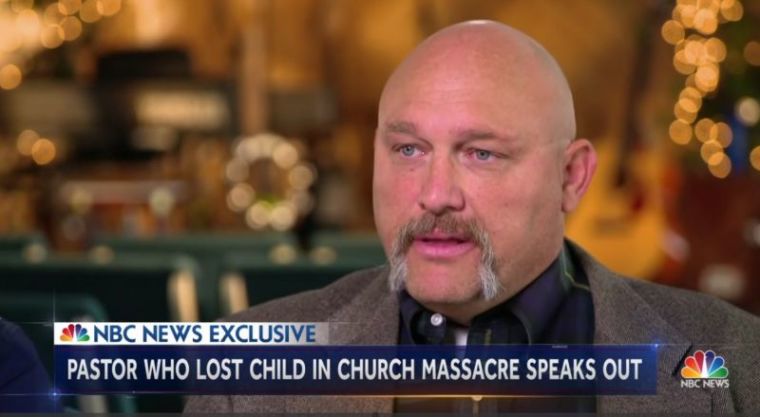 The pastor of the church in Texas that suffered the worst mass shooting in the state's history earlier in November admitted that holidays like Thanksgiving and Christmas are hard to cope with now, but said that he places his trust in Jesus Christ.
"It is hard to cope right now," First Baptist Church of Sutherland Springs Pastor Frank Pomeroy told NBC News in an emotional interview Wednesday.
"But I know Annabelle would have still wanted that Christmas music on. She would want the holidays to proceed — it was her favorite time of the year."
Pomeroy lost his 14-year-old daughter, Annabelle, along with 25 other parishioners earlier this month when shooter Devin Kelley stormed in the church and opened fire.
The pastor revealed that he knew Kelley, but did not suspect he was capable of such an act.
"To be quite honest, I wouldn't have thought he would have the courage to try to do something like that," Pomeroy said. "He was not someone I put much faith or respect into even as a human being — much less as a man. He was just a very spiteful person."
Officials earlier ruled out that race or religious issues played a part in the shooting, and suggested that Kelley had a dispute with family members who attended the church.
Pomeroy shared his hopes that no other pastor "has to go through the process of 26 funerals in a week."
"It makes it very difficult, however, it also brings the community together and draws them together, both as a community and a church," he noted.
As for Thanksgiving, the preacher admitted it is a challenging time.
"Is it going to be difficult? Yes, but you know what? I am celebrating this great country that God has blessed us with on Thanksgiving, and also celebrating the birth of the Savior at Christmas," he reflected.
One positive outcome from the tragedy Pomeory noted is that nearly 30 people have reached out to him to say that they have reconnected with their religious upbringing.
"Prior to this, I was fighting the battle to the best of my ability," he said.
"But even more so now that I know there's 26 more martyrs that have laid down their life for that battle and the Lord left me here, I feel, means that He wanted me to continue that fight for Him in their names as well."
One week after the mass slaughter, Pomeory preached a message of forgiveness to his congregation.
"I knew everybody who gave their life that day. Some of them were my best friends and my daughter," Pomeroy said during the service.
"I have no doubt they're dancing with Jesus today."
Close friends of some of the victims previously revealed heroic stories of sacrifice that went down on the day of the shooting.
Vonda Smith, friend of slain mother Joann Ward, revealed that the latter shielded her four children and tried to protect them, managing to save two in the chaos.
"It's the thing that you hear sometimes parents say, but you never think they'll have to. She said, 'I would die for my children.' And she ended up having to do that, in the very end," Smith said.
"She loved them so. And she gave it up for them ultimately. She was the epitome of Christ."
Watch NBC's interview with Pomeroy below: