Texas Pastor Who Lost Daughter in Church Shooting Says His Faith Is 'Stronger Than Ever'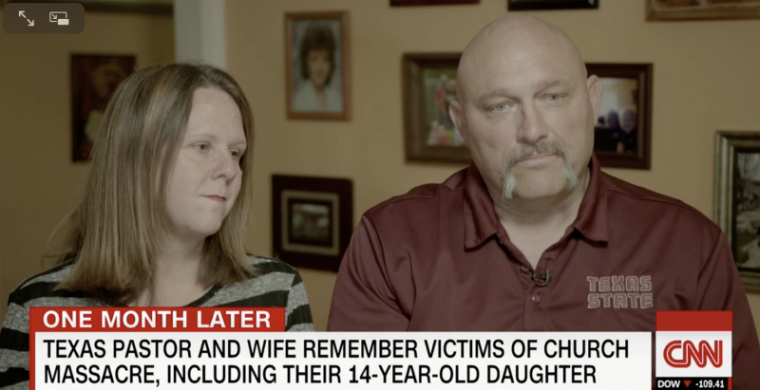 Pastor Frank Pomeroy and his wife, Sherri, whose daughter was murdered along with 25 other members of their Texas church last month, say they're on a mission from God and won't allow their loved ones' deaths to have been in vain. 
Twenty-six people were killed at the First Baptist Church of Sutherland Springs, Texas, in the deadliest church shooting in U.S. history. Among those killed was Annabelle, the Pomeroy's 14-year-old daughter. Both the pastor and his wife were out of town during the fatal church shooting.
The Pomeroys were interviewed by CNN's Anderson Cooper a month after the horrific mass shooting, and said they were recently reminded of a play their daughter was supposed to perform in for Christmas. Sherri said a Facebook post unexpectedly reminded them of what would have been their daughter's first play in the Seguin Independent School District's production of "Elf The Musical." She was "beyond excited," they said, to have both a speaking and dancing role in the production.
The couple admitted that moments like those shake them up and "send them into a tailspin."
"She loved deeply. She loved everybody," the pastor said of their adopted daughter. "She had no maliciousness."
In the month since the shooting, the grieving parents have had to attend 12 funerals while also spending countless hours in hospitals and the homes of victims' families. As seen in a clip of the interview, Pastor Pomeroy is still ministering in an outside tent setting.
Pomeroy describesd his life as a hula hoop with a thorn stuck in it.
"Every now and then the thorn sticks you and you'll cry, but you've got to keep hula-hooping and eventually the thorn will wear down some," he told CNN.
Despite the pain they've been through, when asked about their faith the couple replied that God has been their saving grace through it all. They added that their faith is stronger than ever after the shooting.
"If I give up on the mission now, that means those 26 died in vain," Pomeroy said. "The whole 15 years I've been a pastor, [God's] been preparing me. This is my Super Bowl, if you will. God said, 'OK, let's see where you're at.'"
The Pomeroys adopted Annabelle and her older sister when Annabelle was 2 years old. They already had five children and never planned to adopt but they were smitten after meeting the girls and just had to adopt them.
According to local news station Fox61, the family's last time together was the Friday before the shooting. Pastor Pomeroy teared up as he remembered it. The minister recalled waking up early, cooking a hearty breakfast. He and Annabelle went to the living room to watch a hunting show together before she went to school. He kissed her goodbye and assured her that he'd see her on Monday for dinner.
The gunman was identified as 26-year-old Devin Patrick Kelley from New Braunfels, Texas. Kelley served in the U.S. Air Force from 2010 to 2014, and was court-martialed in May 2014. Local news stattion KSAT reported last month that witnesses said Kelley walked into the church and began shooting around 11:30 a.m. Sunday, Nov. 5.
The mass shooting came to an end after Stephen Willeford, 55, a nearby neighbor and church volunteer, grabbed his own AR-15 and helped chase down Kelley.
Willeford, a National Rifle Association instructor who was referred to by Texas Department of Public Safety Regional Director Freeman Martin as a "Texas hero," told the local ABC news affiliate that he is no hero.
"I was scared to death. I was," Willeford said, as tears came to his eyes. "I'm no hero, I am not. I think my God, my Lord protected me, and gave me the skills to do what needed to be done."
"And I just wish I could have gotten there faster," he explained. "But I didn't know. I didn't know what was happening."
Follow Jeannie Law on Twitter:
@jlawcp