Tim Tebow admits he was more passionate about sports than Christ, issues challenge to youth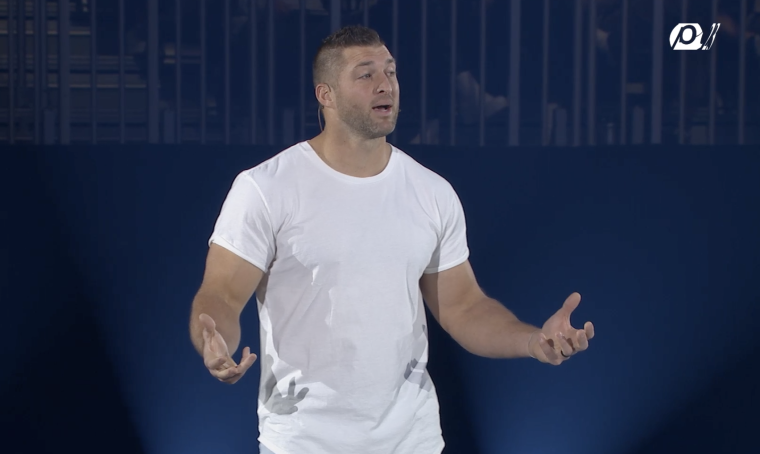 Christian athlete Tim Tebow opened up about his tendency to prioritize sports over his walk with Christ. He challenged thousands of young people gathered at Passion 2023 to live their lives defined by a passion for sharing the Gospel with the lost.
"I would humbly, this morning, challenge me, first and foremost, and maybe all of us, to say, what will be the greatest passion of our life? What will be the greatest passion of our life? Will our greatest passion at the end of our life will it be for the cause of Christ?" the 35-year-old said from the Passion Conference stage in Atlanta, Georgia, on Thursday morning. 
Tebow said there are two primary reasons many don't truly pursue their passion for the cause of Christ: passion for the world and apathy. The college football star who won the Heisman Trophy in 2007 before playing in the NFL and later playing minor league baseball shared that he has in the past had more passion for sports than for faith. 
"I think, in my life, my greatest passion so far in my life hasn't been for Jesus. I'd say it's honestly probably been for sports," he admitted. He defined "passion" as "caring so much for something you're willing to suffer for it."
"So far in my life, I've been more willing to suffer for a game than I ever have for Jesus. Why do I say that? Because I've given up more in my life to win the game than I ever have for Jesus," he added.
"It doesn't mean that I'm not passionate about Jesus. I am passionate about Jesus. I love Jesus. I've just been more passionate about a game. …  I spent more time watching film, studying, preparing for defense than I ever have studying Scripture."
"It doesn't mean those things are wrong," he continued. "Being passionate about sports isn't wrong ... being passionate about your job, your occupation, I would say it's a good thing. But is it more than Jesus? Is it more than the call in your life? Is it more than hurting people? Or is it in its proper place?"
Tebow said that at other times, Christians are simply apathetic to living a passionate life for Christ, adopting the attitude of "I don't care." 
"Sometimes [the Christan life] can hurt, it can suck, it's not easy. And so I'm just going to choose apathy," he said. 
He cited Hebrews 12:1, which reads: "Therefore, since we are surrounded by such a great cloud of witnesses, let us throw off everything that hinders and the sin that so easily entangles. And let us run with perseverance the race marked out for us."
"Are we willing to passionately run, to truly be passionate about the race that is set before us?" he asked. 
"We get to be part of the greatest rescue mission in the history of the world because of what Jesus did on the cross, and He has commanded us to take it to the world. But do we have any urgency? Why do we need to run? Because we're not living on our timeline. We're living on theirs. … How many people did I not get to because I'm apathetic [or] I don't really care or I was just more passionate about doing something else?"
Tebow challenged listeners to carry the fire God ignited inside them into the world: "I'm going to challenge us to remember, what does it mean to remember, to look back at the cross and meditate on it?"
"Why do we need to keep going back to the Word of God, to the cross? Because we have to remember how good He is. When we face the hard times, when we face frustration, where we face disappointment, we've got to remember the cross; we've got to remember how good He is.
If a Christian believes the Gospel is true, and some people have never heard it, Tebow said it's "selfish" to keep the Good News to themselves. 
"Why don't we do it? Is it because we don't believe the Gospel to be true? Or we don't view people as worthy to hear it? Why? What is the reason? Do not believe it? Or do I not love you enough to tell you?"
"We're going to run, we're … going to remember the grace and what God has done in our life, and we're not going to stop. We might slow down for a second; we might mess up for a second. We might forget for a second, but we're going to remind each other… we're going to go again because it's worth it. What You did for us is worth it. You are worth it. And ultimately, at the end of my life, what else is worth it?"
"Let's make sure this year we're passionate about the cause of Christ because we know it's the only thing that's worth it."
Tebow's message marked the final session at Passion 2023. Previous speakers included Katherine Wolf, Jackie Hill Perry, Christine Caine and more. The conference was founded in 1997 by Louie and Shelley Giglio and gathers thousands of young people "for the fame of Jesus" every year.