UConn player gives 'all glory' to God on path to NCAA championship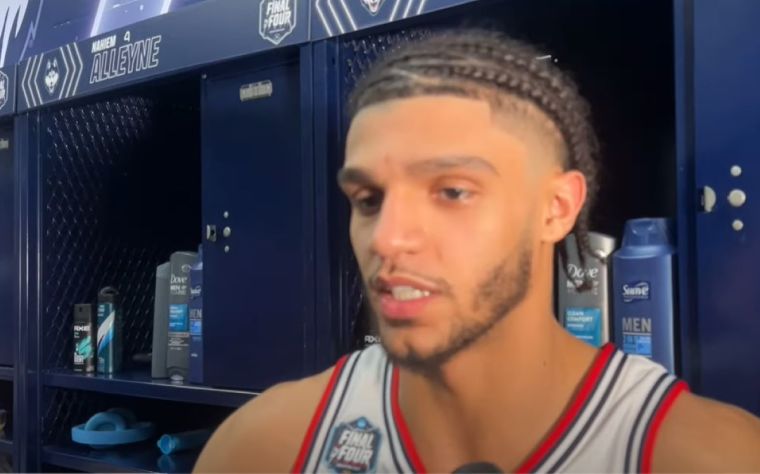 University of Connecticut men's basketball forward Andre Jackson gave "all glory" to God on his path to winning the national championship game Monday night.
Jackson, a junior who scored three points and dished out six assists in the championship game against San Diego State University, discussed the impact his faith has had on his athletic career. 
"Basketball and my faith have always been connected," Jackson said at a press conference ahead of a championship game. "My basketball trainer was also my pastor growing up."
"Every time I'm on my way to … work out every single day in the morning, he would pick me up on a bus, and he would kind of just of take me through and pick up some people and also just teach me the word of God," he recalled.
The 21-year-old described his faith as something that has been "ingrained in me since I like really learned how to play." He identified his faith and basketball as two things he depends on in his life.
Addressing his team's strong performance throughout the National Collegiate Athletic Association's Division I men's basketball tournament, Jackson remarked, "I feel like God has put me in this position."
"I feel like I've gone through a lot of trials and tribulations in the past when it comes to basketball, so for Him to be able to present me with a great opportunity like this, I'm just looking forward to trying to seize it and giving all glory to Him as always."
The UConn Huskies defeated the San Diego State Aztecs 76-59 in the final game of this year's NCAA tournament, which took place at Houston's NRG Stadium. UConn's victory Monday marked the fifth time the team claimed the coveted national title. 
Monday was not the first time Jackson spoke of the importance of his faith.
In a post-game interview Saturday after their Final Four victory against the University of Miami, Jackson described his ability to compete in the tournament as a "blessing."
"I thank God every single day for this, for moments like this to be able to be in this position," he said.
Jackson's faith figured prominently in a profile published by CT Insider in March 2022. The athlete described his trainer, Clyde Clymer, as his "connection with God" as his mother painted a portrait of her son as a Christian who "puts a lot on God."
As a No. 4 seed, UConn defeated Iona College, Saint Mary's College of California, the University of Arkansas, Gonzaga University and the University of Miami before taking down San Diego State. 
A victory parade is slated to take place in downtown Hartford, Connecticut, on Saturday. In a statement, Connecticut's Democratic Gov. Ned Lamont praised the team's performance on the court. He urged residents to drop by the state capital to attend the festivities.
"The UConn Huskies men's basketball team has been a dominating force in the NCAA tournament. It will be an honor for us to welcome the coaches and the players to downtown Hartford and give them the celebration they deserve," he said. "I am strongly encouraging the residents of Connecticut to come to the parade and show the Huskies how proud we are and how much this team means to our state."