Christian university head says employees weren't fired solely for pronouns in email signature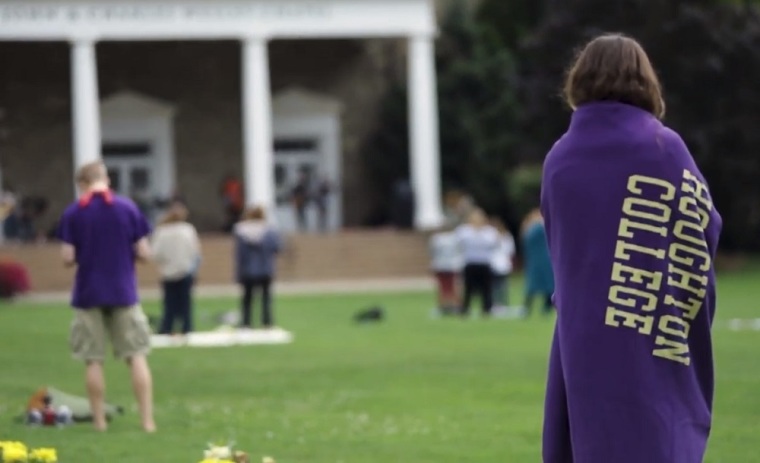 The president of Houghton University in New York is pushing back on claims that two staff members were terminated solely for including their pronouns in the signature line of their emails but emphasized the importance of staff members accurately representing the school's values in external and internal communications. 
In an interview with CBN News, Houghton University President Wayne Lewis Jr. commented on the pushback surrounding the dismissal of two residence hall directors, Raegan Zelaya and Shua Wilmot, from the Wesleyan Church-affiliated upstate New York school.
Their dismissals were mentioned in a petition backed by hundreds of alumni, which stated that the employees were fired "for refusing to remove pronouns from their email signatures and expressing their personal beliefs publicly." 
"Houghton has never terminated an employment relationship solely based on an individual's use of preferred pronouns in their email signature," Lewis insisted, saying he couldn't discuss the specific employees or specific employment actions. But he described any allegation that employees were dismissed simply over pronouns in their email signature as "untrue."
He cited the employees' actions as violating a "messaging policy that included but was not limited to email signatures." The policy also included a directive to employees regulating "any way that you represent yourself as an employee of the university" and implementing a "much more standardized approach." Lewis said the school shared with employees what elements email signatures need to include and what elements they should not include. 
"We find it very important for us to be absolutely transparent with our students, with our families, with prospective students and families and our partners about who we are," he said. 
"As an individual, we all have different ideas, perspectives, and causes that we hold dear, but as an employee of the university, when you are representing Houghton University, the things that you include in an email signature or along with your name need to be alignment with the positions, the beliefs, the doctrine of the institution and those things that are not in alignment with the institution should not be there."
Lewis' interview with CBN News, published over the weekend, comes about a month after the school terminated Zelaya and Wilmot.
Zelaya shared the contents of the April 19 letter she received from Houghton informing her that she was "being relieved of your duties effective immediately," citing a "refusal to remove pronouns in your email signature in violation of institutional policy." The letter also cited "false and defamatory statements" attributed to Zelaya in a recent news article. 
Wilmot said previously that he believed another reason he was terminated was that he described Wesleyan Church's teachings on sexual orientation and gender identity as "outdated and problematic."
Before receiving their letters alerting them of termination, Zelaya already indicated her intention to resign to administrators. Wilmot said he learned in February that his contract would "not be renewed."
The use of preferred pronouns in an email signature signals support for the idea that there are more than two genders and that an individual can identify with a gender that does not align with their biological sex.
Lewis said "preferred pronouns" are "one of the elements that are not permitted in email signatures."
"Including preferred pronouns in an email signature or including it with video conferencing sends a message, whether the person intends to or not," he said. "It signals that the institution and/or the person is open to or potentially accepting of a position about sex and gender that is not in alignment with the positions, the beliefs, the doctrine of Houghton University and our sponsoring denomination the Wesleyan Church."
Lewis said that including preferred pronouns in an email signature does a "disservice" to students, prospective students and parents. 
"You are sending a message to them that Houghton believes something that it doesn't," he added. "It's imperative that we be very transparent about who we are and who we're not."
Nearly 800 Houghton alumni, faculty and current and former students have signed a petition asking the school to "unequivocally affirm their commitment to charitable and respectful dialogue, not just in speech, but also in action."
The petition requested that Houghton leadership "acknowledge that there is a range of views reasonably held by faithful and active Christians on topics of gender, sexuality, and race" and implement a "broadened understanding of the views that are acceptable for staff, faculty and chapel speakers to hold and express."
Three days after the petition's initial April 28 submission, Lewis denied the signatories' request.
In his response, Lewis stressed that school policy requires that "all employees be respectful of the positions, doctrine, and beliefs of the university," which "unapologetically privileges an orthodox Christian worldview, rooted in the Wesleyan theological tradition." Wesleyan Church teaching declares that "gender confusion and dysphoria are ultimately the biological, psychological, social and spiritual consequences of the human race's fallen condition."