Virginia teacher saves entire class of students after 6-year-old shoots her in hand and chest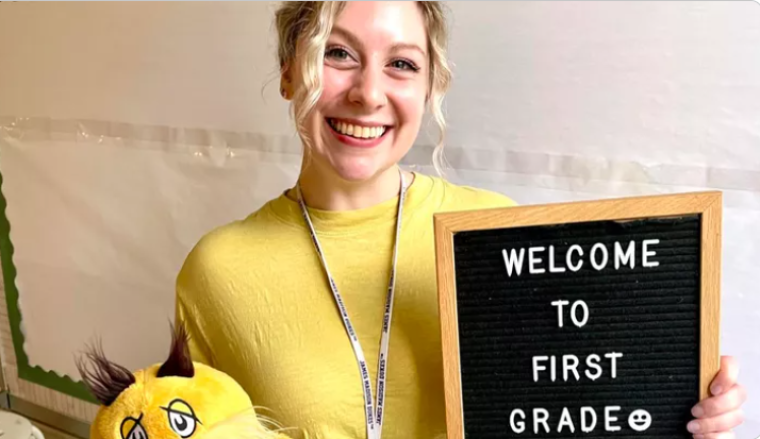 A first-grade teacher who managed to save her entire class after she was intentionally shot in the hand and chest by a 6-year-old student as she taught at Richneck Elementary School in Newport News, Virginia, has been hailed as a "hero" for her bravery in the face of danger.
At a press conference Monday, Newport News Police Chief Steve Drew said the teacher, Abigail Zwerner, 25, is hospitalized in stable condition after the shooting last Friday, but the first thing she asked him about when they met was how her students were doing.
"When I met with Abigail's family on Saturday, and they took me up to her [hospital] room, she asked me first question, 'Do you know how my students are?' She was worried about them," Drew said.
"And then today … she again asked me, 'Do you know how my students are?' And that touched me, her family and her mother. Abigail wanted me to tell you all, but primarily her students and the parents of her students, she is in stable condition and she is thankful for the thoughts and prayers that have gone out to her. The people that have reached out not only here locally but across our state and across our nation. She is very, very appreciative of the support that she is getting. And continues to get," he explained.
Drew said at about 1:59 p.m. last Friday, police received a call from the school that a teacher had been shot with no other information. Officers "from different areas" quickly converged on the school and at 2:04 p.m., two sheriff's deputies entered the classroom where the shooting took place and found a 6-year-old male student being physically restrained by a school employee.
"The child was physically combative and struck the employee that was restraining him," Drew said.
"Officers then took control of him and escorted him out of the building [and] placed him in a police car with an officer inside and outside of that building. Once that had occurred there was a systematic evacuation of rooms and hallways for safety as they didn't know what they were dealing with," he said.
Police later recovered one spent shell casing, a backpack, a cell phone, and a 9mm Taurus firearm from the scene.
"The firearm was recovered close to the student's desk where the shooting occurred," Drew said.
Zwerner was reportedly teaching when the 6-year-old boy brandished the firearm, pointed it at her and fired one round.
"There was no physical struggle or fight. She was providing instruction to her class," Drew said.
The police chief said Zwerner took a defensive position where she raised her hand after the student fired the gun at her.
"The round went through her hand, exited the rear of her hand and into her upper chest," he said.
He said when police reviewed security video from the scene, Zwerner's bravery was on full display.
"She suffered a gunshot wound but she was still able to get all of her students out of that classroom. From the video surveillance we have of the hallway, you can see the students running out of that classroom across the hall into — about 17-20 students — of that classroom into other classrooms," Drew said. "Ms. Zwerner was the last person to leave that class. She made a right turn and started down the hallway and then she stopped. She turned around. She turned around to make sure that every one of those students were safe."
Drew said police later interviewed the boy and his mother and discovered that the gun was a legally purchased firearm that he hid in his backpack and brought to school.
"We determined that the firearm was in the residence where they lived and the child obtained that firearm, placed it in his backpack and brought it to school. He was brought to school that day by his mother later that morning," he explained.
As the hero teacher continues to recover, Hannah Zwerner, her twin sister, launched a GoFundMe campaign on Monday to raise $250,000 to help with her with medical and living expenses. More than $60,000 had been raised as of Tuesday.
"Abby, my family, and I are humbled by the outpouring of support we've received in the days following the event. Thank you for all of the prayers, well wishes, and words of kindness," Zwerner's sister said in a statement on the campaign. "If you're looking for ways to help, I am creating this fund to help aid in Abby's healing. Its purpose is to cover future living expenses as Abby recovers from this tragedy."
Drew said Zwerner's shooter was taken into custody for evaluation at a local hospital. He was later ordered to be temporarily detained by a judge so he can receive treatment at a medical facility while an investigation into the shooting continues.
"I'd like to reiterate that this shooting was not accidental. It was intentional. I believe, I told her today, I believe Ms. Zwerner, Abigail. She saved lives on Friday," Drew said. "She is a trooper. She is a hero"