Hundreds take part in dueling rallies at Supreme Court on Roe v. Wade's 50th anniversary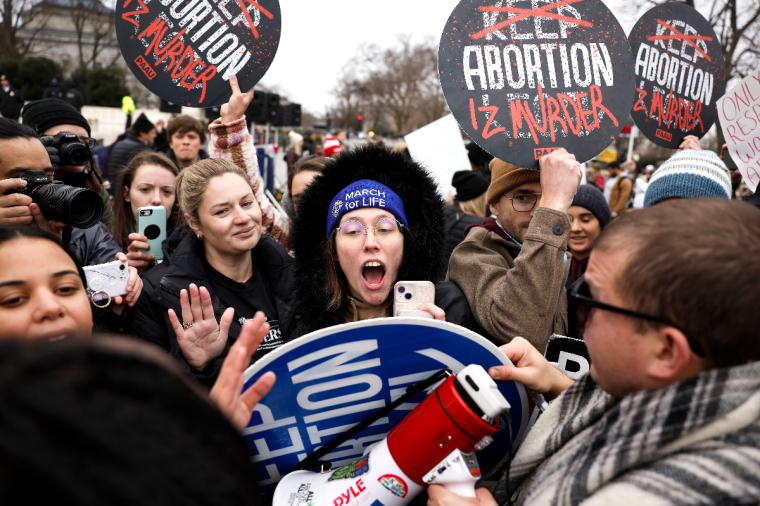 WASHINGTON — Pro-life and pro-choice advocates held opposing demonstrations outside the U.S. Supreme Court Building Sunday on the 50th anniversary of the Roe v. Wade abortion ruling, with both sides speaking on where their respective movements plan to go from here.
The Women's March advocacy group held its "Bigger Than Roe" rally in Madison, Wisconsin and sister marches in other cities throughout the United States as a message to lawmakers that their "movement is strong" and growing.  
Representatives of various pro-life groups, including Progressive Anti-Abortion Uprising, Pro-Life San Francisco and Survivors of the Abortion Holocaust held a rally outside the Supreme Court on the same day, two days after the annual March for Life. 
The rally honored multiple veteran pro-life activists who spent years performing rescues, a nonviolent direct-action technique that involves illegally entering abortion facilities to actively intervene with its operations. 
A couple hundred Women's March participants arrived at the Supreme Court in the afternoon, and activists on both sides chanted slogans at one another and held up signs revealing their stance on the abortion issue.
Slogans from the pro-life side consisted of chants like, "Abortion is murder; Abortion is oppression," while Women's March participants yelled, "Abortion is healthcare." 
Some abortion proponents responded to the pro-life activists' chants by flipping them off or attempting to silence them by using the siren feature on their megaphones. As the day progressed, the crowd began to dwindle, with advocates on both sides eventually departing.
Terrisa Bukovinac, founder and executive director of PAAU, believes that in the absence of Roe — the 1973 ruling that made abortion a national right that was overturned last June — the pro-life movement must "mobilize a massive amount of people for direct action." 
"We will not have change in this country unless we can harness the power of social tension," she told The Christian Post. 
The pro-life progressive activist acknowledged that some pro-lifers are hesitant about engaging in direct action, as they argue that it is a detriment to the movement. However, Bukovinac believes that "We must break through those fears in order to make change." 
"Just the fact that it's unpopular and difficult to do doesn't mean that it isn't what we need to do because it is. It's the only way," she argued. "There's not another way to end an injustice this massive, a global injustice this massive." 
"Historically speaking, it's the most effective, and it's in line with our values as pro-lifers. It's consistent with our beliefs about opposing violence and promoting human equality," Bukovinac continued. "Direct action is the only way." 
She wants to see the pro-life movement uplift left-leaning activists, asserting that the movement is "ill-equipped" at the moment to effectively reach the political progressives and atheists who typically hold pro-choice views. 
She believes the movement needs to make pro-life "leftists" more "visible" and enable them to address the concerns that their fellow progressives have about right-wing politics while still "getting to the heart of the issue," which is to "end child killing."
"Right now, there just aren't enough visible pro-life Democrats, and the only way to make visible the leftist pro-life movement is to mobilize through direct action," Bukovinac said.
AJ Hurley, the director of activism for the pro-life activist organization Live Action, said that the rally's goal and subsequent counter-protest was to celebrate the reversal of Roe v. Wade and the pro-life activists who worked for decades to see it overturned.
"So many people sacrificed incredible amounts of time, energy, and money. So many people stood up against the violence of child killing, and they suffered, and so many never saw this day," Hurley told CP, calling the "legal child killing in America" the "greatest tragedy in human history." 
Hurley said that the goal of the pro-life movement post-Roe should be to make abortion a crime by ensuring that 14th Amendment protections apply to all human beings "from conception to birth." 
"The deathblow, eventually, to abortion is to recognize that 14th Amendment protections apply to every single human being," the pro-life activist said. "The science is clear that life begins in the womb at the moment of fertilization." 
One Women's March protestor, Violet Webster, 20, an Ohio native who now resides in New York, called the overturn of Roe v. Wade "alarming," saying that she feels as if she has "no control over what goes on in [her] body." 
She told CP that she would like to see states pass laws protecting abortion access, citing Vermont as an example. During the 2022 Midterm elections, Vermont residents voted in favor of Proposal 5, an amendment to the state's constitution that guarantees a "right" to "personal reproductive autonomy" to all individuals in the state. 
Webster told CP that she has always been pro-choice, stating that "people should have a say over what they can do with their bodies." 
"I don't know if, personally, I would ever get an abortion, but I think that people deserve to have the right to choose," she added. 
Another attendee of the march alongside Webster, who declined to share her name, said she attended a Catholic high school where many were pro-life. She disagreed with the argument, particularly from some teenage boys "who don't have uteruses," that "people are murdering babies." 
"We're just protecting women," she said, saying that the pro-life position treats women's lives as less valuable than "potential fetuses."
Bukovinac, a feminist atheist, argued that abortion is "completely inconsistent" with feminism's values of "equality, nonviolence and non-discrimination." 
"The women, and people in this country, have been lied to about what a pro-life world looks like and about what it is, and who pro-life people are," she told CP. "But this is not about taking away rights." 
"This is about expanding rights to those who are most vulnerable, and those who are currently, not just being discriminated against, but being discriminated against to a lethal degree by the hundreds of thousands every single year."