Why church planters can be our best teachers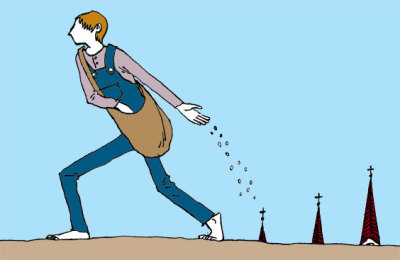 When I planted my first church at the age of 30, I had little idea of what the next several decades would hold. Filled with high expectations and great passion, I believed we could change the world. Although I still believe Christ's Church has the answer for all that is broken in our world, I also know that sometimes the best-laid plans simply don't pan out and that the role of the church planter takes more than big vision.
Church planters, at their core, are innovators and world changers who simply want to be faithful to where God has called them. The contexts in which they plant reflect that—planters meet in abandoned warehouses just outside urban centers, in elementary schools in the suburbs, in secret locations where authorities won't discover faith among them, and in refugee camps where hope continues to run deep despite the odds. They face sociological, linguistic and sometimes theological challenges.
But the Gospel is the good news for the whole world, and the calling of the church planter knows no limits. In every corner of the world, God is raising up pastors committed to preaching the Word and caring for those in need. Although the context and obstacles vary from place to place and situation to situation, the call never changes: if God calls you to go, you go.
And once you go and are there, your call is clear: Bring the truth of Jesus Christ to individuals and a community in desperate need of reconciliation with God.
As I have interacted with pastors who pick up all they own and move to where God is calling them, I have been humbled and moved by the countless ways they continue to overcome obstacle after obstacle, both personal and corporate, communal and regional. As challenging times roll in — which they will — some may say church planters are crazy to continue to pursue this calling.
But if there is one thing I've learned over the past 20 years it's this: giving all for the sake of the Gospel is never folly.
As we celebrate Pastor Appreciation Month, we have much to learn from church-planting pastors when it comes to being foolish for the sake of a world in need of Jesus. Here are three lessons we can learn from church planters who have given all for the sake of the Gospel.
The best church planters are always open to thinking outside the box
If you look at how "church" is done, oftentimes it can feel a bit formulaic — Sunday morning worship, a general outline of the service, and programs during the week. Routine and tradition are a vital part of church life. And yet church planters have opportunities to think outside the box when it comes to how they "do church."
Femi is a church planter in Lagos, Nigeria. In an area where few pastors have access or opportunity to attend theological institutions, Femi has establishing an academy run inside the church to train church planters. Having discovered that finding like-minded pastors to engage with is a challenge, Femi is creating a community of people through his church who are committed to ideals and outcomes that stem from a similar worldview.
Innovation in church methodology, growth and sustainability is critical for churches to thrive post-pandemic and through all of today's challenges. Church planters like Femi remind us that taking risks can lead to greater collaboration and more fruitful Gospel ministry.
The best church planters are willing to pivot when necessary
It's no accident that Proverbs 19:21 is in our Bibles: "Many are the plans in a person's heart, but it is the LORD's purpose that prevails." For the past 18 months we have heard one word over and over: pivot. Alter your course. Change direction. Turn the tide.
Like entrepreneurs starting a company, church planters are good at this. When Justin and his wife Jenna began to plan how they would serve God in Africa, they could not know that even before they would leave, their daughter would be diagnosed with chronic liver failure. Their dream of going to Africa died. And yet as they calculated their next steps, Justin visited a church while on a trip to France. The pastor needed someone who could connect with French-speaking Muslims. Today, Justin and his wife are planting churches in France, building out the church's vision to reach Muslims in the area, and sharing the Gospel with unreached populations in France.
Pivoting isn't a sign that we've gone wrong; instead, it's simply a reality in God's strategic plan for the world. When we pivot to His will, as Justin did, we find unexpected opportunities to minister and care for a world in need.
The best church planters cherish the people God has placed around them
On a mid-September evening, Jeremywoke to calls from authorities describing a fire inside of Axis Church, the church he had planted in Nashville 12 years ago. A Molotov cocktail was thrown through the window, ruining the furniture and equipment inside. Instead of retaliating or shuddering, the church banded together. Jeremy explained that the act was "a gift from the Lord to remind us of our mission of why we're in downtown Nashville." He continued, "The church exists because this stuff exists."
Rather than seeing this act as an opportunity to speak and act negatively towards those who intended harm, Jeremy and the congregation are choosing to see the situation as a reminder of their mission. The congregation has come together to display the love of God to their surrounding community and are choosing to display and send messages of love and unity following the act. Relying on one another, the congregation believes in the power of worshiping, praising, and proclaiming the Gospel together despite challenges they may face.
No church planter can plant a church alone. The church is only ever done in community. When we begin to notice — really notice — the people we are serving with and among, our lives are changed and our call to ministry is strengthened even further. Axis Church reminds us of the power of community in calling.
Church planters can be our best teachers when it comes to how leadership inside the church ought to look. When pastors and leaders think innovatively, pivot quickly, and cherish the community in which  God has placed them, Christ's Church really can fix all that is broken in our world. That is anything but folly.
Brian Howard is Executive Director for Acts 29. Brian has more than 30 years of proven leadership experience as a leadership coach, non-profit executive, church planter, lead pastor, and business owner. Brian holds a master's degree from Talbot School of Theology. He has been married for 27 years to the love of his life, and they have four children.