How Christians are winning battles in the culture war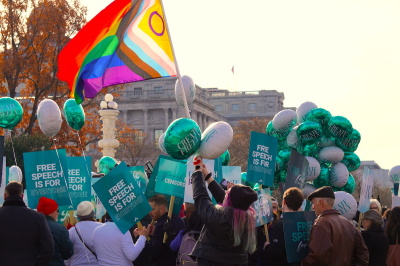 In recent years, conservative Christians in America have won significant victories in the cultural war for the heart and soul of America — and its future direction. These triumphs, both in the Supreme Court and through the growing influence of faith-based organizations, show a slow but steady shift back towards a society that upholds traditional Christian values and protects religious freedom.
While it can sometimes be hard to see how conservative Christians are winning the culture war in the midst of our highly secularized society, it's important to pause and count our blessings, and consider the ways in which God has graciously given us victory in recent key battles. No, the war is not over, but as we fight on, let's consider God's past grace in the work to reform American society back to Christian values and, by doing so, draw strength for the fights to come.
Recent supreme court and lower court victories
The Supreme Court's recent historic rulings, such as Dobbs v. Jackson Women's Health Organization and 303 Creative v. Elenis, have proven to be landmark victories for conservative Christian efforts to win the culture war.
The 2022 Dobbs decision, in particular, marked a turning point in the fight to protect the sanctity of life across America by upholding a Mississippi law that banned most abortions after 15 weeks and completely overturning Roe v. Wade. This decision was a major victory in the battle to create and preserve a culture of life in America, one that recognizes the God-given value of every unborn child. It was a major step in the right direction toward securing equal protection under the law for innocent pre-born Americans. And the 6-3 ruling echoed and affirmed the deeply held beliefs of millions of Christians across the nation.
In 303 Creative v. Elenis, the Court ruled that a Christian graphic designer had the right to decline to create custom wedding invitations for a same-sex couple. This decision ensures that Christians are not compelled to violate their beliefs, reinforcing the importance of religious liberty in America. The ability of Christians to operate businesses and be fully and fairly involved in the public square in America has been increasingly under attack over the last decade, particularly in light of the 2015 Obergefell decision that legalized so-called "same-sex marriage." But the 303 Creative ruling is a big win for Christians fighting the culture wars in America and should be celebrated as such.
One other important Supreme Court ruling that offers hope was the decision in the case of Kennedy v. Bremerton School District. In June 2022, the Supreme Court ruled 6-3 in favor of a high school football coach in Washington state, stating that his post-game prayers on the 50-yard line were protected by the First Amendment. Coach Joe Kennedy had previously lost his job for taking a knee and praying in public after games.
Justice Gorsuch wrote in the majority opinion that the Constitution and the best of traditions counsel mutual respect and tolerance, not censorship and suppression, for religious and nonreligious views alike, writing:
"Respect for religious expressions is indispensable to life in a free and diverse Republic — whether those expressions take place in a sanctuary or on a field, and whether they manifest through the spoken word or a bowed head."
This ruling sets a precedent for more protections for school employees who engage in public displays of religion — another win for Christians fighting the culture war.
At the lower court level, conservative Christians can also rejoice as efforts to restrict access to the "abortion pill" continue apace. On August 16, a U.S. appeals court ruled that access to the abortion pill mifepristone must be restricted. If it stands, this decision will stop the abortion pill from being sent through the mail.
Growing influence of faith-based organizations
Faith-based organizations such as the Alliance Defending Freedom, the Family Research Council, the Standing for Freedom Center, and others have played a pivotal role in advancing conservative Christian values. These organizations tirelessly advocate for religious freedom, traditional marriage, saving children from the radical transgender agenda, and the protection of unborn lives.
Alliance Defending Freedom, for instance, has been instrumental in defending the rights of individuals and organizations to live out their faith freely. Through legal advocacy and strategic initiatives, they have successfully protected the rights of Christians to express their beliefs in various aspects of public life. Over the last decade, they have become one of the premier conservative legal outfits fighting for faith and freedom in America at the highest levels.
Family Research Council provides policy papers, pastoral support, and voting guides for conservative Christians across America. They argue that "Christians have a biblical mandate to love our neighbors…one way we can fulfill this command is by actively engaging in the public policy concerns of our civil society. Family Research Council seeks to advocate for public policies that are consistent with a biblical worldview—particularly in areas touching society's foundational cornerstone, the family."
Over the last three years, Liberty University's Standing for Freedom Center has joined the fight to help spread the Gospel and biblical values in American culture. Among other activities, its podcast "Give Me Liberty," hosted by Executive Director Ryan Helfenbein, has featured major figures like Pastor John MacArthur, Eric Metaxas, and Moms for Liberty. The Freedom Center's "Theology of Politics" series provides a deep dive into the most pressing political issues from a biblical worldview, equipping Liberty students and Christians of all ages to defend their Christian convictions in the public square.
Conclusion
While the war is not over, important battles are being won. It's clear that America is witnessing a resurgence of conservative Christian influence. Recent Supreme Court victories, such as 303 Creative and Kennedy, affirm the rights of Christians to live out their faith without compromising their beliefs. The Supreme Court decision in the Dobbs case overturning Roe and lower court rulings restricting access to abortion pills further reflect the growing recognition of the sanctity of life.
In addition, faith-based organizations are unapologetically championing conservative Christian values, advocating for religious freedom, and defending the traditional family. As Christians continue to engage in the public sphere and uphold their Christian beliefs and values, the nation moves closer to a society that acknowledges the vital role of faith in shaping the cultural landscape.
---
Originally published at the Standing for Freedom Center. 
William Wolfe is a visiting fellow with the Center for Renewing America. He served as a senior official in the Trump administration, both as a deputy assistant secretary of defense at the Pentagon and a director of legislative affairs at the State Department. Prior to his service in the administration, Wolfe worked for Heritage Action for America, and as a congressional staffer for three different members of Congress, including the former Rep. Dave Brat. He has a B.A. in history from Covenant College, and is finishing his Masters of Divinity at The Southern Baptist Theological Seminary.
Follow William on Twitter at @William_E_Wolfe